Weekly Market Wrap: News-Driven Choppy Markets

Join our Telegram channel (50,000+ subscribers) for daily market analysis & trading tips: t.me/synapsetrading
Recently, there has been a lot more volatility in the market, as seen even in the major stock indices, where fluctuations of 2-5% a day have become the norm.
In the absence of major news, the market has been reacting strongly on any minor news, making it hard to take short-term trading positions that are technical-driven.
As I mentioned in last week's video, there is likely to be a rebound, so the best option was to stay out or take short-term long positions.
Now, that the rebound is in progress, the big question is when it will end, and whether it might be the start of a market bottom.
I will be touching on that in this week's market outlook video, and as well as my strategy to capitalise on that.
If you are keen to join us, check out our Daily Trading Signals Telegram channel.
See you on the inside!
[Photo: Tasmania, Australia – See my full travel photo log!]
For our weekly market wrap, we go through some of the trade calls and analysis from last week, which gives us valuable insights for the week ahead.
We cover 3 main markets with a total of 200+ counters, so we will never run out of trading opportunities:
By covering a broad range of markets, we can focus our attention (and capital) on whichever market currently gives the best returns.
Click here to receive all these signals in real-time for only $67 a month! You will get several signals a day, and even taking just 1 trade the whole month can easily cover the fee, so what are you waiting for?
Weekly Market Outlook Video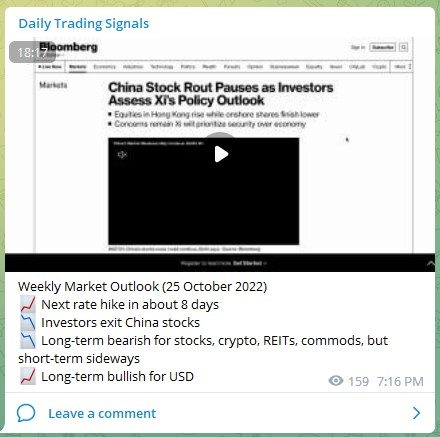 Weekly Market Outlook (25 October 2022)
? Next rate hike in about 8 days
? Investors exit China stocks
? Long-term bearish for stocks, crypto, REITs, commods, but short-term sideways
? Long-term bullish for USD
Portfolio Highlights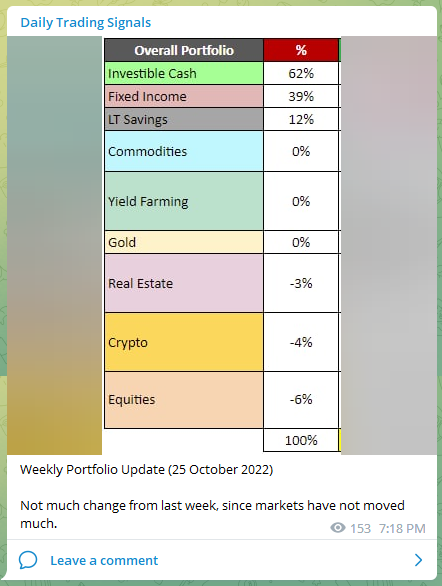 Weekly Portfolio Update (25 October 2022)
Not much change from last week, since markets have not moved much.
Interesting read: https://awealthofcommonsense.com/2022/10/which-asset-class-is-more-attractive-right-now-stocks-or-bonds/
Does this mean that as long as inflation stops rising, the stock market might start seeing a bottom?
Forex & Commodities Market Highlights
Another nice bear flag on AUDUSD, possible to take a short with SL (stoploss) above the swing high, and ride the trend downwards.
Following up on EURJPY, there was an excellent pullback opportunity for a low-risk entry, with SL below the 2 pin-bars.
Even now, we can still look to enter on any pullbacks on smaller timeframes.
GBPUSD getting ready to resume the downtrend. Taking some short positions.
Gold (XAUUSD) has now hit the previous swing low, congrats to those who have shorted! ????
Now would be a good time to take half profits, and see if the remaining half can drop all the way to the next support level.
Stock & Bond Market Highlights
20+ year treasury bond ETF (TLT) is down 45% from all-time highs, and might continue to fall further.
This is a good leading indicator for stocks, so I will be keeping an eye to see when it bottoms.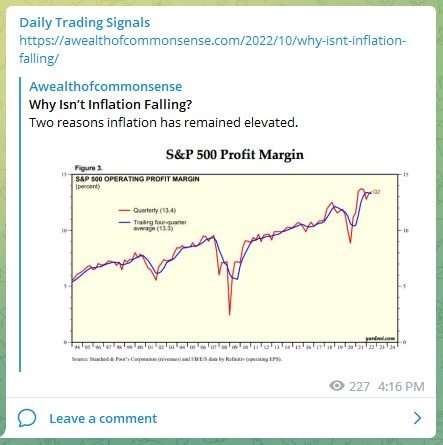 https://awealthofcommonsense.com/2022/10/why-isnt-inflation-falling/
https://www.cnbc.com/2022/10/26/facebook-parent-meta-earnings-q3-2022.html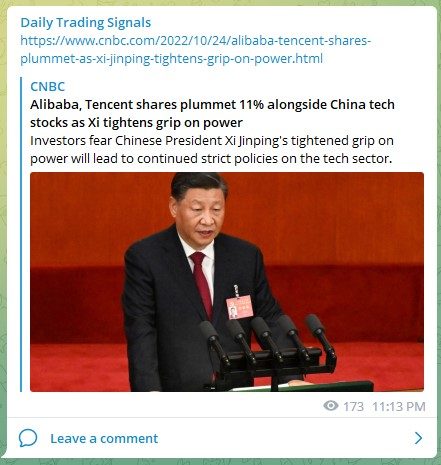 https://www.cnbc.com/2022/10/24/alibaba-tencent-shares-plummet-as-xi-jinping-tightens-grip-on-power.html
Currently, the yield curve is pricing in a Fed pivot in 1 years time.
Crypto Market Highlights
Recently, Ethereum (ETHUSD) has broke out of the narrow range, and there is no telling whether this is a real or false breakout, so the best options are to:
1. stay out
2. take small long positions on pullbacks on smaller timeframes
Click here to receive all these signals in real-time for only $67 a month! You will get several signals a day, and even taking just 1 trade the whole month can easily cover the fee, so what are you waiting for?
Good luck, and may next week bring more excellent profits!
Our flagship mentoring program is suitable for both beginners and advanced traders, covering the 4 strategies which I used over the past 15 years to build up my 7-figure personal trading portfolio.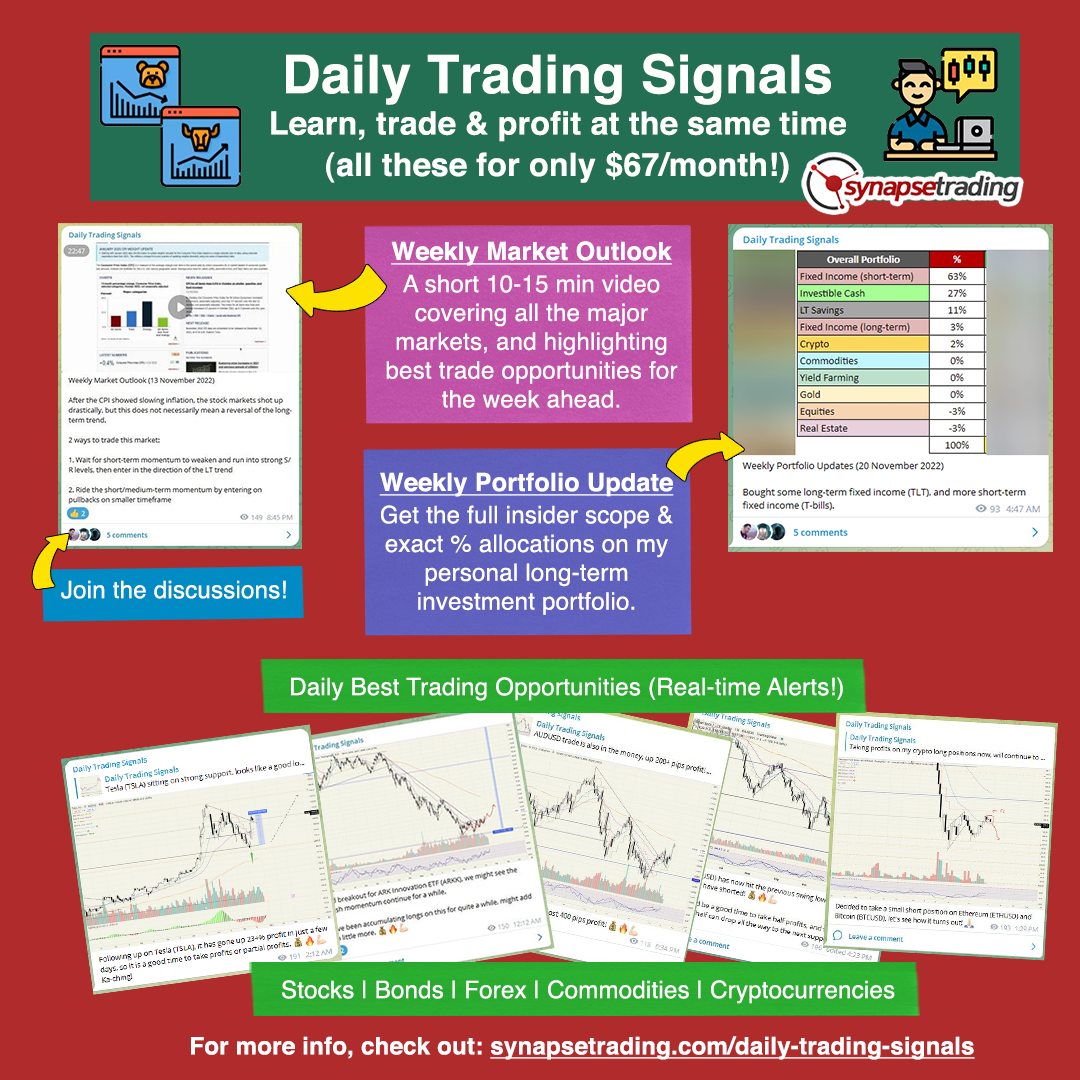 If you're looking for the best trading opportunities every day across various markets, and don't want to spend hours doing the research yourself, check out our private Telegram channel!
If you're looking for a reputable brokerage that covers all products (SG stocks, US stocks, global stocks, bonds, ETFs, REITs, forex, futures, crypto) and has one of the lowest commissions, this is what I currently use.
Spencer is an avid globetrotter who achieved financial freedom in his 20s, while trading & teaching across 70+ countries. As a former professional trader in private equity and proprietary funds, he has over 15 years of market experience, and has been featured on more than 20 occasions in the media.
https://synapsetrading.com/wp-content/uploads/2022/10/Tasmania-Australia.jpg
809
1080
Spencer Li
https://synapsetrading.com/wp-content/uploads/2019/10/logo.jpg
Spencer Li
2022-10-28 22:45:27
2022-10-30 11:41:18
Weekly Market Wrap: News-Driven Choppy Markets