10 Essential Trading Rules of Professional Traders

Join our Telegram channel (50,000+ subscribers) for daily market analysis & trading tips: t.me/synapsetrading
Have you ever wondered how professional traders see the market differently?
How do they continue to make exceptional returns day after day, while 90% of retail traders lose money on a daily basis?
Here are my top 10 trading rules I developed, after over 10,000 hours of trading professionally, and I hope that this will help you take your trading to the next level.
In this post, I'm going to talk about the trading rules which professional traders use, and how you can apply them to your own trading.
1. Always be disciplined
Follow your plan and rules
Do not be swayed by your emotions to act otherwise
Do not create excuses to break the rules – this time is NOT different!
2. Plan the trade, trade the plan
Always cut your losses according to plan
Always let your profits run according to plan
Separate your planning from your execution
3. Expect losses
Losses are part of trading – accept them. This will reduce emotional resistance when the time comes to do so.
Do not take a trade unless you are willing to accept the risk (possibility of loss) that accompanies the trade.
Accept that you will lose money on some trades
Take your losses easily when they come
Do not be stubborn and bend your rules
4. Manage your emotions
When in doubt or unsure, get out!
Always analyze objectively
Clear all positions to have a neutral frame of mind
Do not act based on greed or fear
5. Focus on trading well
The goal of a trader is to make the best trades
Money will naturally follow
If you focus on money, emotions will get in the way and you will not be able to make the best trades.
6. Do not overtrade
Be patient. Do not rush into a trade.
Do not trade when there are no good setups
Do not try to be in the market all the time
It is better to miss a boat, than to leave on one full of holes
One good trade is better than three bad trades
"There is a time to go long, a time to go short, and a time to go fishing." – Jesse Livermore
7. Trade what you see, not what you think
Don't concern yourself with why things are happening
Observe what is happening, and act on it
Ignore the noise – tips, rumours, news, speculations, etc
Anticipate the future, but trade in the present
Markets are never wrong, opinions are
8. The trend is your friend
Don't enter just because it looks "overbought" or "oversold"
Don't try to catch a falling knife
The easiest money is made trading with the trend
Make sure you have an edge before you enter the market
Put as many factors in your favour as possible
9. Do not repeat your mistakes
Keep good records of your trades and thought process
Analyze your mistakes, then move on
Do not make the same mistake again
Continuously improve yourself
10. Have realistic expectations
Do not try to make stellar returns overnight
Aim for small consistent returns over a period of time
Do not expect to become an expert overnight
Trading takes time to build experience
Summary
The difference between a newbie trading and a successful trader is how good their trading rules are, and how well they can follow their rules.
If you trade without any rules, you will be always be second-guessing your decisions, and then regretting your decisions when they turn out to be wrong. This creates a lot of unnecessary mental anguish.
With trading rules, it reduces the stress of decision-making, because you can separate the planning phase (where you create the rules) from the execution phase (when you are actually trading).
Lastly, having rules makes it easier to systematically replicate your success over and over again, because once you know the rules which work, you can just keep applying them over and over to get the same results, whereas if you don't have rules, you won't know what actually works.
Now that I have shared all my best trading rules, which rule do you think will make the biggest difference in your trading results?
Let me know in the comments below.
Our flagship mentoring program is suitable for both beginners and advanced traders, covering the 4 strategies which I used over the past 15 years to build up my 7-figure personal trading portfolio.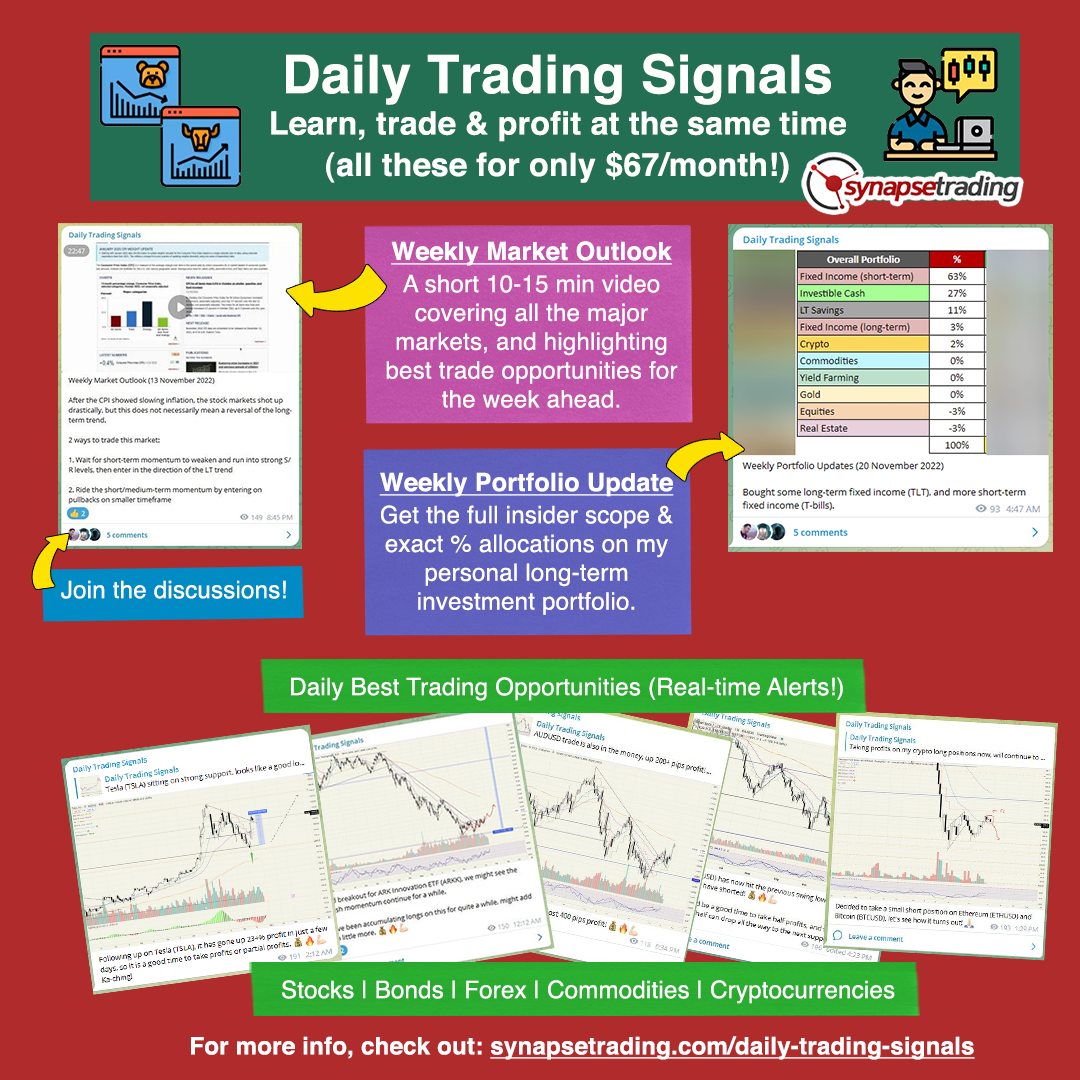 If you're looking for the best trading opportunities every day across various markets, and don't want to spend hours doing the research yourself, check out our private Telegram channel!
If you're looking for a reputable brokerage that covers all products (SG stocks, US stocks, global stocks, bonds, ETFs, REITs, forex, futures, crypto) and has one of the lowest commissions, this is what I currently use.
Spencer is an avid globetrotter who achieved financial freedom in his 20s, while trading & teaching across 70+ countries. As a former professional trader in private equity and proprietary funds, he has over 15 years of market experience, and has been featured on more than 20 occasions in the media.
https://synapsetrading.com/wp-content/uploads/2015/04/10-Essential-Trading-Rules-of-Professional-Traders.png
720
1280
Spencer Li
https://synapsetrading.com/wp-content/uploads/2019/10/logo.jpg
Spencer Li
2015-04-29 08:00:14
2022-07-24 20:45:09
10 Essential Trading Rules of Professional Traders