An Inspirational Story: How Can One Become Part of the 1%?

Join our Telegram channel (50,000+ subscribers) for daily market analysis & trading tips: t.me/synapsetrading
Here are some of the key lessons from someone who did it not once, but three times. If you want to be part of the 1% you have to do the following:
1. Be mentally tough. Learn to get over your fears. What happens when one is afraid? You retreat, you hold back, you dither, you procrastinate. Worse, you become more prejudice, or even take on extreme forms of hate. You miss out on opportunities, you become a prisoner of your irrationality. So learn to ask a simple question when you are uncomfortable with something, what have I got to lose?
2. Live within your means. Don't be an idiot.
3. Learn how to make money, not how to save money. You will never save your way to riches. Again, this doesn't mean you need to be an idiot with money!
4. Learn how to scale yourself and the business. This means learning how to delegate, how to motivate others and recruit great talent to do works you don't know how or can't.
5. Learn all the time, I read 10-20 books a month.
6. Learn from history and previous success as well as failures. Some of my favorites books are biographies, you get to learn a great deal about some of the greatest characters in history. Don't be surprised to learn that a lot of successful people in history had to overcome a tremendous amount of adversity and failure before accomplishing greatness. If you study the great characters enough, the lessons and examples they have set can be just as valuable today.
7. Ask a lot of whys. Usually 5 whys in a row will help you dig out the truth of the matter. I stole this idea from the book "The Lean Startup".
8. Work with smarter people, people who like to hack mostly. Learn, steal their ideas, they won't mind. How else do you stand on the shoulders of giants?
9. Travel as much as you can afford, you will have a much broader perspective. Go get your passport already!
10. Laugh at adversity, have fun. Life can be really hard, don't take it personally, even Bill Gates have really really shitty days. It always gets better.
11. Don't be a victim, don't make excuses. Nobody gives a shit about your problems. I can't live off whining about how life isn't fair! Some say inequality is a fact of life, but I never wasted much time bemoaning it. Embrace your dire circumstances and make the best of it, adversity is a blessing in disguise.
12. Learn a trade that can make you money in good times and bad. I personally can always fall back on my trading no matter what. This makes me fearless. For that matter, I can fall back on all kinds of jobs and functions I have done. I can work as a bookkeeper, a stockbroker, a trader, a salesperson and so on. I almost certainly can start another business and build it up from scratch, I am the jack of all trades.
13. Find an outlet for your stress. When I really really feel like I can't deal with things anymore, or just don't want to face anything, I get in my car and go on a road trip, all by myself. When I didn't have much money, I spent my zen time listening to music, mostly classical music to escape.
14. It's good to have a chip on the shoulder, it gets you motivated. But it is an annoying personality quirk too, so balance it well.
15. Maybe you are just not born with it, I mean motivation. I have always been obnoxious ever since when I was a kid. I constantly challenged the elders, the status quo and always wanted to do one better. I don't think it has changed even all these years later. As my wealth and the resources available to me has grown, I want to do even more. People around me are used to me saying "why not" all the time. Why can't you do it this way? Why can't you do better? Why not me? Where are you weak?
16. One of the reason the West lead in development for the past few centuries is the fact for the first time in mankind's history they allowed the creative class, the entrepreneurs to actually keep their money. This allows wealth creation and built in motivation for people from all walks of life to strive to push themselves to accomplish more.
17. Don't believe the BS about inequality. The real inequality is the level of personal drive and intelligence. I came from nothing, dropped out of college with IQ no higher than George Bush. If I can join the 1% 3 times, so can a lot of people.
18. Yes, it is you against the world. There will be all kinds things that "conspire" to put you down, but so what? But even at my darkest moments, there are inspirations I look for to lift myself up.
19. Learn how to sell. This is perhaps one of the easiest way to get above everyone else. Whether you are a doctor, lawyer, accountant or any other professional, you will notice the ones on top are usually people who can sell. They sell themselves, they sell their ideas, they sell and motivate others to do their bidding (this is scaling). Bottomline, sales people are some of the highest paid out there, and it requires no specialization or education.
20. Don't take yourself too seriously. Make sure you are having fun. The American cliche about working on something you love or having passion is grossly overrated. It is far easier to find something you can fun in. Business can certainly be fun. Often times fun and not taking yourself too seriously can be the key differentiator for your business success. Who wants to do business with a bunch of boring and sour puss?
21. For most people this is the part that is hard to take: you will never get rich working for someone else. You might still be able to join the 1% if you have a highly paid job, but you are still someone else's wage slave.
22. I am probably going to offend a lot of people with this one. Yes, I am Chinese, or what might be considered a minority in US. I have personally experienced what some might considered racism, but I never let it get to me. I simply try harder. You will be surprised that even racist appreciates someone who doesn't give a f*** and simply out hustles. Effort is infectious!
23. You have to know how badly you want to succeed. Some of the comments I see out there regarding this more or less suggests that I am not the norm and I got to where I am by luck. I will admit that I have been incredibly fortunate, but much of it had to do with the desire to succeed.
24. It's OK to be a generalist. Being a generalist because I tried and failed at so many things is the real reason I am where I am today, but being able to synthesize all the things I learned from different aspect of work and life is the ultimate triumph.
25. Pursue what you love is so overrated. My burning desire to succeed in business is what will actually allow me to pursue what I love, now that I have the time and resources. But does this mean I hated what I did all these years? Absolutely not. I loved trading, I love being engaged and building business, I love motivate people and see them do amazing things with abilities they didn't think they have. I loved the process of building a business.
26. If you are a young man just starting out in life, this is the advise I got from someone years ago and I still try to live by it today:
Try everything in your twenties, you aren't going to be any good at anything anyways, people have low expectations from you so don't worry about failing or being lousy at what you do. Have fun, try everything!
Try and figure out what you are good at in your thirties.
Maximize what you are good at in your forties.
27. If you are starting at the bottom, regardless of your age, remember this one simple rule: always deliver more than what is expected. I don't care what job, what industry, or just how menial the task is, go above and beyond what is required. If you always do more, or delivering more value to your boss, your employer, your partner, your significant other, there is no way you won't succeed at what you are working on.
28. Be different, even if it means being different for spite. In business, companies are being told to be innovative, differentiated in order to be more appealing to consumers and be better competitors. If you copy what they do, you are merely trying to play a game that is perfected by them! Even if you are good, work hard and so on, you are not likely to beat them at their game. You should play a different game, a game played on your terms, perfected by you!
29. Money doesn't define you. Please learn from my mistakes! When I was this raging asshole with money back in my late 20s, I was foolish enough to think money is my identity. Plenty of people make this same exact mistake. The problem with having your ego tied up with money is that when you fail, like I did, your ego will get crushed along with it too.
30. Learn to say no. Most of us want to be loved, approved of, fit in, popular and so on. Unfortunately this also means saying a lot of yes when you really don't want to for fear of offending others. I am not a baseball fan, but there is this expression in baseball called the "fat pitch". It basically means as a batter you don't swing at every pitch that is coming at you, you patiently wait for the statistically high probability pitch because you only have limited chances at swinging. You need to think life and business the same way. Take charge of your time and effort.
31. What if you are just not smart! Don't sweat it! Well, I am not so sure there is a strong correlation between monetary success and intelligence. If anything, there might even be somewhat of inverse correlation! This is not to say the dumber your are the more likely you will succeed. Persistence and doing the things that just aren't glamorous can pay off big too, but it tend to take time. I used to scoff at the turtle vs. hare story and thought I rather be the hare. Now that I am much older, I realize the secret to enduring success is winning over time.
32. Always be long term greedy! Most people are selfish and greedy, they just don't want to admit it. I have no problem with being greedy. But what I cannot stand is being short term greedy. Being long term greedy means you do the things that might not pay off right away but it will help you build sustainable business and hopefully wealth over time. If you treat your relationships with people with this mentality, you will be far less stressed out (you are not spinning your wheels all the time). Always ask yourself when you engage with people in business and life, am I being short term greedy or long term greedy? Do I want a transaction or do I want a relationship?
33. Money is a tool. I didn't need all that much money to build the business (remember, it took us $45,00 to build what is now a $100M business), I didn't need all that much material possessions to feel safe and secure, but why am I still trying to make so much money?!!! The answer is simple, it really isn't about the money, it is about having the tool to do things. I now understand why Richard Branson gets into so many businesses! It is just plain fun!
34. Don't do business with dodgy people. You know who those people are, most of us can feel it in our bones. Due to circumstances, we sometime overlook and override our gut instincts and end up doing business with questionable people. It will unfortunately boomerang and come back to bite you, just like what happened to us. There is no such thing as laps in integrity, you either have it or you don't.
35. Are you a choice maximizer or a choice satisfier? Some of us agonize over decisions on all things in life, then there are people like me, able to make snap decisions and be perfectly happy with our choices. The folks who agonizes over things will spend a great deal of time doing research, slicing and dicing over their decisions to make sure it is the "right" one. Often times, even after the decision is made, they will spend a lot of time second guessing their choices. Needless to say, these people tend to be unhappy, unsatisfied a lot of times.
36. Learn how to spot opportunity. Life can throw you a wrench sometimes to make you feel miserable. But it does the same to the rest of the world as well! When the whole world is in crisis mode, people and businesses are in turmoil, as humans, we simply want someone, something to step up and turn things around. If you are an entrepreneur, there is no better time to start or invest in your ventures when there is a crash or recession because pretty much everything is cheaper and you will have far fewer competitions!
37. If you are aiming to get into the 1%, you are aiming too low. My point is, at the current time, I believe we are at the golden age for entrepreneurs. There has never been a time one can have so much access to computing power, exponential scalability and the abundance of cheap capital, resources. If you work hard, work as an individual contributor, you can get to the 1%. If you really want to go far beyond just the 1%, you should aim much much higher. Aim to solve problems on a massive scale, because the resources are there for the taking. I will repeat the old cliche in business, if you solve people's problems, money will come. If you solve massive problems, you can expect massive wealth too.
38. I don't know why it took me this long to get to this point, which is be persistent. This isn't a secret. Persistence wins by default. Think about it, you don't have to be good, you just have to be around when everyone else gives up. That is what happened to my company during the "Great Recession". Persistence does something else too, instead of worry about being judged based on someone's disadvantaged beginnings, you now have control on how you finish.
[This is an excerpt from a response in Quora to the question, "How can one become part of the 1%?". The full story can be found here: https://www.quora.com/How-can-one-become-part-of-the-1/answers/8734078]
Our flagship mentoring program is suitable for both beginners and advanced traders, covering the 4 strategies which I used over the past 15 years to build up my 7-figure personal trading portfolio.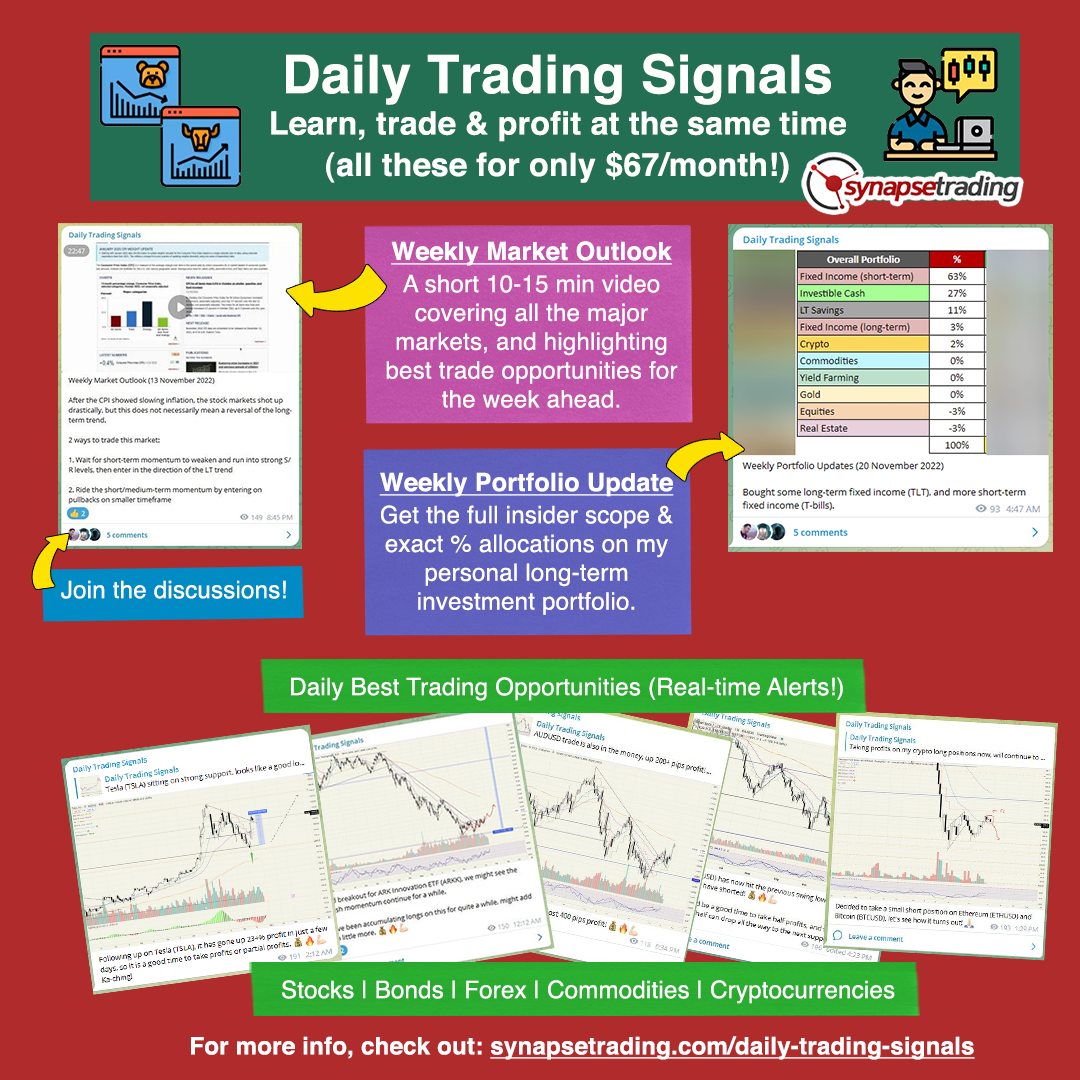 If you're looking for the best trading opportunities every day across various markets, and don't want to spend hours doing the research yourself, check out our private Telegram channel!
If you're looking for a reputable brokerage that covers all products (SG stocks, US stocks, global stocks, bonds, ETFs, REITs, forex, futures, crypto) and has one of the lowest commissions, this is what I currently use.
Spencer is an avid globetrotter who achieved financial freedom in his 20s, while trading & teaching across 70+ countries. As a former professional trader in private equity and proprietary funds, he has over 15 years of market experience, and has been featured on more than 20 occasions in the media.
https://synapsetrading.com/wp-content/uploads/2019/10/logo.jpg
0
0
Spencer Li
https://synapsetrading.com/wp-content/uploads/2019/10/logo.jpg
Spencer Li
2015-11-10 07:27:04
2021-10-04 22:41:00
An Inspirational Story: How Can One Become Part of the 1%?