Market Rebound – Is the Worse Over, or Will there be Another Wave of Selling?
Join our Telegram channel (50,000+ subscribers) for daily market analysis & trading tips: t.me/synapsetrading
Last week, after a 30-35% plunge in the major stock indices, we finally saw a substantial rebound of 15-20%. The next major question is, is this the start of the recovery, or is this just a dead cat bounce before the "real" collapse?
Join our FREE Telegram channel for daily trading tips:
?? https://t.me/synapsetrading
Catching the Stock Market Rebound
Last week, the main trading play we were going for was catching the rebound in the S&P 500.
There were several reasons for the this rebound:
No significant rebound during the 30-35% plunge of the stock market
Strong fiscal and monetary support from the US government
Measures to fight the Coronavirus taken by various countries
Price is testing the "Trump Support Line" – the level of the S&P 500 when Trump took office in 2017.
I was guessing that he would try everything to keep the market from dropping below that, because it would affect his re-election chances.
After accumulating much long positions, I managed to pin-point the exact day which the rebound happened on the daily chart, and stack more positions on the breakout.
The subsequent rebound was huge, about 20% over 3 days, and this allowed up to take profit on all the long positions which we had been accumulating at the lows.
Zoom – Best Performing Stock
Zoom (NASDAQ: ZM) was one of the best performing stocks, and was already bullish even as the rest of the market was in decline, since more people were using it during the work-from-home and home quarantines.
We spotted a bull flag early, which enabled us to get in just before the large explosive move in the stock price.
Weakening of the USD
Due to the large fiscal package of $2 Trillion and the unlimited QE amongst other aggressive monetary policy, the USD has weakened, allowing us to short the USD/CHF and USD/SGD to ride the wave down.
Managed to short USD/CHF near the highs, which gives a good swing trade.
Also shorted USD/SGD near the highs, though if there is action from MAS (Monetary Authority of Singapore), we could see further weakening of the SGD instead.
Surge in Gold Prices
Due to potential weakening of the USD, we also saw Gold prices surge, after rebounding from the 200-EMA.
There was some trouble in the Gold market, due to a limitation in supply, which caused a disruption to liquidity providers.
What's Next for the Stock Market?
As I mentioned earlier in the post, there are some positive factors coming out, but I don't think it is enough, at least until we see the Covid curve for major economies start to flatten.
If we take a look back at 2008, there were 6 major rebounds ranging from 10-25% before we saw a real bottom and recovery in the market.
Currently, this is only the first rebound, which means that it is very likely not the bottom yet.
Last week, the play was to accumulate longs for the rebound.
This week, I think the play will be to accumulate shorts for the next wave down.
Currently, I have already accumulated some short positions, and I am prepared to add more as my market unfolds according to my roadmap.
How Was Your Trading Last Week?
Another exciting week of trading, with more than 200% ROI (that's 3X!) on my trading account for the month! ???
Had great fun discussing and guiding everyone in the private group chat throughout this roller-coaster ride of profits, and I look forward to next week! ??
Many people say that you cannot time the market, but actually what they mean is that they do not know how to time the market.
One of our new student went in $70k yesterday for a swing trade, and made 10% returns overnight! ???
One night of trading has made him back several times his course fees, so if you are interested to start your journey with our community, click on the link below:
https://synapsetrading.com/the-synapse-program/
See you on the inside! ?
Our flagship mentoring program is suitable for both beginners and advanced traders, covering the 4 strategies which I used over the past 15 years to build up my 7-figure personal trading portfolio.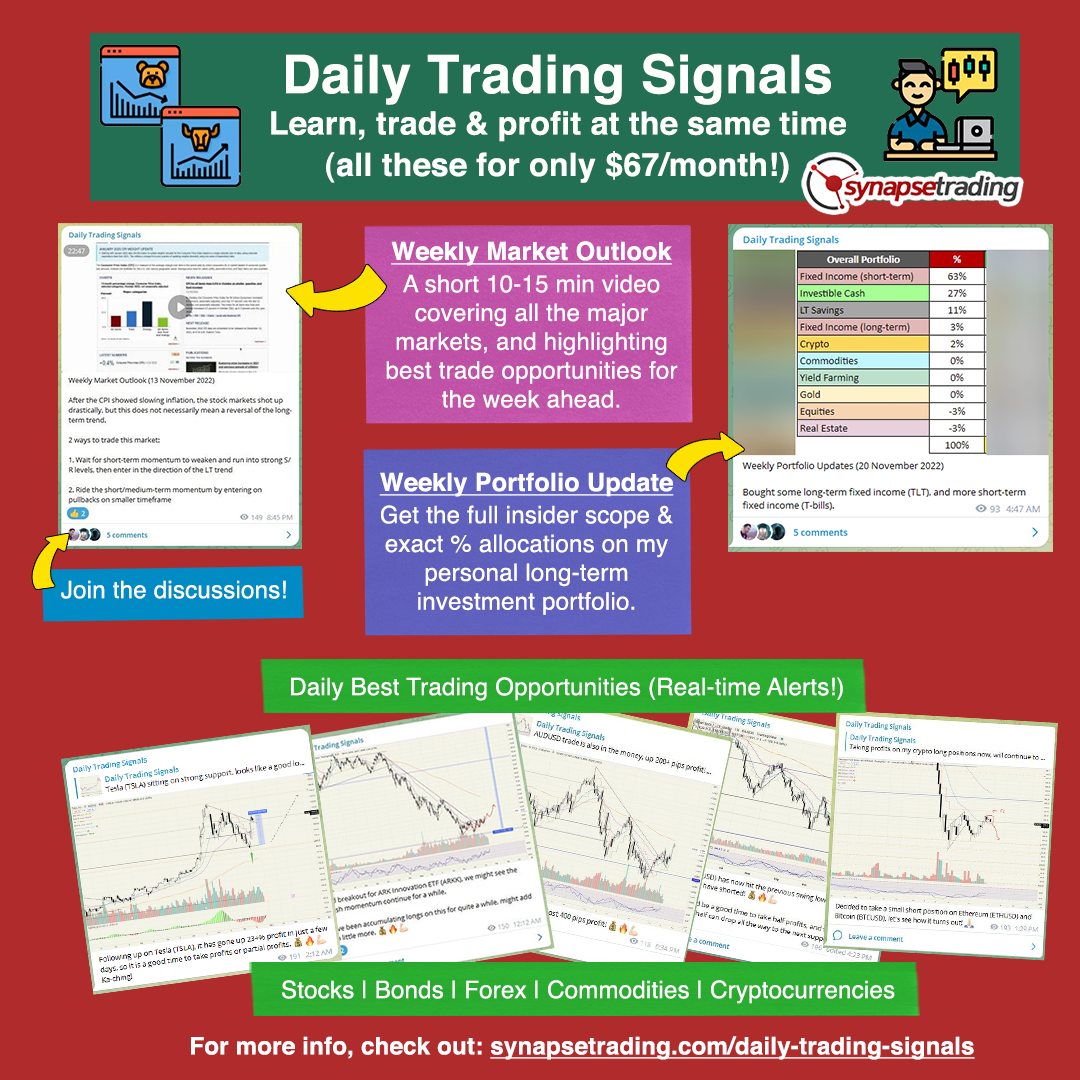 If you're looking for the best trading opportunities every day across various markets, and don't want to spend hours doing the research yourself, check out our private Telegram channel!
If you're looking for a reputable brokerage that covers all products (SG stocks, US stocks, global stocks, bonds, ETFs, REITs, forex, futures, crypto) and has one of the lowest commissions, this is what I currently use.
Spencer is an avid globetrotter who achieved financial freedom in his 20s, while trading & teaching across 70+ countries. As a former professional trader in private equity and proprietary funds, he has over 15 years of market experience, and has been featured on more than 20 occasions in the media.
https://synapsetrading.com/wp-content/uploads/2020/03/2020-03-27-19.16.29.png
1125
2436
Spencer Li
https://synapsetrading.com/wp-content/uploads/2019/10/logo.jpg
Spencer Li
2020-03-29 22:42:53
2022-03-04 18:01:15
Market Rebound – Is the Worse Over, or Will there be Another Wave of Selling?