Weekly Market Wrap: 25bp Hike for the Next FOMC?
Join our Telegram channel (50,000+ subscribers) for daily market analysis & trading tips: t.me/synapsetrading
This week, unprecedented disruptions occurred in global markets, with major sovereign bond markets trading like meme stocks. The US Treasury experienced a rare 12-sigma move, while German Bunds had a record-breaking single-day move.
Volatility indicators also had their largest moves since the COVID shock. This turmoil was triggered by a bank run on Silicon Valley Bank, leading to the first US bank failure since 2008.
The upcoming FOMC meeting will be crucial, with analysts divided over the best course of action. A business-as-usual approach, with a 25bp rate hike, could help calm markets. The Fed's swift actions to address financial stability and inflation separately may allow them to proceed with rate hikes.
Despite these challenges, this is not considered a systemic issue yet, and the banking system is expected to cope with the current crisis. The FOMC's decision, along with the ECB's, will likely focus on fighting inflation while dealing with troubled financial institutions separately.
We have started to do some rebalancing in our portfolio to prepare for the next stage in the market. Is your portfolio ready to take advantage of the upcoming market cycle?
For more real-time market updates and profit opportunities, check out our "Daily Trading Signals" Telegram channel!
[Photo: Ephesus, Turkey – See my full travel photo log!]
For our weekly market wrap, we go through some of the trade calls and analysis from last week, which gives us valuable insights for the week ahead.
We cover 3 main markets with a total of 200+ counters, so we will never run out of trading opportunities:
By covering a broad range of markets, we can focus our attention (and capital) on whichever market currently gives the best returns.
Click here to receive all these signals in real-time for only $67 a month! You will get several signals a day, and even taking just 1 trade the whole month can easily cover the fee, so what are you waiting for?
Weekly Market Outlook Video
Weekly Market Outlook (12 March 2023)
📌 FOMC on 22 March (Wed)
📌 Closure of 2 banks shifted priority from fighting inflation to preventing recession
📌 Markets seem to be expecting a quick crash/recession followed by Fed cutting rates in Q3 this year
Portfolio Highlights
Weekly Portfolio Updates (12 March 2023)
Great profits from our shorts last week, and this week I'll be looking to add some long-term bonds (TLT) to my portfolio.
Forex & Commodities Market Highlights
AUDNZD – Perfect TP for short positions on the H4 chart right at the low before prices rebound! 💰🔥💪🏻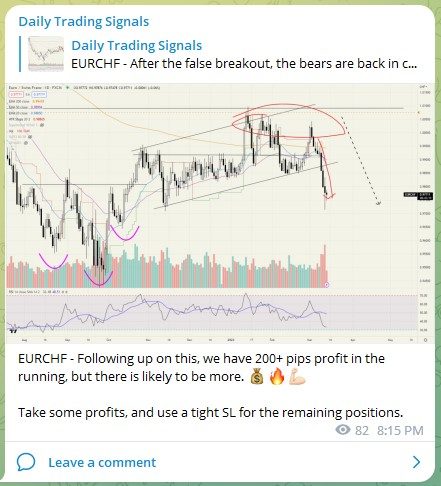 EURCHF – Following up on this, we have 200+ pips profit in the running, but there is likely to be more. 💰🔥💪🏻
Take some profits, and use a tight SL for the remaining positions.
NZDCHF – Following up on this, excellent short trade that gave us 200+ pips profit! 💰🔥💪🏻
Remember to take profits and use a trailing SL for the remaining positions.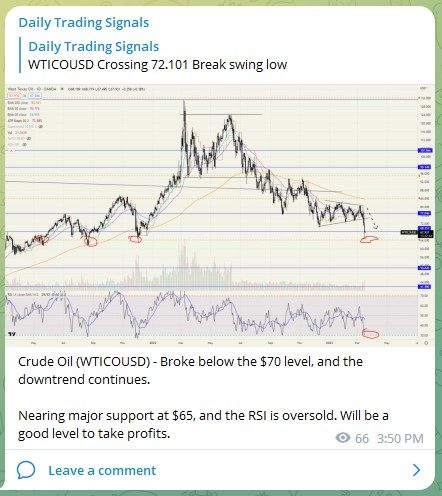 Crude Oil (WTICOUSD) – Broke below the $70 level, and the downtrend continues.
Nearing major support at $65, and the RSI is oversold. Will be a good level to take profits.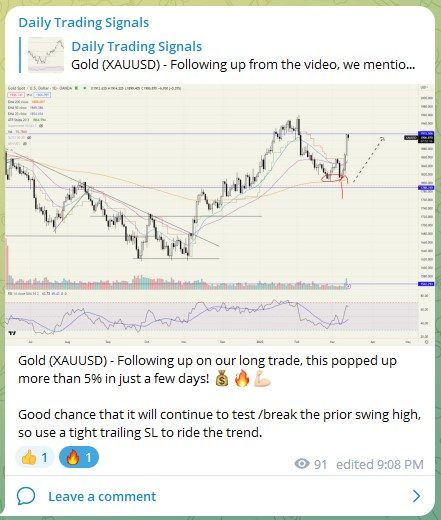 Gold (XAUUSD) – Following up on our long trade, this popped up more than 5% in just a few days! 💰🔥💪🏻
Good chance that it will continue to test /break the prior swing high, so use a tight trailing SL to ride the trend.
Stock & Bond Market Highlights
China tech stocks (3067) – Following up on this, it is moving exactly as predicted. Just be patient and collect the profits, while waiting for the chance to go long! 💰🔥💪🏻
Dow Jones Index (US30) – After breaking the major support, it looks more bearish than bullish.
For far the Dow has been quite resistant to the downside, only declining 22% during the last drop.
Will it be testing the prior lows soon?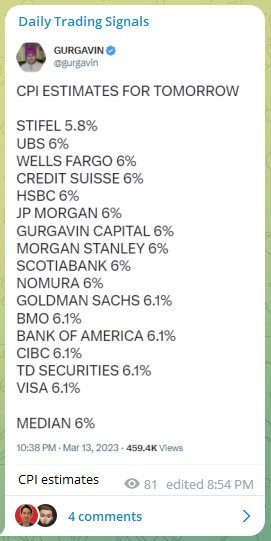 CPI estimates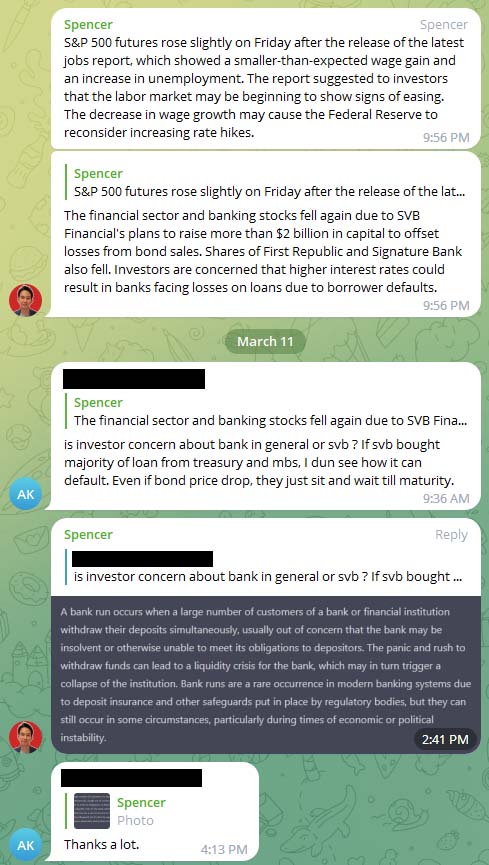 Here are the key numbers investors from Friday's report, with results compared January's data.
Paper losses proliferate. US bank unrealised gains and losses on investment securities.
Just 2 weeks ago both the 6-month and 1-year yields were above 5%, today the 6-month is around 4.8% while the 1-year is around 4.3%.
Seems like the market is really expecting the Fed to cut rates by the end of this year?!!?!
We have moved from inflationary fears to deflationary fears.
Crypto Market Highlights
Bitcoin (BTCUSD) and Ethereum (ETHUSD) – After failing to break lower, we saw an impressive U-turn rally that brought both tokens near its previous highs, poised for breakout.
I think there is a good chance of a breakout happening this time.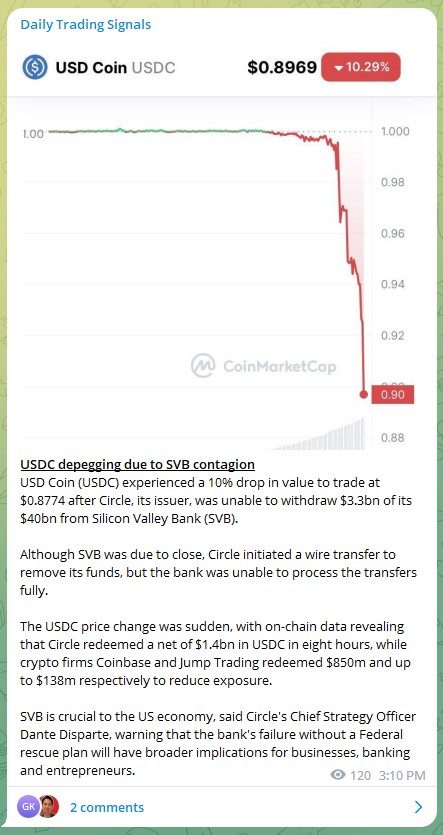 USDC depegging due to SVB contagion
USD Coin (USDC) experienced a 10% drop in value to trade at $0.8774 after Circle, its issuer, was unable to withdraw $3.3bn of its $40bn from Silicon Valley Bank (SVB).
Although SVB was due to close, Circle initiated a wire transfer to remove its funds, but the bank was unable to process the transfers fully.
The USDC price change was sudden, with on-chain data revealing that Circle redeemed a net of $1.4bn in USDC in eight hours, while crypto firms Coinbase and Jump Trading redeemed $850m and up to $138m respectively to reduce exposure.
SVB is crucial to the US economy, said Circle's Chief Strategy Officer Dante Disparte, warning that the bank's failure without a Federal rescue plan will have broader implications for businesses, banking and entrepreneurs.
Click here to receive all these signals in real-time for only $67 a month! You will get several signals a day, and even taking just 1 trade the whole month can easily cover the fee, so what are you waiting for?
Good luck, and may next week bring more excellent profits!
Our flagship mentoring program is suitable for both beginners and advanced traders, covering the 4 strategies which I used over the past 15 years to build up my 7-figure personal trading portfolio.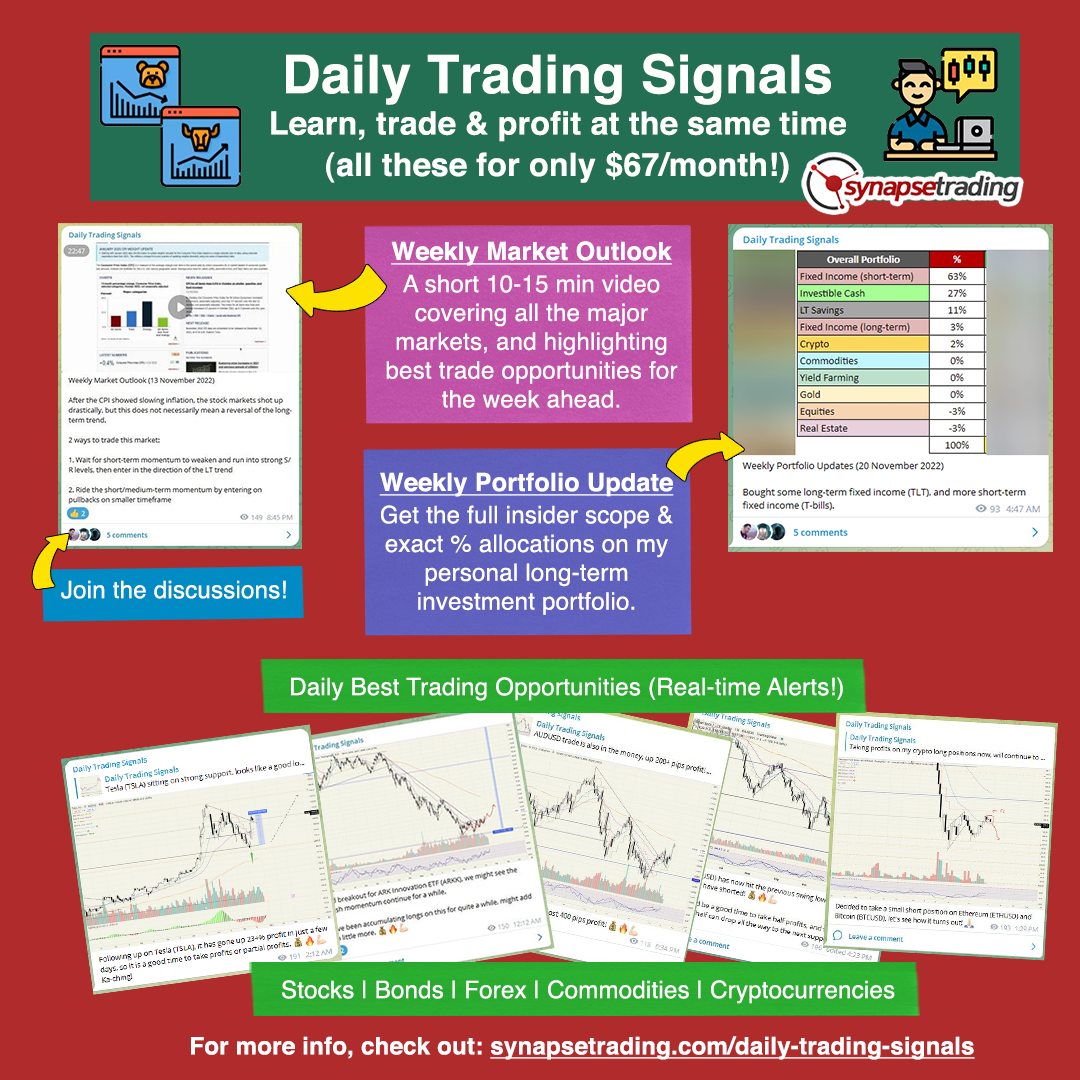 If you're looking for the best trading opportunities every day across various markets, and don't want to spend hours doing the research yourself, check out our private Telegram channel!
If you're looking for a reputable brokerage that covers all products (SG stocks, US stocks, global stocks, bonds, ETFs, REITs, forex, futures, crypto) and has one of the lowest commissions, this is what I currently use.
Spencer is an avid globetrotter who achieved financial freedom in his 20s, while trading & teaching across 70+ countries. As a former professional trader in private equity and proprietary funds, he has over 15 years of market experience, and has been featured on more than 20 occasions in the media.
https://synapsetrading.com/wp-content/uploads/2022/12/2022-10-04-12.29.46-scaled.jpg
1920
2560
Spencer Li
https://synapsetrading.com/wp-content/uploads/2019/10/logo.jpg
Spencer Li
2023-03-17 02:05:17
2023-03-17 13:17:15
Weekly Market Wrap: 25bp Hike for the Next FOMC?