Weekly Market Wrap: Is the Bear Market Ready to Resume?
Join our Telegram channel (50,000+ subscribers) for daily market analysis & trading tips: t.me/synapsetrading
After a strong market rally that last lasted the past few weeks, we have started to see prices come down last week.
Is this just another pullback in the new bull market, or is this the resumption of the bear market?
Either way, it does not matter, because our plan was to take short positions near the top (which we did), and now that we are currently in the money, we can use a trailing stoploss to manage our profits as prices continue to head down.
Just last night, we have already seen crypto prices drop more than 10% in one day, putting the price of Ethereum (ETHUSD) at $1625. For reference, we shorted it near the $2000 level.
Another of our big wins recently is the leveraged long position in USD, which still has potential to make new highs.
Over the medium/long term, I have a more bearish bias, which is why I have accumulated a net short position (about 20% of my total portfolio) on various asset classes.
For more real-time trading updates, and exclusive access to my ongoing portfolio allocations, you can join my "Daily Trading Signals" Telegram group.
See you on the inside!
[Photo: Trakai, Lithuania – See my full travel photo log!]
For our weekly market wrap, we go through some of the trade calls and analysis from last week, which gives us valuable insights for the week ahead.
We cover 3 main markets with a total of 200+ counters, so we will never run out of trading opportunities:
By covering a broad range of markets, we can focus our attention (and capital) on whichever market currently gives the best returns.
Click here to receive all these signals in real-time for only $67 a month! You will get several signals a day, and even taking just 1 trade the whole month can easily cover the fee, so what are you waiting for?
Portfolio Highlights
Portfolio updates:
? Holding a lot of cash, mostly in USD.
? Bearish on crypto, gold, real estate, commodities and stocks
? Closed all long positions after the recent strong bull rally, and decided to take some small short positions instead
Currency holdings update:
? Rotated back mostly into USD, since it looks like it is going to continue trending up
? Closed long positions on AUD, NZD and GBP and took profit.
Forex & Commodities Market Highlights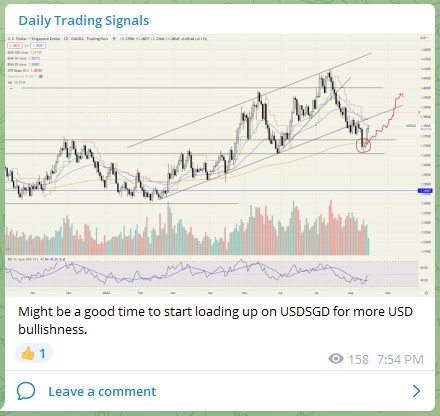 Might be a good time to start loading up on USDSGD for more USD bullishness.
Following up on Gold (XAUUSD), it is now starting to tip over. Can consider taking a short position with a tight SL.
Crude Oil (WTI) seems to be bearish after breaking down from its large rectangular range.
This could lead to a reduction of inflation pressures.
Stock & Bond Market Highlights
Looks like the US Dollar Index (DXY) is getting ready for another run-up.
Global REITs (REET) have retracted back to the neckline, which is strong resistance, and which also confluences with the 200-EMA.
Took small short positions with a tight stoploss above the neckline.
Shooting star candle formed yesterday on NASDAQ 100 (US100), will need to watch what happens today.
In the short-run, breaking above yesterday's candle would be bullish, whereas breaking below would be bearish.
Critical point for the NASDAQ 100 (US100)
We have hit the top of the trendline for S&P 500 (US500), and the RSI oscillator is showing an overbought signal.
There might be some correction soon.
https://www.wsj.com/articles/global-stocks-markets-dow-update-08-19-2022-11660905556
This is mind-blowing. ?

The S&P 500 is mimicking the 2008 crash. Even the timing since the ATH is nearly identical.

The bottom is NOT in for #stocks or #crypto.$SPY $SPX $BTC $ETH pic.twitter.com/WDdwAgDYaB

— Justin Bennett (@JustinBennettFX) August 17, 2022
Nasdaq now up 23% off its low. Congratulations, we now have the average bear market rally. Across 26 bear market rallies from 1929-1932 and 2000-2002, the average is 23%. After 2000, there were two 40%+ bear market rallies and one 50%+ rally before the market bottomed.
Crypto Market Highlights
Took a small short trade on Ethereum (ETHUSD) near the $2000 round number resistance.
Not sure how far it can go, and it might find support at the 20-EMA, so this is most likely a very short-term swing trade.
Taking profits on my Ethereum (ETHUSD) longs, since prices have run up quite a bit.
In this current choppy environment, it is better to go for many small wins than one big win.
Click here to receive all these signals in real-time for only $67 a month! You will get several signals a day, and even taking just 1 trade the whole month can easily cover the fee, so what are you waiting for?
Good luck, and may next week bring more excellent profits!
Our flagship mentoring program is suitable for both beginners and advanced traders, covering the 4 strategies which I used over the past 15 years to build up my 7-figure personal trading portfolio.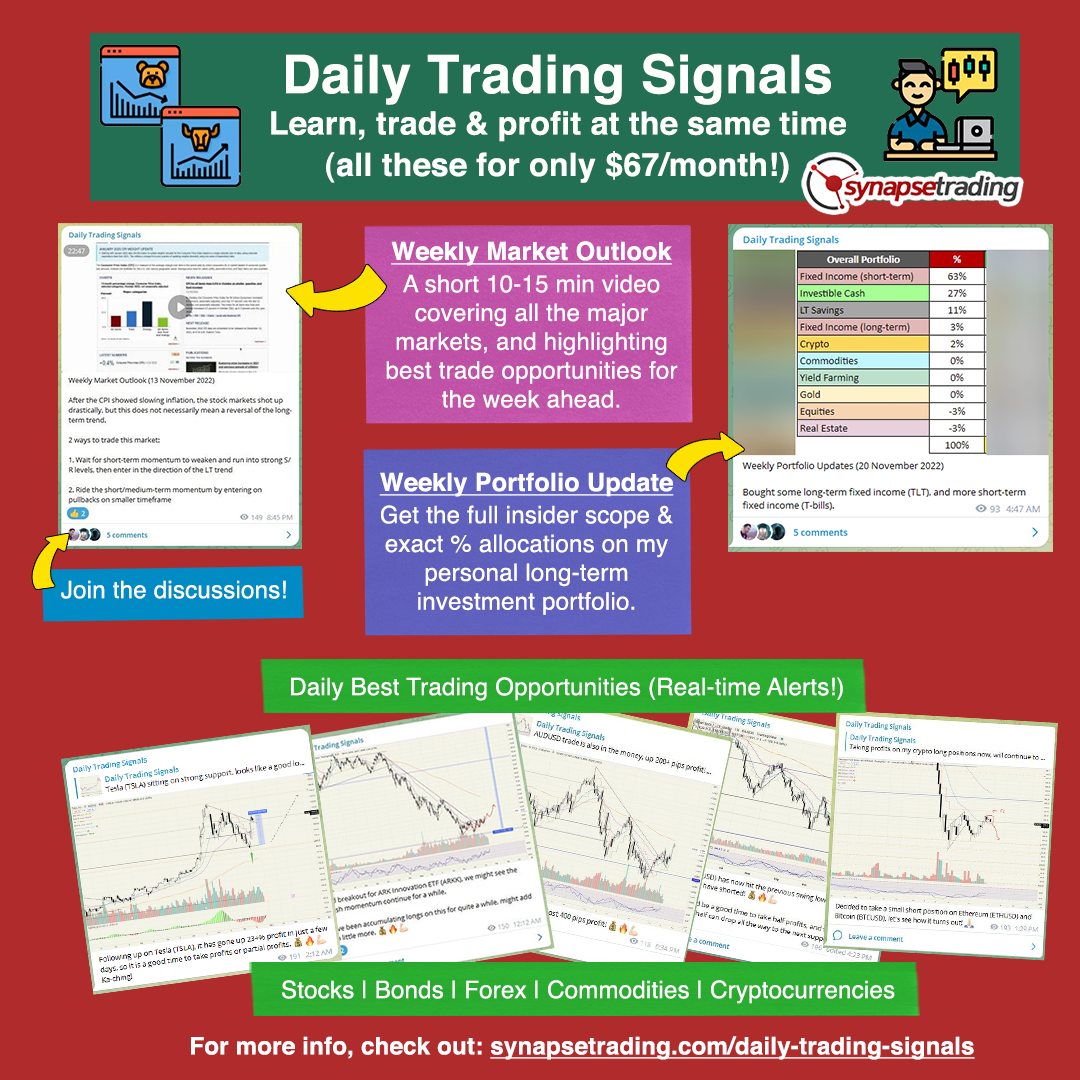 If you're looking for the best trading opportunities every day across various markets, and don't want to spend hours doing the research yourself, check out our private Telegram channel!
If you're looking for a reputable brokerage that covers all products (SG stocks, US stocks, global stocks, bonds, ETFs, REITs, forex, futures, crypto) and has one of the lowest commissions, this is what I currently use.
Spencer is an avid globetrotter who achieved financial freedom in his 20s, while trading & teaching across 70+ countries. As a former professional trader in private equity and proprietary funds, he has over 15 years of market experience, and has been featured on more than 20 occasions in the media.
https://synapsetrading.com/wp-content/uploads/2022/08/Trakai-Lithuania.jpg
1536
2048
Spencer Li
https://synapsetrading.com/wp-content/uploads/2019/10/logo.jpg
Spencer Li
2022-08-20 13:42:30
2022-08-20 18:34:11
Weekly Market Wrap: Is the Bear Market Ready to Resume?