Weekly Market Wrap: Stock Market Resumes Uptrend; CPI Data Due this Week
Join our Telegram channel (50,000+ subscribers) for daily market analysis & trading tips: t.me/synapsetrading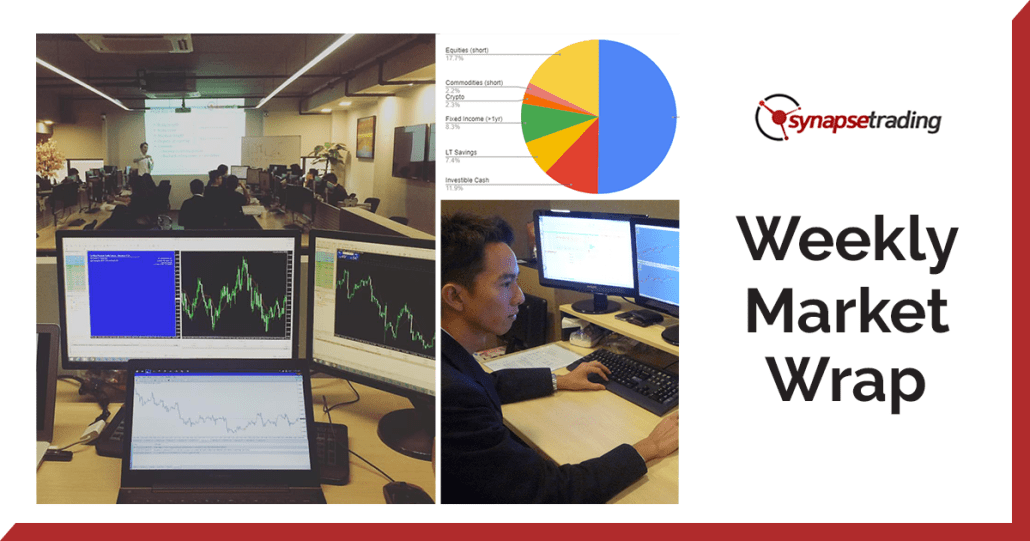 For subscribers of our "Daily Trading Signals", we now also include a "Weekly Market Report", where we provide a weekly deep-dive on the market, including fundamentals, technical, economics, and portfolio management:
Click here for last week's market report (6 November 2023)
Click here to subscribe for the latest market report (13 November 2023)
Click here to see the archives of all our past market reports
Market Recap & Upcoming Week
Last week's economic discussions centered around the resilience of the U.S. economy, which displayed a robust growth trajectory through the third quarter of 2023. The annualized GDP growth rate of 4.9% for the quarter marked the highest since 2021, significantly outpacing the typical trend growth.
This expansion was largely fueled by personal consumption, a critical driver of the U.S. economy, accounting for about 70% of the GDP.
Despite this, concerns were raised about the sustainability of such consumer spending levels, especially as we approach the critical holiday shopping season. Analysts are pondering whether the American consumer can maintain this momentum given certain emerging constraints.
Several indicators suggest potential headwinds for continued consumption at current rates. Notably, household savings rates have dwindled to post-pandemic lows, with the stimulus-induced financial cushion seemingly depleted. Concurrently, credit card debt in the U.S. has surged to over $1 trillion, with delinquencies on the rise—a trend that could necessitate a pullback in consumer spending.
Additionally, the Federal Reserve's Senior Loan Officer's Survey indicated that banks are maintaining stringent lending standards, which could further suppress consumption by limiting access to credit for consumers and businesses alike.
These factors, combined with geopolitical uncertainties and the looming threat of a U.S. government shutdown, could dampen consumer sentiment and spending. However, a silver lining exists: a potential slowdown in consumption might ease inflationary pressures and forestall further Federal Reserve rate hikes, ultimately benefiting the financial markets and investors.
Investors will have their hands full in the coming week with a suite of critical financial disclosures. Retail giants Walmart, Target, Home Depot, and Macy's are all queued up to report earnings, which will offer a peek into consumer spending habits as the Census Bureau also releases October's national retail sales data.
These reports could be pivotal in shaping market sentiment, especially as the holiday shopping season looms on the horizon, a period crucial for retail profitability.
In addition to the retail sector's performance, the week will also cast light on broader economic indicators.
The October Consumer Price Index (CPI) will provide fresh insights into inflation trends, while housing market health checks will come from reports on last month's housing starts and the National Association of Home Builders' Housing Market Index for November.
Meanwhile, a significant macroeconomic risk hangs over the market as the deadline for the national budget decision approaches on Nov. 17. Without Congressional action to pass spending bills or another stopgap measure by Friday, the government could face a shutdown, with potentially wide-reaching consequences for the economy and markets.
Daily Trading Signals (Highlights)
AUDUSD – The recent pullback in prices offer a low-risk shorting opportunity.
EURJPY – After breaking out from an "ascending triangle", prices are heading up to test the next major resistance level.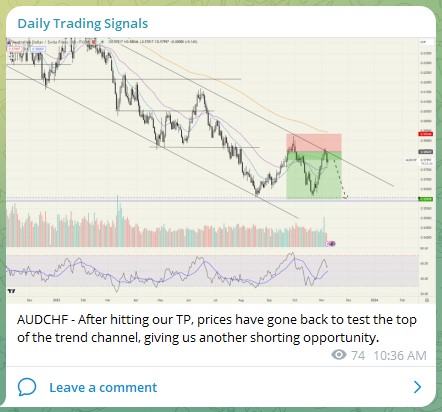 AUDCHF – After hitting our TP, prices have gone back to test the top of the trend channel, giving us another shorting opportunity.
Subscribe for real-time alerts and weekly reports:
👉🏻 https://synapsetrading.com/daily-trading-signals
Our flagship mentoring program is suitable for both beginners and advanced traders, covering the 4 strategies which I used over the past 15 years to build up my 7-figure personal trading portfolio.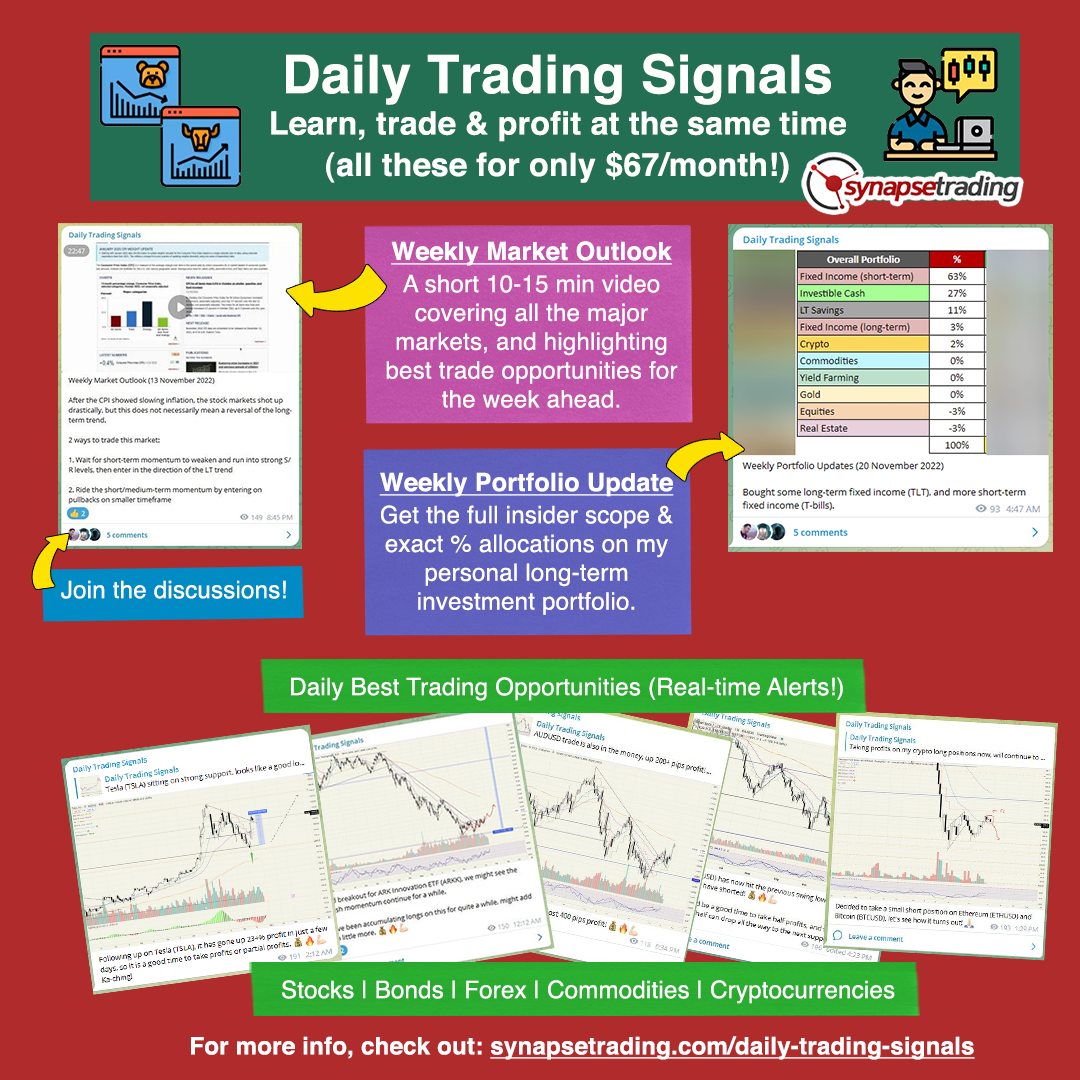 If you're looking for the best trading opportunities every day across various markets, and don't want to spend hours doing the research yourself, check out our private Telegram channel!
If you're looking for a reputable brokerage that covers all products (SG stocks, US stocks, global stocks, bonds, ETFs, REITs, forex, futures, crypto) and has one of the lowest commissions, this is what I currently use.
Spencer is an avid globetrotter who achieved financial freedom in his 20s, while trading & teaching across 70+ countries. As a former professional trader in private equity and proprietary funds, he has over 15 years of market experience, and has been featured on more than 20 occasions in the media.
https://synapsetrading.com/wp-content/uploads/2023/05/Thumbnail-banner-weekly-market-wrap-x3.png
630
1200
Spencer Li
https://synapsetrading.com/wp-content/uploads/2019/10/logo.jpg
Spencer Li
2023-11-14 18:27:16
2023-11-22 13:37:58
Weekly Market Wrap: Stock Market Resumes Uptrend; CPI Data Due this Week