Australia dollar dives to six-year lows after RBA rate cut – Shorting opportunity now?
Join our Telegram channel (50,000+ subscribers) for daily market analysis & trading tips: t.me/synapsetrading
Yesterday, the Australian dollar tumbled more than a cent to a six-year low, after the Reserve Bank of Australia cut interest rates to a record low of 2.25 per cent. What does this mean for the AUD/USD, and are there any good trading opportunities?
Statement by Glenn Stevens, Governor: Monetary Policy Decision (Abridged)
At its meeting today, the Board decided to lower the cash rate by 25 basis points to 2.25 per cent, effective4 February 2015.
Growth in the global economy continued at a moderate pace in 2014. China's growth was in line with policymakers' objectives. The US economy continued to strengthen, but the euro area and Japanese economies were both weaker than expected. Forecasts for global growth in 2015 envisage continued moderate growth.
Commodity prices have continued to decline, in some cases sharply. The price of oil in particular has fallen significantly over the past few months. These trends appear to reflect a combination of lower growth in demand and, more importantly, significant increases in supply. The much lower levels of energy prices will act to strengthen global output and temporarily to lower CPI inflation rates.
Financial conditions are very accommodative globally, with long-term borrowing rates for several major sovereigns reaching new all-time lows over recent months. Some risk spreads have widened a little but overall financing costs for creditworthy borrowers remain remarkably low.
The Australian dollar has declined noticeably against a rising US dollar over recent months, though less so against a basket of currencies. It remains above most estimates of its fundamental value, particularly given the significant declines in key commodity prices. A lower exchange rate is likely to be needed to achieve balanced growth in the economy.
For the past year and a half, the cash rate has been stable, as the Board has taken time to assess the effects of the substantial easing in policy that had already been put in place and monitored developments in Australia and abroad. At today's meeting, taking into account the flow of recent information and updated forecasts, the Board judged that, on balance, a further reduction in the cash rate was appropriate. This action is expected to add some further support to demand, so as to foster sustainable growth and inflation outcomes consistent with the target.
Source:
http://www.rba.gov.au/media-releases/2015/mr-15-01.html
Looking at this daily chart of AUD/USD, we can see that the AUD/USD had traded nicely within a trend channel, providing many easy trades to short and take profit.
While this rate cut may have come as a surprise to some, it certainly did not surprise the price action.
Because while it may have hit new lows, prices rebounded nicely from the bottom trend channel line, after profit-taking by those who shorted near the channel top.
My profit target which was near that level got hit as well.
So, can I short this now?
While the AUD/USD is clearly on a downtrend, I would prefer to minimise my risk and look for a good pullback to go short again, perhaps somewhere in that yellow shaded region marked on the chart.
Remember, trading is about following the trend, but it is also about finding the best low-risk opportunities to enter the trend.
Good luck! 😀
Our flagship mentoring program is suitable for both beginners and advanced traders, covering the 4 strategies which I used over the past 15 years to build up my 7-figure personal trading portfolio.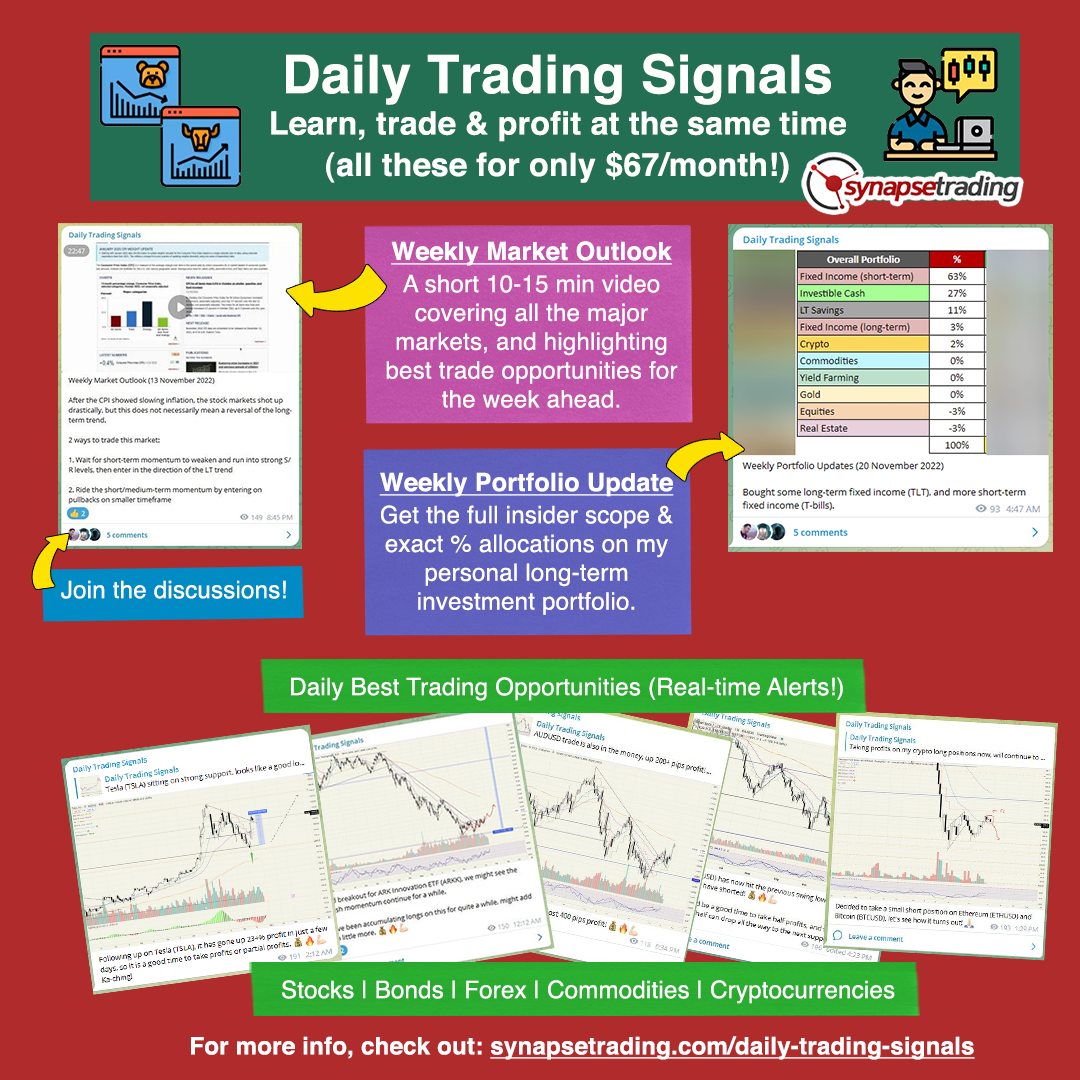 If you're looking for the best trading opportunities every day across various markets, and don't want to spend hours doing the research yourself, check out our private Telegram channel!
If you're looking for a reputable brokerage that covers all products (SG stocks, US stocks, global stocks, bonds, ETFs, REITs, forex, futures, crypto) and has one of the lowest commissions, this is what I currently use.
Spencer is an avid globetrotter who achieved financial freedom in his 20s, while trading & teaching across 70+ countries. As a former professional trader in private equity and proprietary funds, he has over 15 years of market experience, and has been featured on more than 20 occasions in the media.
https://synapsetrading.com/wp-content/uploads/2019/10/logo.jpg
0
0
Spencer Li
https://synapsetrading.com/wp-content/uploads/2019/10/logo.jpg
Spencer Li
2015-02-04 01:15:59
2019-11-11 13:03:42
Australia dollar dives to six-year lows after RBA rate cut – Shorting opportunity now?