The Synapse Program Q4 2015 – Making Dreams a Reality in 2016!
Join our Telegram channel (50,000+ subscribers) for daily market analysis & trading tips: t.me/synapsetrading
Would you like to learn how to create a 2nd source of income in your spare time?
With our unique 7 Step Formula and 4 Proprietary Trading Strategies, 15 minutes a day is all we need to start making consistent profits, and create a 2nd source of passive income. This is something that cannot be found in any books or websites, as it is based on real trading experience at the trading desk.
We are proud to announce that another batch of successful graduates have learnt the original 15 Minute System which reveals how professional traders time the market! Now it is time for them to put what they have learnt into practice, and start reaping profits from the market!
And once again, we have 100% positive reviews and a strong YES! when asked if they would recommend their friends and family.
Here at Synapse Trading, our goal is not to sell you some magical blackbox software, but to impart real professional trading skills which can stand the test of time and work under all market conditions. As the head trainer, I have traded professionally at private equity and proprietary funds, and I am an internationally certified CFTe under the IFTA. This is why I am the youngest professional trainer for SGX, helping to train both retail and seasoned traders.
We take special pride in our post-course support and training, with our ongoing monthly LIVE! market workshops, and daily discussions in our private forum and live chat groups, which is why most of our new students come from referrals from past graduates, and we have a long waiting list of people eager to join our exclusive network. Unfortunately, there is one of me, and I only have time to train 20 new traders each quarter.
So the question is, will you be among the next batch of 20 to learn this unique skill?
Q4 2015 Training Program Feedback (Real Results from Real People!)
"The course content is easy to understand even for total beginner like me. Provide me the basic foundation to world of trading and hopefully can achieve consistent positive result –> to early retirement." – Susan Koh
"Very systematic approach of a 7 step formula from a real professional trader who achieved first success at a young age." – C.C.Yong, Working in Japan & flew down to Singapore to attend the weekend course
"The course of very good and practical for newbie like me & can understand the charts with confidence because of practical applications and tests done." – Tim De Gozman
"Very practical & actionable workshop. Gives confidence to participants in executing real-world trades." – Zhihao
"Great systematic approach to trading with good results to prove." – Kevin W.
"Very strong, user-friendly trading framework presented in a great interactive manner." – Dennis
"This course has given me, a newbie, confidence to trade. Because of the given framework, it is easier to be accurate & trade without letting emotion to get in the way." – Winsen Citra, Physioclinic
"The course is clear and focused. The tools and group support are useful for future guidance. I will recommend this course accordingly. Course fee is reasonable for stock & forex trading." – Kok Hong Qi
"Step by step teaching/coaching. Clear explanation & I'm really benefit from this course. Previously I know nothing about the market setup/moves. But now after the course I can do the setup confidently." – Jase
"Spencer is knowledgeable and gives relevant and useful techniques for traders. This workshop has given me the tools and most importantly confidence to start my trading journey." – Amin, Alvigor Pte Ltd
"I have learnt 7 step systematic strategy for trading. I think I will be able to do better in my trading going forwards in terms of profit gaining, money management and removing emotional part of the trading." – Kwang
"Good program, an eye-opener on bigger picture of trading world." – Subra, STM
"Good systematic approach in deciding what type of setup to use on different kind of movement. Very humble and encouraging. Learn a lot and an eye-opener." – Steve
"Spencer is a very helpful and responsible person. He tries to make his lesson easy to understand and his best to cater to everyone's needs, be it the pros or the newbies." – Darrell, PrimePartners corporate Finance
"It was great attending this course, I wish there will be more of this." – Adrian Teoh, Evergreen Marine and Industrial Supplies Pte Ltd
"Very comprehensive 2-day course. Questions are answered well by Spencer. Not a dull moment. Recommended for newbies and even experienced traders who want an insight to a different trading style." – Amos Tan, JoErik
"Very systematic approach to the market that is easy to follow. Very practical and definitely can be implemented." – Colin
Would you like to become the next Superstar Trader?
The next intake will be in March 2016, but we allow advanced reservations, so email us before the limited slots get filled up to avoid disappointment! Currently, 10 of the 20 available slots (50%) have already been reserved and fully paid for by eager participants from around the world. We will not be opening any new slots once these have been filled.
About our training program: https://synapsetrading.com/the-synapse-program/
To see more testimonials, please visit https://synapsetrading.com/testimonials/
Email enquiries & booking: info@synapsetrading.com
Our flagship mentoring program is suitable for both beginners and advanced traders, covering the 4 strategies which I used over the past 15 years to build up my 7-figure personal trading portfolio.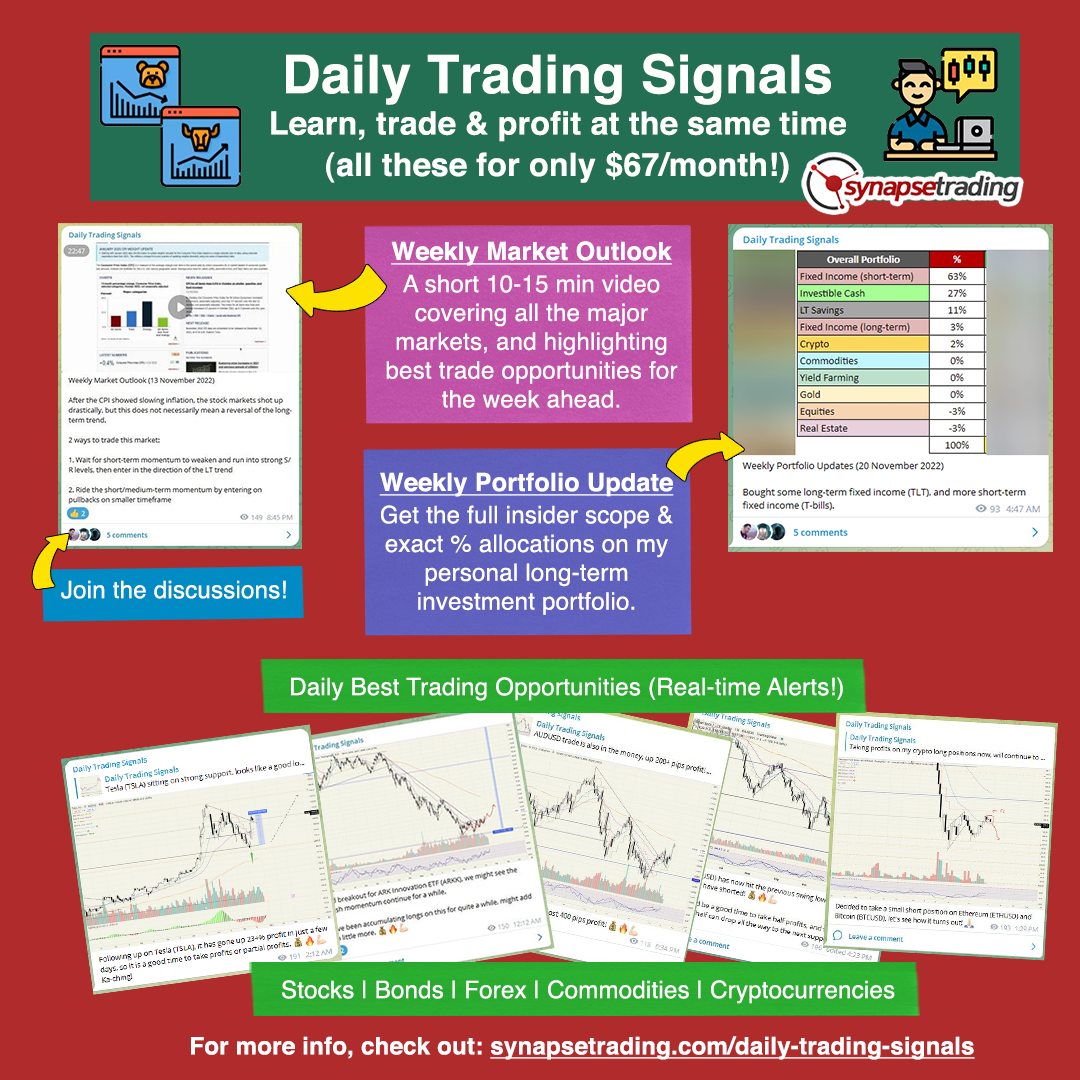 If you're looking for the best trading opportunities every day across various markets, and don't want to spend hours doing the research yourself, check out our private Telegram channel!
If you're looking for a reputable brokerage that covers all products (SG stocks, US stocks, global stocks, bonds, ETFs, REITs, forex, futures, crypto) and has one of the lowest commissions, this is what I currently use.
Spencer is an avid globetrotter who achieved financial freedom in his 20s, while trading & teaching across 70+ countries. As a former professional trader in private equity and proprietary funds, he has over 15 years of market experience, and has been featured on more than 20 occasions in the media.
https://synapsetrading.com/wp-content/uploads/2015/12/Synapse-Program-2015-Nov-10.jpg
1219
4051
Spencer Li
https://synapsetrading.com/wp-content/uploads/2019/10/logo.jpg
Spencer Li
2015-12-02 11:10:54
2019-12-26 03:22:53
The Synapse Program Q4 2015 – Making Dreams a Reality in 2016!