Why I am Planning to Liquidate my Full Portfolio of Singapore Stocks

Join our Telegram channel (50,000+ subscribers) for daily market analysis & trading tips: t.me/synapsetrading
It has been a while since my last update on the Singapore markets (as well as my SG portfolio holdings), largely because the market doesn't move much, so I only check on them once in a while.
Interestingly, I noticed that the STI has had an impressive run, coming off a low of 25xx to break past the 3000 level in the past few months. However, is this move sustainable?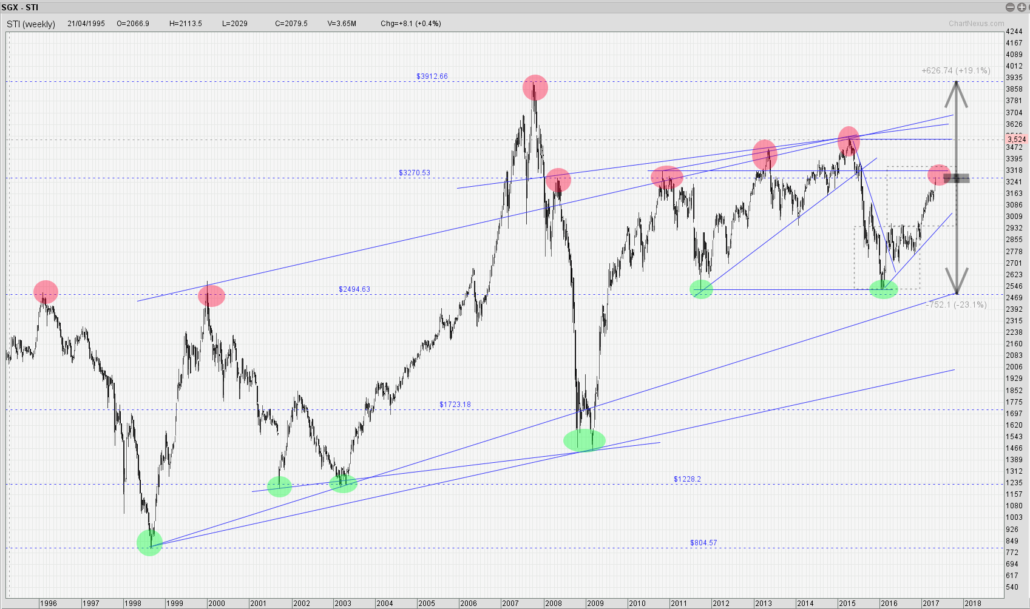 Taking a closer look at this weekly chart which shows the historical prices over the last 20 years or so, one thing which stands out is that the market has been in a 7 YEAR sideways stagnation.
If we look back at the whole history of the index, this is somewhat unprecedented.
Which could explain why popularity in this market (as well as trading volumes) has been waning. In short, it does seem like a dying market.
Not to mention that during this same time period, the US stock markets have been steadily creeping up.
If we look at the most recent red shaded circle, that is where the current price is, and it seems to be running into massive headwinds. This means that the potential upside could be quite limited.
If we observe the large sideways range that prices have been moving in, the price is now at the top of the range. And we know that the best strategy in a range is to "buy low, sell high", which means that the odds do not favour much more upside, unless there is some new strong positive price catalyst.
However, a cursory glance at recent news headlines seems to be painting a rather gloomy picture, with muted growth forecasts and ominous employment statistics. This tell me that downside catalysts are more likely that upside ones. In other words, there is more chance of a negative shock rather than a positive shock for prices.
In light of all these factors, I am planning to cash out most or all of my profits, and wait for more favourable odds to redeploy my capital. As a trader and investor, timing is always key.
Good luck, and trade wisely! 😀
Our flagship mentoring program is suitable for both beginners and advanced traders, covering the 4 strategies which I used over the past 15 years to build up my 7-figure personal trading portfolio.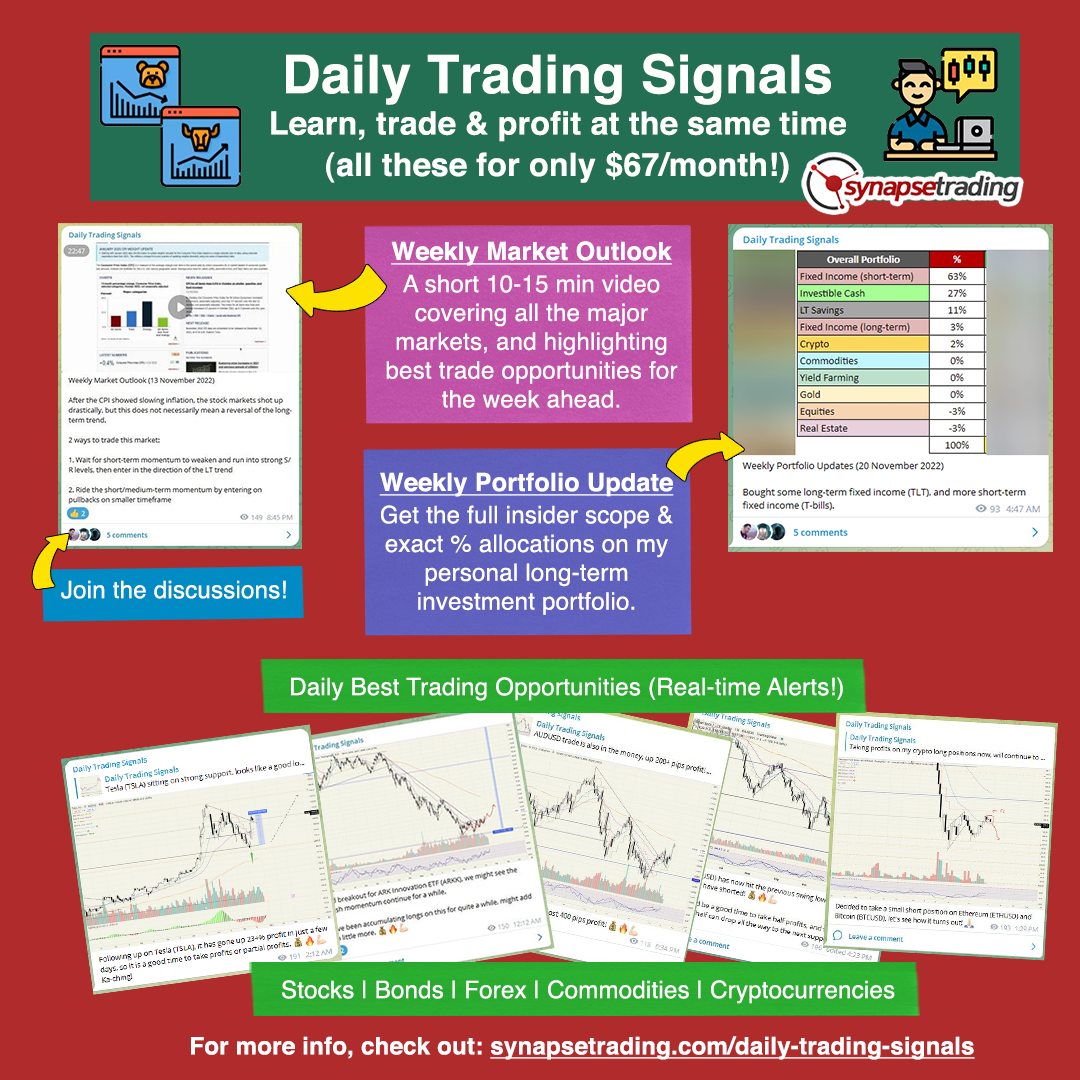 If you're looking for the best trading opportunities every day across various markets, and don't want to spend hours doing the research yourself, check out our private Telegram channel!
If you're looking for a reputable brokerage that covers all products (SG stocks, US stocks, global stocks, bonds, ETFs, REITs, forex, futures, crypto) and has one of the lowest commissions, this is what I currently use.
Spencer is an avid globetrotter who achieved financial freedom in his 20s, while trading & teaching across 70+ countries. As a former professional trader in private equity and proprietary funds, he has over 15 years of market experience, and has been featured on more than 20 occasions in the media.
https://synapsetrading.com/wp-content/uploads/2017/05/straits-times-index-sti-140517.png
1004
1697
Spencer Li
https://synapsetrading.com/wp-content/uploads/2019/10/logo.jpg
Spencer Li
2017-05-14 06:57:27
2022-03-07 16:51:55
Why I am Planning to Liquidate my Full Portfolio of Singapore Stocks