The Rise and Fall of FTX & FTT Token (Will Investors Get Their Money Back?)
Join our Telegram channel (50,000+ subscribers) for daily market analysis & trading tips: t.me/synapsetrading
Are you ready to learn the truth about what really happened to FTX exchange and its founder, Sam Bankman-Fried?
Because it's a wild ride.
In December 2022, Bankman-Fried was arrested on fraud charges by Bahamian authorities, and the collapse of FTX sent shockwaves through the cryptocurrency market.
The value of cryptocurrencies dropped billions of dollars and even fell below the $1 trillion mark in November 2022.
The impact of FTX's decline will likely be felt for a long time and could potentially even affect broader markets.
Investors and customers have lost billions, and according to John Ray, the company's replacement CEO, not all of it will be recovered.
In this blog post, I'll going to cover the rise and fall of FTX and the FTT token, and whether investors are likely to get their money back.
What is FTX?
Firstly, what is FTX?
It's a cryptocurrency exchange that was founded by Sam Bankman-Fried, who is the main villain in this saga.
A cryptocurrency exchange is a platform that allows individuals to buy, sell, or trade cryptocurrencies for other assets, such as traditional fiat money or other digital currencies.
These exchanges serve as the primary way that people buy and sell cryptocurrencies, and they provide a marketplace for traders to buy and sell cryptocurrency with each other.
Some exchanges only allow users to trade specific pairs of cryptocurrencies, while others offer a wider range of options.
Some exchanges are designed for professional traders, while others are more geared towards novice users.
What is the FTT token?
What is the FTT token and what does it have to do with FTX?
It's a cryptocurrency issued by FTX, and FTT is the native token of FTX and was used on the platform for various purposes, like paying for things and accessing special features for traders.
The value of FTT was closely tied to FTX's performance and reputation, so it experienced big price fluctuations.
The Rise of FTX
How did FTX grow so quickly?
The company was known for its aggressive marketing tactics, including a Super Bowl ad campaign and the purchase of naming rights to the home of the Miami Heat basketball team.
FTX was also involved in political lobbying and made donations to various causes, as well as working to support the overall cryptocurrency industry.
In addition, the cryptocurrency market has been volatile and has experienced significant growth in recent years, which may have contributed to the rapid rise of FTX.
The Fall of FTX
In November 2022, FTX filed for Chapter 11 bankruptcy protection after seeing its valuation plummet from $32 billion to nearly nothing in just a few days.
This also resulted in a significant reduction in Bankman-Fried's net worth, which was previously estimated at $16 billion.
Right now, Bankman-Fried is being held in jail without bail and is fighting extradition to the U.S., where the case against him has been described as one of the largest financial frauds in American history.
Bankman-Fried claims to have around $100,000 in his bank account as of November 2022.
A class-action lawsuit was filed in Florida that same month, accusing Bankman-Fried of creating a fraudulent cryptocurrency scheme that targeted unsophisticated investors across the U.S., with celebrities including Steph Curry, Shaquille O'Neal, Shohei Ohtani, Naomi Osaka, Larry David, and Kevin O'Leary named as alleged accomplices.
Bankman-Fried has hired white-collar crime lawyer Mark S. Cohen to defend him, while Caroline Ellison, head of the FTX-affiliated Alameda Research, has retained the services of law firm Wilmer Cutler Pickering Hale and Dorr.
But it's not just the legal issues that are causing problems for FTX.
Shady Practices of FTX
The company has been accused of questionable practices, including undisclosed leverage and the manipulation of cryptocurrency prices.
There have also been allegations of insider trading and self-dealing.
As the situation at FTX continued to develop, it became clear that the company had engaged in questionable practices, including the use of undisclosed leverage and the manipulation of the prices of certain cryptocurrencies.
These practices contributed to the rapid decline of the company and the loss of billions of dollars for investors and customers.
The Crash of FTT Tokens
In response to the situation, major cryptocurrency exchange Binance announced in November 2022 that it would sell its entire position in FTT tokens, which was valued at around $529 million.
Binance CEO Changpeng Zhao stated that the decision to liquidate the exchange's FTT holdings was made to protect the interests of its users and the wider cryptocurrency community.
Following the announcement, the value of FTT tokens plummeted, causing further damage to the already troubled FTX.
Will Investors Get their Money Back?
In December 2022, FTX and its affiliated debtors filed a motion with the bankruptcy court seeking approval for the sale of four businesses, including Embed, LedgerX, FTX Japan, and FTX Europe.
The motion stated that the sale of these businesses was intended to raise funds to pay off FTX's debts and to provide a return to its creditors.
As the situation at FTX unfolded, it had significant reputational consequences as well.
Bankman-Fried had been seen as a leading figure in the cryptocurrency industry, but the allegations against him and the collapse of FTX have tarnished his reputation and that of the company.
It remains to be seen how these events will impact the overall cryptocurrency market and the future of FTX and its affiliated companies.
Concluding Thoughts
So, what can we learn from all of this?
It's a cautionary tale about the risks of investing in the cryptocurrency market, and it's a reminder to always do your due diligence before putting your money into any investment.
The situation at FTX is still unfolding, and it remains to be seen how these events will impact the overall cryptocurrency market and the future of FTX and its affiliated companies.
But one thing is certain: this is going to be very bearish for the crypto market, and there are likely more companies that are going to get dragged down as more disclosures come to light.
And as for investors, the likelihood of recovering the full sum is very slim, but there is a good chance of getting at least something back.
Now that you know all about FTX and FTT, do you think this fiasco could have been avoided if more due diligence was done?
Were you one of the unlucky ones who got their money trapped in FTX?
Let me know in the comments below.
Our flagship mentoring program is suitable for both beginners and advanced traders, covering the 4 strategies which I used over the past 15 years to build up my 7-figure personal trading portfolio.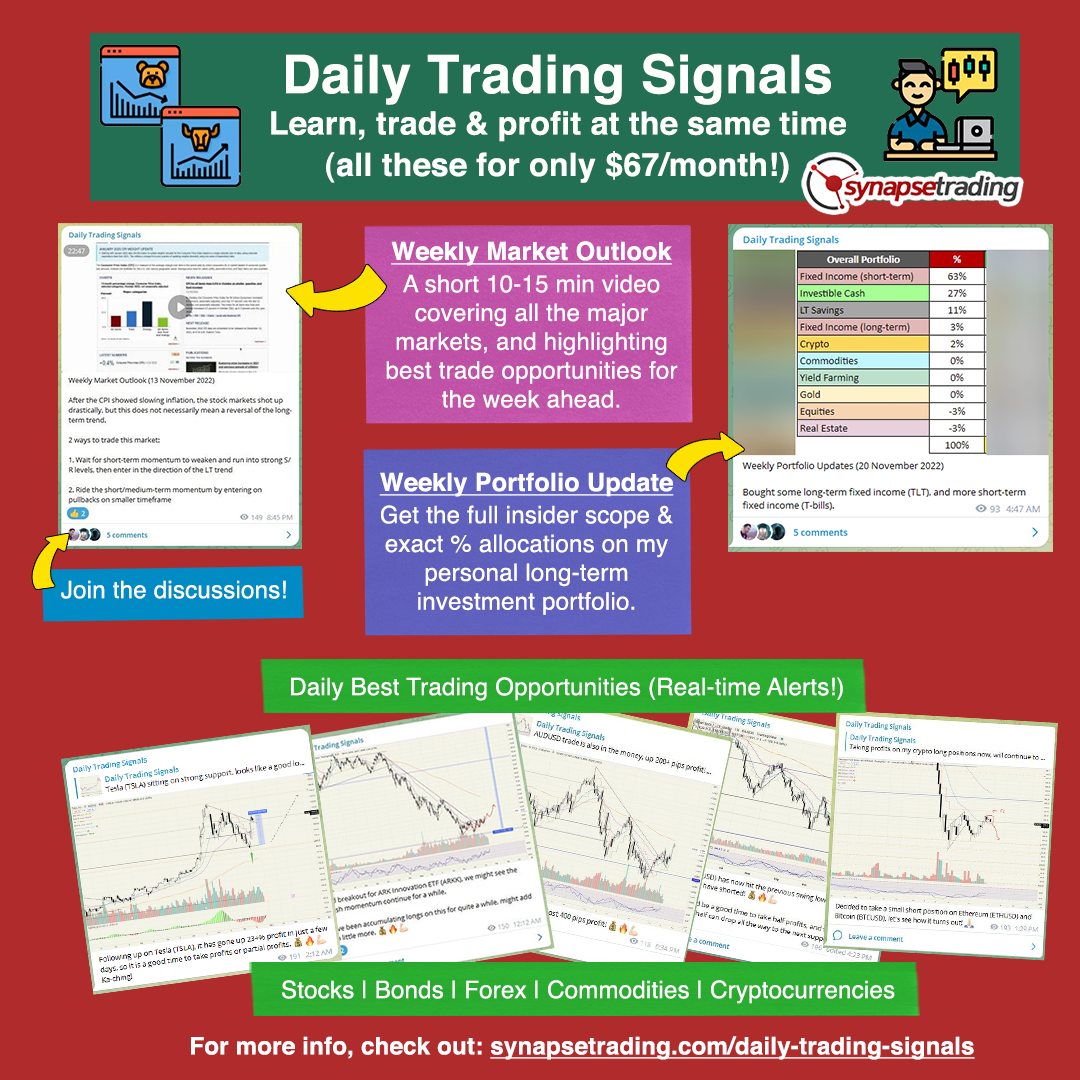 If you're looking for the best trading opportunities every day across various markets, and don't want to spend hours doing the research yourself, check out our private Telegram channel!
If you're looking for a reputable brokerage that covers all products (SG stocks, US stocks, global stocks, bonds, ETFs, REITs, forex, futures, crypto) and has one of the lowest commissions, this is what I currently use.
Spencer is an avid globetrotter who achieved financial freedom in his 20s, while trading & teaching across 70+ countries. As a former professional trader in private equity and proprietary funds, he has over 15 years of market experience, and has been featured on more than 20 occasions in the media.
https://synapsetrading.com/wp-content/uploads/2022/12/Thumbnail-Rise-and-Fall-of-FTX.png
720
1280
Spencer Li
https://synapsetrading.com/wp-content/uploads/2019/10/logo.jpg
Spencer Li
2022-12-18 14:37:03
2023-01-10 01:51:20
The Rise and Fall of FTX & FTT Token (Will Investors Get Their Money Back?)