Join our Telegram channel (8000+ subscribers) for daily market analysis & trading tips: t.me/synapsetrading
Regarding the market, we are likely to see a strong opening tomorrow given the strong close on Friday. The Dow closed up 277 points, due to the bullish news coming out of Europe, with new measures to "avert" the latest crisis.
It's funny how the cycle plays out:
Crisis event – FEAR, FEAR, FEAR, it's the end of the world!!!
Discussion – leaders discuss how to solve it, and markets creep down as the clock ticks. People are worried that no solution will emerge and markets become oversold.
Just in time! – Just when the sand is about to run out of the hourglass, the solution emerges and everyone is happy.
Next crisis – rinse and repeat
So, the big question is: how long is this bullishness going to last? Let's not forget the core problems are still not solved. The charts will inform us when the time comes.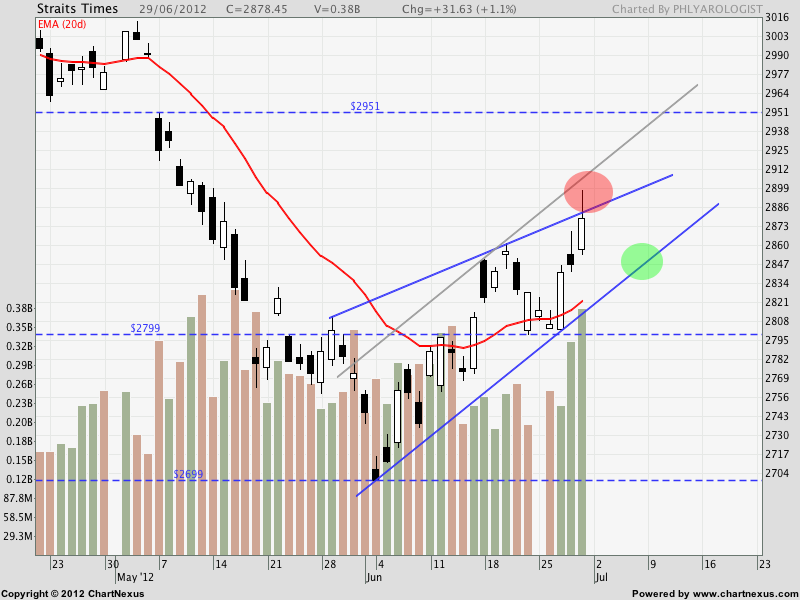 Let's also not forget that last Friday was the last trading day for Q2, which signifies something very important: WINDOW DRESSING. We shall see whether this optimism carries on into the next week
Looking at the chart above, I would prefer to go long near the green circled area instead of the red circled area, where weakness in the form of upper shadows. Given the bullishness, there may not be any pullback, so I will be looking to go long on any intraday pullback or pause bar.
////////  Do note that the current short-term trend is bullish, so stay bullish until the price informs us of a change in direction. ////////
Cheers
Spencer
https://synapsetrading.com/wp-content/uploads/2019/10/logo.jpg
0
0
Spencer Li
https://synapsetrading.com/wp-content/uploads/2019/10/logo.jpg
Spencer Li
2012-07-04 18:03:15
2021-03-09 01:24:20
Market Updates – The end of Q2