Join our Telegram channel (8000+ subscribers) for daily market analysis & trading tips: t.me/synapsetrading
Some people have been thinking that nothing can bring the stock market down, because it has been steadily chugging up despite all the negative news of virus, lockdowns, unemployment, trade wars, and now riots.
So can the market continue to climb up forever? What will it take to actually bring the market down?
Join our FREE Telegram channel for daily trading tips:
👉🏻 https://t.me/synapsetrading
Market Overview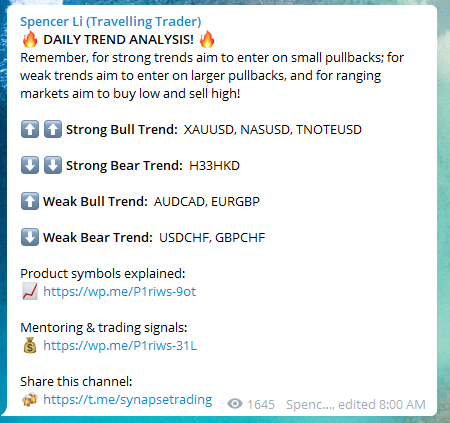 The strong bullish trending markets are Gold (XAU/USD), Nasdaq (NASUSD), and the US 10-year T-Note Futures (TNOTEUSD), which have been trending for quite a while, and our positions there have remained largely unchanged.
The most bearish market is the Hang Seng (H33HKD), which is not surprisingly since China is planning to enact more stringent national security laws, which will likely negatively impact Hong Kong's financial markets.
Major Events
This has been a very eventful year so far, with the virus outbreaks, quarantines, job market crashing, and now the slow re-opening of the economy.
Amidst all that, the amazing thing is that the stock market is recovering much faster than the economy.
And now, tensions between US and China are stepping up, with China's latest actions on HK and corresponding US retaliation, adding to the accusations of China covering up the virus at the start of the outbreak.
And in the US, we are seeing riots and looting, after a white cop killed a black guy in broad daylight during arrest.
US Stock Markets
The US stock market, especially the NASDAQ, has been on steroids, thanks to the dominance of tech stocks.
In my private forum with my students, I shared a detailed analysis of the S&P 500.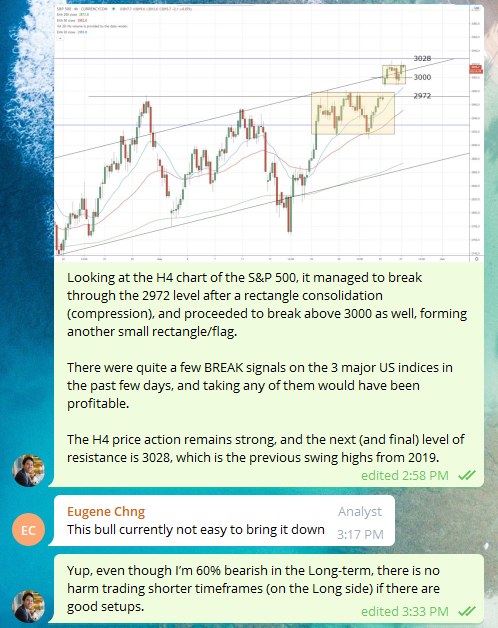 Trade Highlights
Here are some highlights and case studies of trades done on forex, commodities and CFD products, also taken from our private forum.
Join our Last & Final Skillsfuture Workshop!
Last weekend, we conducted another full-house Skillsfuture workshop, with 40 pax of new traders & investors, as well as some of my past students who sat in to help out.
So far, every intake has been a full house, which is why we expanded to 3 workshops instead of 1 originally planned, because of the overflow. But our license expires on 18 June, so this is the last and final workshop which we can hold.
This fully subsidised Skillsfuture workshop will give you the skills and roadmap to build a second source of income to plan for early financial freedom, by building an all-weather portfolio that can perform well in any market conditions, and also market timing skills to create additional cashflow from short/medium-term trades.
Date: 13 & 14 June 2020 (6pm to 10pm)
Click here to check availability:
🔥 https://wp.me/P1riws-8OX
P.S. According to Skillsfuture regulations, the maximum intake is capped at 40 slots, so we will not be able to add new slots once all are filled up. Register early to avoid disappointment!
P.P.S. Your slot is only confirmed after you have completed payment, submitted your claims, and forwarded the confirmation screenshot to the organiser. If you did not complete the last step, your slot is still up for grabs to the next person who completes it.
💰 First-come, first-serve!
🍻 See you soon! 😄
https://synapsetrading.com/wp-content/uploads/2020/06/market-analysis-pic-3.jpg
262
429
Spencer Li
https://synapsetrading.com/wp-content/uploads/2019/10/logo.jpg
Spencer Li
2020-06-02 15:32:20
2021-03-21 15:54:21
Market Analysis – Virus, Riots & Trade Wars