How to Buy US T-Bills (USD) on Interactive Brokers (IBKR)
Join our Telegram channel (50,000+ subscribers) for daily market analysis & trading tips: t.me/synapsetrading
Recently, many people have been asking me how to buy US T-Bills (USD), since the yields are currently above 4.5%, so I have put together this simple guide.
I am using Interactive Brokers to make the transactions, so if you do not have an account, the first step is to open an Interactive Brokers account.
Once you have an account, log into the "Trader Workstation", which is a software you can download for free.
When setting up for account, you also need to make sure you have activated permissions to trade bonds. You can do so by indicating the maximum experience for bonds.
Select "New Window" > "Scanners" > "Bond Scanner" to open the page for bonds.
Next, select "US Treasuries" and check the box which says "T-Bills" on the right side. Click the "Search" button at the top to filter.
You will see all the T-Bills available. The maturity date is the date which the T-bill expires.
If you want 3 months, then it will be roughly today's date + 3 months (13 Jan 2023).
If you want 6 months, then it will be roughly today's date + 6 months (13 Apr 2023).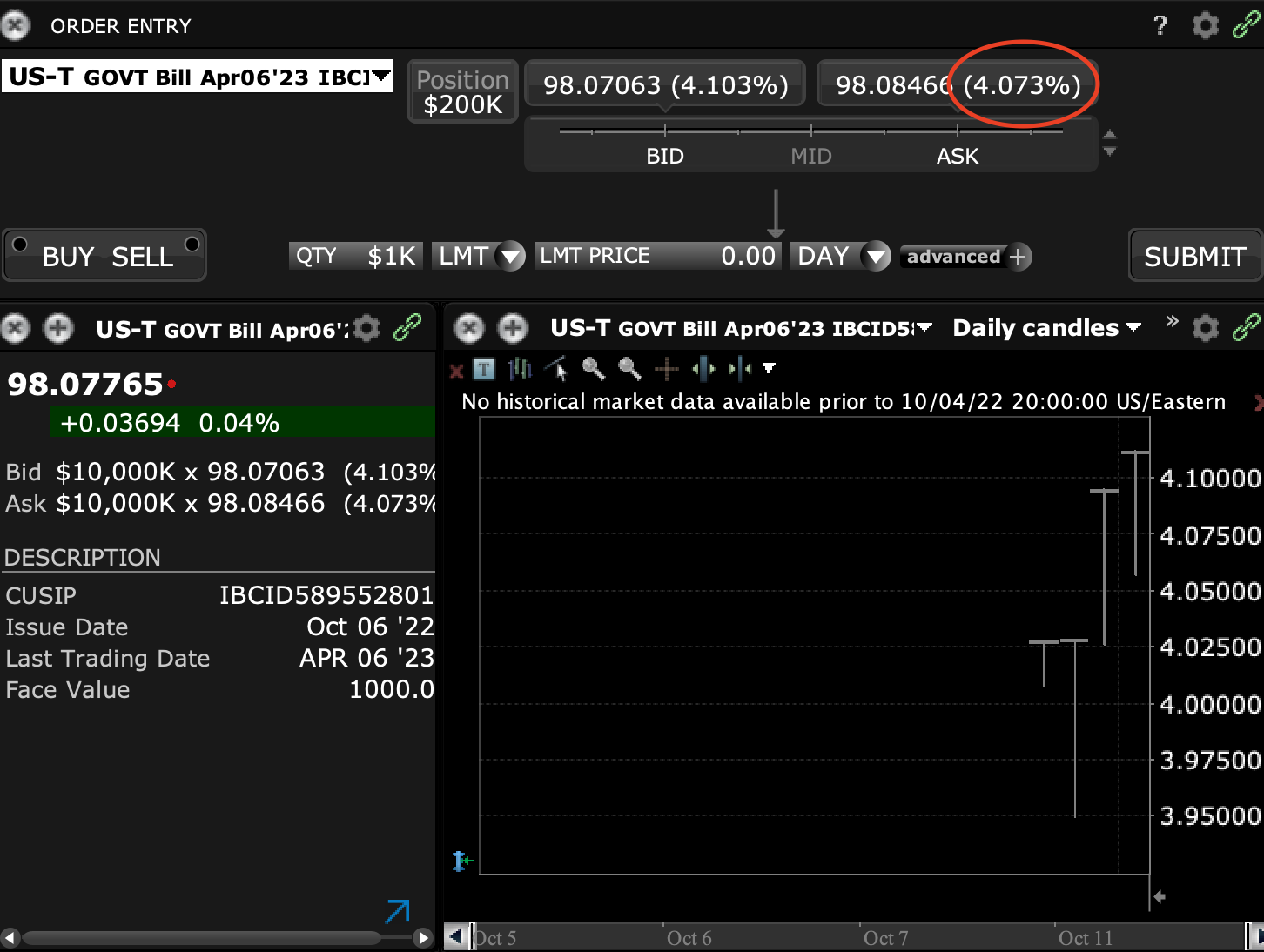 Click on the one which you want to buy, and come to the trading screen.
For this example, I picked the Apr06'23 which is about 6 months. You can see that the yield is 4.073% at the current price.
The way it works is that you buy it at $98.08466, and over time the price will increase as it nears maturity date (in 6 months).
Upon maturity, it will become $100, and it will be liquidated at that price.
You can also sell it before it reaches maturity.
Give its short duration, T-Bills do not fluctuate much in price, so in a sense it is almost as stable as holding cash, because it can easily be liquidated any time.
However, compared to cash, you can now get a 4.5% return on these "spare cash", while waiting to deploy it in the stock market.
Our flagship mentoring program is suitable for both beginners and advanced traders, covering the 4 strategies which I used over the past 15 years to build up my 7-figure personal trading portfolio.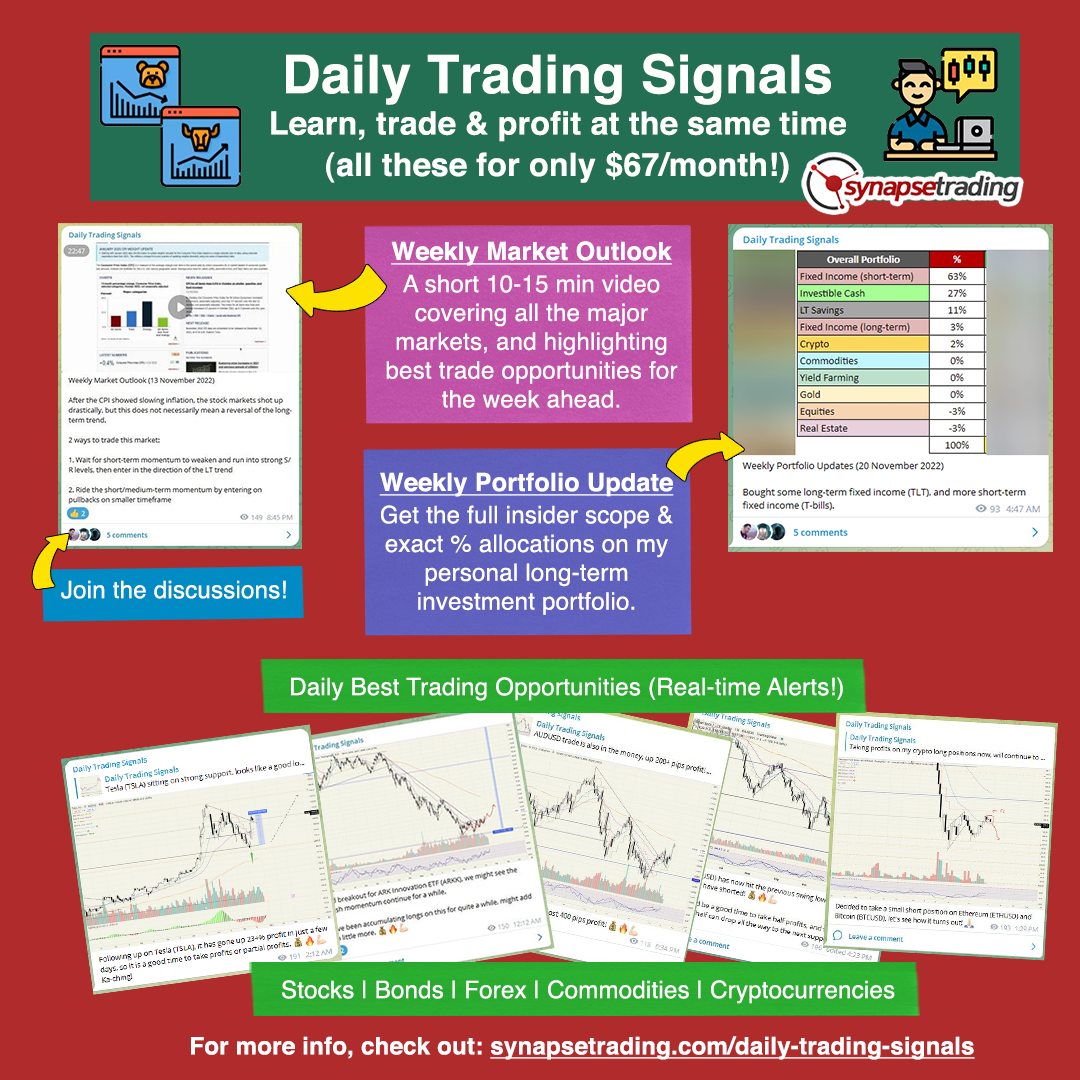 If you're looking for the best trading opportunities every day across various markets, and don't want to spend hours doing the research yourself, check out our private Telegram channel!
If you're looking for a reputable brokerage that covers all products (SG stocks, US stocks, global stocks, bonds, ETFs, REITs, forex, futures, crypto) and has one of the lowest commissions, this is what I currently use.
Spencer is an avid globetrotter who achieved financial freedom in his 20s, while trading & teaching across 70+ countries. As a former professional trader in private equity and proprietary funds, he has over 15 years of market experience, and has been featured on more than 20 occasions in the media.
https://synapsetrading.com/wp-content/uploads/2019/10/logo.jpg
0
0
Spencer Li
https://synapsetrading.com/wp-content/uploads/2019/10/logo.jpg
Spencer Li
2022-11-27 19:38:44
2023-05-03 23:36:36
How to Buy US T-Bills (USD) on Interactive Brokers (IBKR)