Best Trading Tips & Quotes from William O'Neil

Join our Telegram channel (50,000+ subscribers) for daily market analysis & trading tips: t.me/synapsetrading
William J. O'Neil is an American entrepreneur, stockbroker and writer, who founded the stock brokerage firm William O'Neil & Co. Inc in 1963 and the business newspaper Investor's Business Daily in 1983.
He is the author of the books "How to Make Money in Stocks", "24 Essential Lessons for Investment Success" and "The Successful Investor" among others, and is the creator of the CANSLIM investment strategy.
In this post, I will share all the best trading tips and quotes from William O'Neil, so that we can learn from his knowledge and experience.
Here are some of the best trading tips and quotes by William O'Neil:
The stocks that go up the most from where you bought them are your flowers; those that are down from where you bought them are your weeds. If weeds appear, don't hesitate to reach for the trowel.

Personal opinions, feelings, hopes, and beliefs about the stock market are usually wrong and often dangerous. Facts and markets, on the other hand, are seldom wrong.

The whole secret to winning big in the stock market is not to be right all the time, but to lose the least amount possible when you're wrong.

A great trader once noted there are only two emotions in the market: hope and fear. "The only problem," he added, "is we hope when we should fear, and we fear when we should hope." This is just as true in 2009 as it was in 1909.

When everybody is running around saying how great a stock is, everybody who can buy probably already has, and the only direction for the stock to go at that point is down. When it's obvious and exciting to everyone, it's too late!

The moral of the story is: never argue with the market. Your health and peace of mind are always more important than any stock.

It is one of the great paradoxes of the stock market that what seems too high usually goes higher and what seems too low usually goes lower.

The market has a simple way of whittling all excessive pride and overblown egos down to size. After all, the whole idea is to be completely objective and recognize what the marketplace is telling you, rather than try to prove that the thing you said or did yesterday or six weeks ago was right. The fastest way to take a bath in the stock market or go broke is to try to prove that you are right and the market is wrong.

90% of the people in the stock market, professionals and amateurs alike, simply haven't done enough homework.

Over-diversification is a hedge for ignorance.

Purpose is a more powerful motivator than money. When you are not paid as much as you would like, your purpose will provide you a reason to continue producing excellence in your work. When you have more money than you ever thought possible, your purpose will provide you with a reason to continue producing excellence in your work.

Investors cash in small, easy-to-take profits and hold their losers. This tactic is exactly the opposite of correct investment procedure. Investors will sell a stock with profit before they will sell one with a loss.

The number one market leader is not the largest company or the one with the most recognized brand name; it's the one with the best quarterly and annual earnings growth, return on equity, profit margins, sales growth, and price action.

Plot out your mistakes on charts, study them, and write some additional rules in order to correct your mistakes and the actions that cost you money.

Remember, keep it simple. Investing is hard enough. Stick to the basic rules of CAN SLIM and don't complicate it by getting super-tricky.

Over time, you'll learn that only one or two out of every 10 stocks you buy will be truly outstanding and capable of doubling or tripling or more in value.

Buying a stock without knowing when or why you should sell it is like buying a car with no brakes, or being in a boat with no life preservers, or taking flying lessons that teach you how to take off but not how to land.

There is no reason any investor should ever in any bull market buy or sit with a poor-performing stock with a Relative Strength Rating of 10, 20, 30, 40, or 50. The market is bluntly telling you that that investment is a relatively poor or mediocre choice.

When you appear to be right always follow up.

Learn to always sell stocks quickly when you have a small loss rather than waiting and hoping they'll come back.

At least 50% of the whole game is the general market.

Success in a free country is simple. Get a job, get an education, and learn to save and invest wisely. Anyone can do it. You can do it.
Now that I have shared the best trading tips and quotes from William O'Neil, which is your favourite trading tip?
Let me know in the comments below.
Our flagship mentoring program is suitable for both beginners and advanced traders, covering the 4 strategies which I used over the past 15 years to build up my 7-figure personal trading portfolio.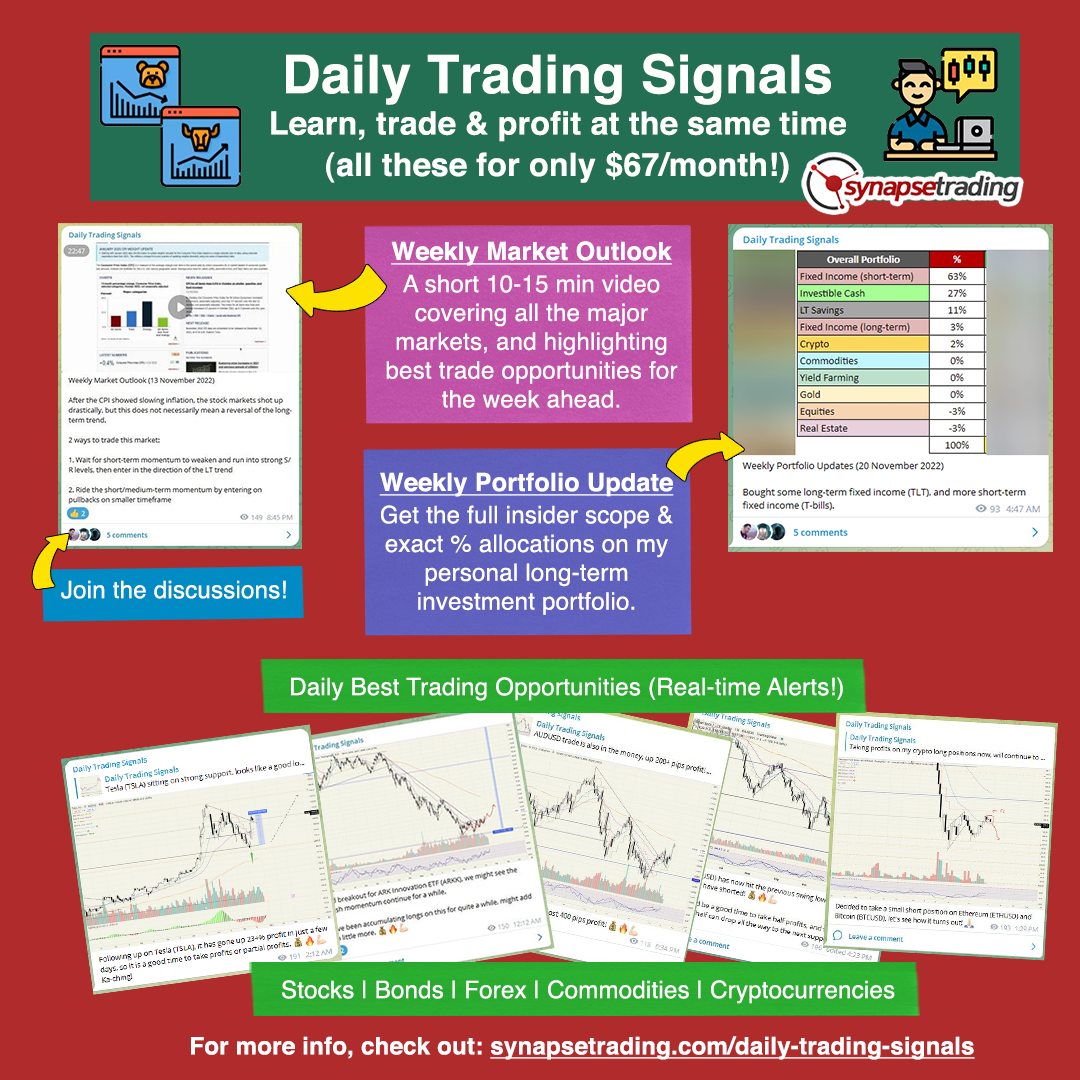 If you're looking for the best trading opportunities every day across various markets, and don't want to spend hours doing the research yourself, check out our private Telegram channel!
If you're looking for a reputable brokerage that covers all products (SG stocks, US stocks, global stocks, bonds, ETFs, REITs, forex, futures, crypto) and has one of the lowest commissions, this is what I currently use.
Spencer is an avid globetrotter who achieved financial freedom in his 20s, while trading & teaching across 70+ countries. As a former professional trader in private equity and proprietary funds, he has over 15 years of market experience, and has been featured on more than 20 occasions in the media.
https://synapsetrading.com/wp-content/uploads/2022/07/Best-Trading-Tips-Quotes-from-William-ONeil.png
720
1280
Spencer Li
https://synapsetrading.com/wp-content/uploads/2019/10/logo.jpg
Spencer Li
2022-07-24 04:33:18
2023-01-03 01:09:14
Best Trading Tips & Quotes from William O'Neil