Who is This Training Most Suitable For?
This training is NOT for you if:
You are Looking to Get Rich Quick
Learning the right trading skills can make you rich, but it will take time, so you need to be patient.

The starting is always slow, but due to the compounding effort, the growth will be exponential, even if your starting capital is small.
You are Looking for the Holy Grail
If you are looking for a "magic bullet" or "magic pill" that will turn you into a superb trader overnight, then you will be disappointed.

If you want success, you will need to put in the effort and work at the start to learn how it works. There are no shortcuts.
You Do not Have an Open Mind
Many of the things we teach might sound unconventional or unorthodox because it will be very different from what you have read in books or other courses.

To benefit from the training, you need to keep an open mind, and be prepared to be mindblown mutliple times.
This training is

FOR

you if:
You Have a Passion to Learn about Trading
If you are totally new, you are likely looking for a good mentor that will drastically shorten your learning curve and help you save years of trying to re-invent the wheel.

If you have read many books, attended other courses, and have been trading for many years but are still inconsistent, then what you are looking is a proven trading system that you can apply your knowledge and experience to.

If you are a professional trader or aspiring to be one, then you are likely looking to take your learning to the next level, and perhaps even consider it as a full time career.

We have trained people from all these different walks of life, and helped them meet their personal objectives.
You Want to Improve your Financial Position
If you have been struggling financially, then creating a 2nd source of income might bring some stability and provide a safety net for you.

If you are already pretty well-off, then learning these skills will help you grow and compound your wealth to help you secure an early retirement.

Either way, the goal is to build towards financial security, then financial freedom, and lastly financial abundance.
You are Willing to Learn and Contribute
It is a big privilege and advantage to be part of an insider trading community, so it is important to not just receive all the benefits, but also seek to contribute.

For yourself, you need to be hard-working and open-minded, and keep studying and practising until you see the results.
Key Objectives You Will Achieve:
Master a New Lifelong Skill
You will have better knowledge than 95% of the population with regards to trading, investing, and financial market wisdom.

Whether you choose to apply these skills to your career, or to your own trading portfolio, you can continue to reap a lifetime of rewards and enjoy the fruits of your labour.
Mindset Shift to Financial Abundance
Generate a consistently monthly cashflow of trading profits, which you can use for living expenses or to build up your long-term investment portfolio.

Use your wealth to bless others, invest in assets (not flashy cars), splurge on experiences with your loved ones, and donate regularly to charity.
Financial Security & Peace of Mind
Having a financial safety net gives you a peace of mind because you no longer have to worry about money or any financial concerns.

If money is not a concern, what would you like to do? Quit your office job? Start a business? Travel the world? Spend more time with your kids? The choice is now yours.
Our flagship mentoring program is suitable for both beginners and advanced traders, covering the 4 strategies which I used over the past 15 years to build up my 7-figure personal trading portfolio.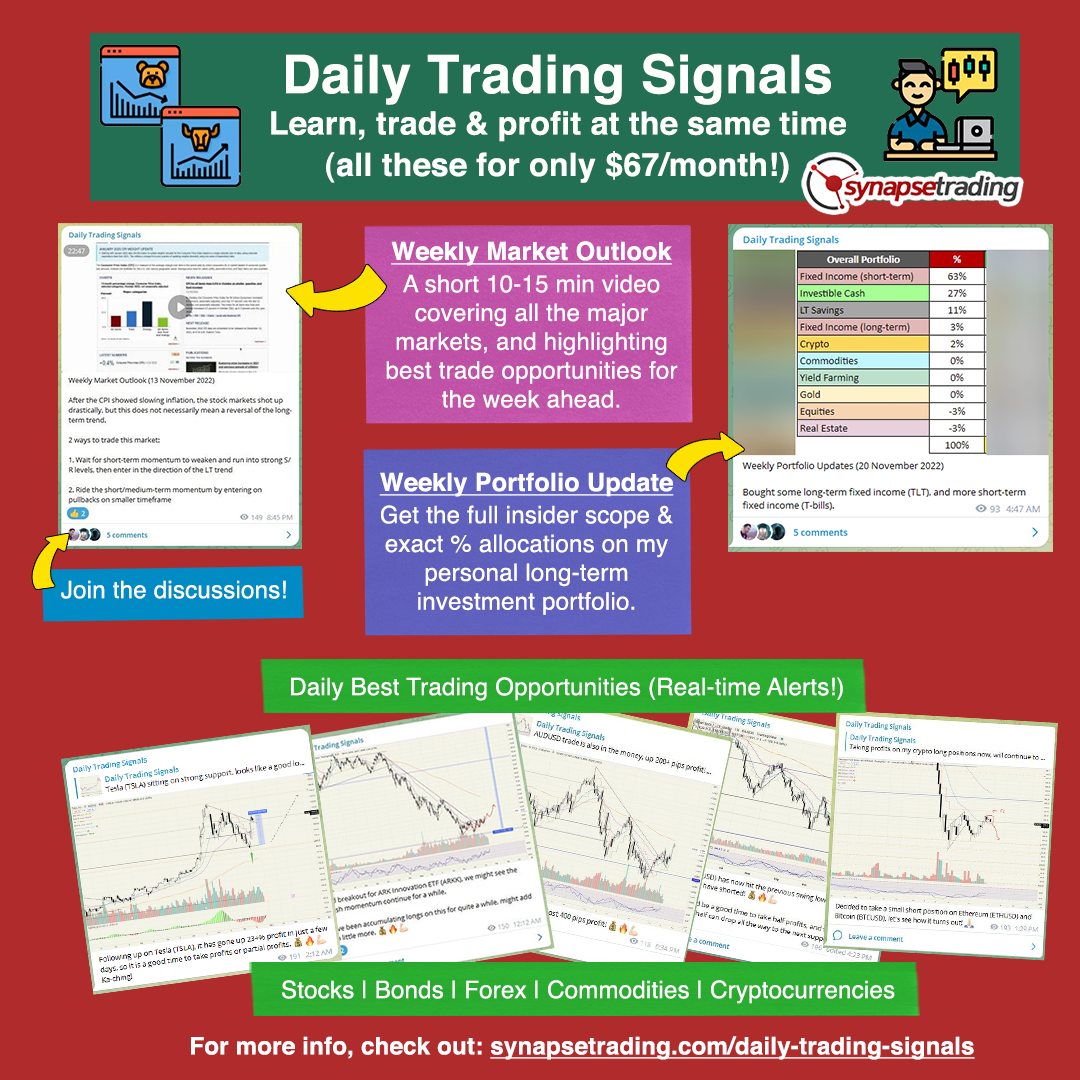 If you're looking for the best trading opportunities every day across various markets, and don't want to spend hours doing the research yourself, check out our private Telegram channel!
If you're looking for a reputable brokerage that covers all products (SG stocks, US stocks, global stocks, bonds, ETFs, REITs, forex, futures, crypto) and has one of the lowest commissions, this is what I currently use.
Spencer is an avid globetrotter who achieved financial freedom in his 20s, while trading & teaching across 70+ countries. As a former professional trader in private equity and proprietary funds, he has over 15 years of market experience, and has been featured on more than 20 occasions in the media.
https://synapsetrading.com/wp-content/uploads/2019/10/logo.jpg
0
0
Spencer Li
https://synapsetrading.com/wp-content/uploads/2019/10/logo.jpg
Spencer Li
2017-10-03 02:55:16
2021-12-12 03:43:18
Who is This Training Most Suitable For?