What Makes our Training Program Different?
You might be thinking, "I have seen so many different training courses, trainers, and software providers, all with impressive websites, so how do I know which is the real deal?"
That is a legitimate concern, so let me give you some tips on how to make a wise choice.
Does the Trainer have proper trading credentials?
I have double degrees in Accounting and Business Finance from a reputable university (Ranked 41st out of 1200+ globally). Watch out for trainers with fake degrees or degrees bought from degree mills (big red flag if they do not mention which university their degrees are from).

I am a Certified Financial Technician (CFTe) which is a globally recognised accreditation conferred by the International Federation of Technical Analysts (IFTA). Watch out for fake awards, certificates, or trading competitions (using virtual money) which are usually held for college students, but offers little credentials to a real trader.

I have traded professionally for proprietary and private equity funds, and have been posting my trades/analysis on my blog for more than 10 years.

I have been trading and developing my own system for more than 15 years, with consistent results that enabled me to build a multi-million dollar portfolio of assets.
Does the Trainer have proper training credentials?
I have been engaged to speak and train for financial institutions, banks, universities, the Singapore Stock Exchange (SGX), brokerages, and even consulting firms (Bain & Co), etc.

I have been engaged to speak locally and internationally at seminars, workshops and conferences with thousands of people, sharing the stage with other world-renowned speakers.

I have been interviewed and featured in the media on more than 20 occasions, and have received over 3,000 testimonials from all my past students.
Has the trainer been trading & teaching for at least 10 years?
Watch out for new trainers/software/systems that pop up for 2-3 years, then disappear and re-emerge under a different name. (Make sure it has been in the market for at least 10 years).

If any trainer/software or account manager promises you insane "guaranteed" returns like 25% returns a month with no effort, then this is obviously a scam. Even professional traders only make 5-10% a month, unless you are really gifted, or take bigger risks.

I have been relying on my robust & proven trading system which has stood the test of time (15 years), and is able to work under different market scenarios (even during a market crash) and on any products and any timeframe.
Does the trainer have Real testimonials from Real people?
Although I have a huge genuine social media following across many channels, I do not like to make a big deal of it, because such numbers are easy to fake. It is not hard to buy followers to inflate your numbers, so it is not a good measure of how good a trainer is.

I have compiled the testimonials, feedback, trade records and photos of all my students on my website. Watch out for trainers who have many screenshots of testimonials from facebook, whatsapp, emails, but

no photos

of real people. Such screenshots are not hard to fake.

I also have video testimonials from other renowned trainers and traders, and thousands of photos and videos from various global speaking events.
Our flagship mentoring program is suitable for both beginners and advanced traders, covering the 4 strategies which I used over the past 15 years to build up my 7-figure personal trading portfolio.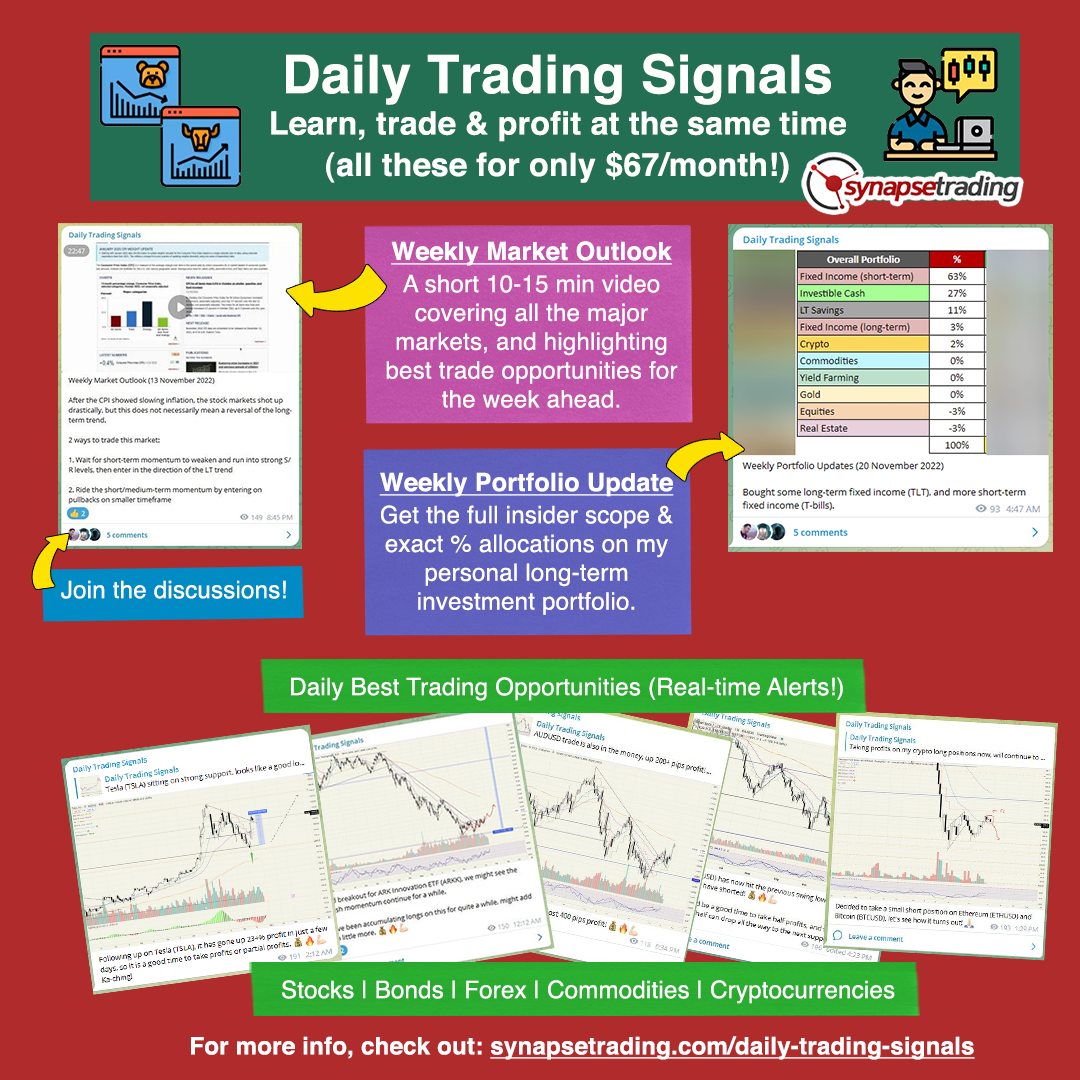 If you're looking for the best trading opportunities every day across various markets, and don't want to spend hours doing the research yourself, check out our private Telegram channel!
If you're looking for a reputable brokerage that covers all products (SG stocks, US stocks, global stocks, bonds, ETFs, REITs, forex, futures, crypto) and has one of the lowest commissions, this is what I currently use.
Spencer is an avid globetrotter who achieved financial freedom in his 20s, while trading & teaching across 70+ countries. As a former professional trader in private equity and proprietary funds, he has over 15 years of market experience, and has been featured on more than 20 occasions in the media.
https://synapsetrading.com/wp-content/uploads/2019/10/logo.jpg
0
0
Spencer Li
https://synapsetrading.com/wp-content/uploads/2019/10/logo.jpg
Spencer Li
2017-10-02 03:40:28
2022-03-09 11:18:25
What Makes our Training Program Different?