Synapse Market Highlights (8 Jan 2017) – 1st Week of 2017, How Did it Go?

Join our Telegram channel (50,000+ subscribers) for daily market analysis & trading tips: t.me/synapsetrading
If you've been following my blog posts and Instagram account, you would know that I just got back from my trip in South Africa last week. Still a little jet lagged (even though I've traveled so many times), and missing the awesome sights and sounds of that beautiful continent.
https://www.instagram.com/p/BOebTVhjCoi/?taken-by=iamrecneps
3 OF LAST WEEK'S PREDICTIONS – S&P500 and Forex
Prediction #1: S&P500 – Look to buy on bullish bars near the EMA (Triggered!)
S&P500 as at 31 Dec 2016.
Source: MetaTrader 4
I mentioned the following last week:
Bulls will be hesitant given the uncertainty surrounding the first week of the new year.
Bears would try to exert their influence repeatedly, so don't be alarmed if your long positions get stopped out easily.
I would wait for 2-3 bullish signals before being confident of a nice up-move.
On Monday, we saw a gap up from the open + a bullish bar with a substantial body. This was sufficient to enter a long position.
You would have bought once you saw a white bar printed on the EMA. (Monday)
Source: MetaTrader 4
Prediction #2: Short AUDUSD, but wait for pullback to EMA + bearish bars for a higher probability trade.
The AUDUSD looks bearish and 3 bullish bars have occurred last week.
Source: MetaTrader 4
Last week I said: "Possible price levels to observe at 0.73000, 0.74000, and 0.75000 (all these present good shorting opportunities)."
Even though a short entry is possible given the bearish bar we now see on the AUDUSD, I advise against it because the 3 bullish bars before it present a lot of bullish commitment. Stay away.
Prediction #3: Short on NZDUSD on every opportunity! (but read the cautionary notes below before you trade)
Last week, I said it was a "good time to short on NZDUSD, but caution is advised". Now, shorting seems like a reasonable thing to do.
Source: MetaTrader 4
This is what I said last week:
The year has just started so a sideways market is more probably in the first few days.
If you are going short once the market opens on Tuesday, take a small position, use a wide stop, and don't be afraid to sit through pullbacks and open losses.
Add on for every short opportunity you can find (if you are more aggressive).
I'll be more confident if I see 2-3 confirmation bearish bars.
Now, we see a nice bearish bar near the EMA. If you got stopped out intra-day last week, that's ok. Now, this presents a good opportunity on the daily chart.
UPCOMING MARKET OPPORTUNITIES: SINGAPORE MARKET
As summarized in the picture above, the STI is still in a sideways market and caution is advised against a bull run. I'm aware that other experts might argue that a bull run is in place, but technically and professionally speaking, a bull run only occurs after it has clearly emerged out of the sideways consolidation phase.
At this point, my stock screener has printed a buy signal, but I'll only look to enter if it pulls back a little, bounces off the EMA, prints a nice bullish trend bar, and I see the EMA turning upwards. Otherwise, it is still in a sideways situation right now.
Markets tend to move from bear market > sideways market > bull market. I believe this to be the case for the STI. Watch and wait.
UPCOMING MARKET OPPORTUNITIES: GOLD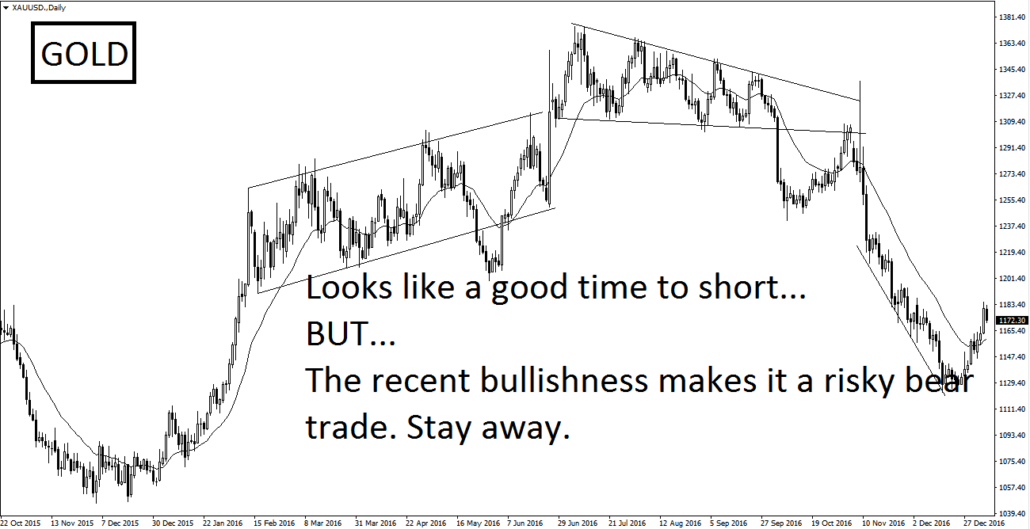 Source: MetaTrader 4
The gold chart is VERY bearish, but the recent bullishness makes me want to stay away. I'll wait for 2-3 more bearish confirmations before deciding to go short.
I might also take a bullish trade if I see multiple pullbacks to the EMA, and if gold starts rising gradually without any huge bearish bars.
LASTLY: UPCOMING NEWS

The only thing worth noting this week.
Source: myfxbook.com/forex-economic-calendar
The second week of January will see no important market-moving news, except Yellen's speech on 13 Jan, 08:00 hours. Watch out for USD pairs, just in case they get affected, and as usual, reduce your open positions or take some profits before this time.
Happy trading, and all the best in your trading journey!
Cheers!
Our flagship mentoring program is suitable for both beginners and advanced traders, covering the 4 strategies which I used over the past 15 years to build up my 7-figure personal trading portfolio.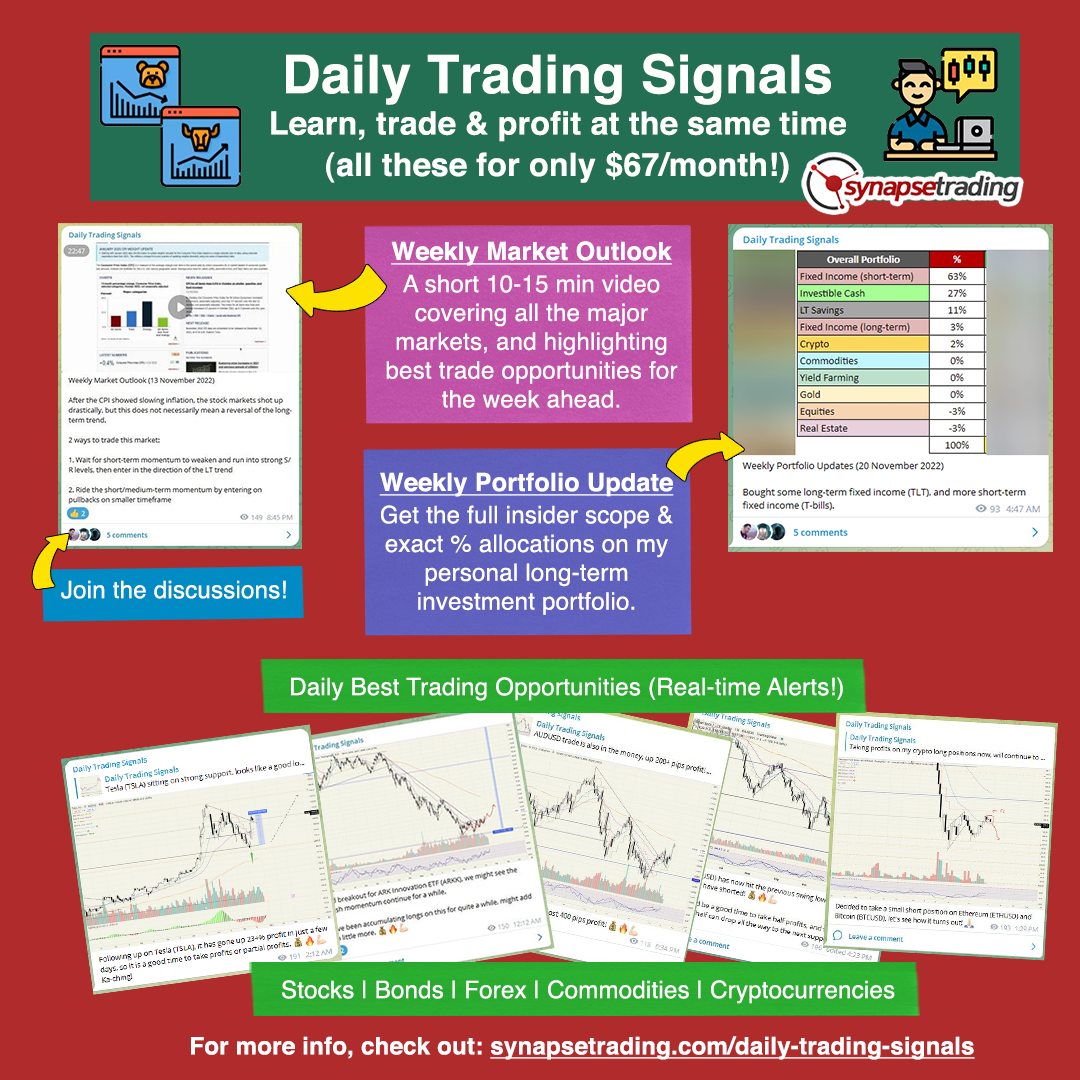 If you're looking for the best trading opportunities every day across various markets, and don't want to spend hours doing the research yourself, check out our private Telegram channel!
If you're looking for a reputable brokerage that covers all products (SG stocks, US stocks, global stocks, bonds, ETFs, REITs, forex, futures, crypto) and has one of the lowest commissions, this is what I currently use.
Spencer is an avid globetrotter who achieved financial freedom in his 20s, while trading & teaching across 70+ countries. As a former professional trader in private equity and proprietary funds, he has over 15 years of market experience, and has been featured on more than 20 occasions in the media.
https://synapsetrading.com/wp-content/uploads/2017/01/1-7.png
1080
1080
Spencer Li
https://synapsetrading.com/wp-content/uploads/2019/10/logo.jpg
Spencer Li
2017-01-08 03:33:32
2022-03-15 18:49:12
Synapse Market Highlights (8 Jan 2017) – 1st Week of 2017, How Did it Go?