Is the Bear Market Over, or is it Just Starting? (Risks & Opportunities)
Join our Telegram channel (50,000+ subscribers) for daily market analysis & trading tips: t.me/synapsetrading
Recently I have been receiving a lot of emails and messages asking about the market, and also an unprecedented number of people joining my private trading network, and the obvious reason for this is that the markets now are offering excellent trading opportunities.
Heading into Bear Market Territory
Last Thursday, we officially saw the stock market enter the bear territory, with a 20% correction from all-time highs.
Many people tell me that it is impossible to time the markets. But is that really true, or are they just parroting something they read online or from a book?
Take a look at the 2 charts below. The one on the left is the chart I posted for my students on 27 February 2002.
Now take a look at how accurately it played out on the right, which is the what actually happened.
Now imagine if you had that roadmap on the left, how much money would you have made, or how much money would you have saved by liquidating your portfolio before the full crash?
How Much Did You Make from This Crash?
While most "value investors" or "long-term investors" are complaining about how badly hit their portfolios are, the truth is that the only thing they can do now is quote Warren Buffett and hope that the market rebounds in the long-run.
Eventually, it probably will, and I will also be buying in once the crash is over, but why would I want to sit through a crash that can be avoided?
And more importantly, why would I want to miss such a great money-making opportunity?
These past few weeks of steep declines have probably been some of the best trading days I've seen in my career, allowing me to more than double my trading account (ROI of +169.54%) in this short span of time.
This is probably more than most people's one year salary. Yikes!
And I am glad to be able to guide my students (including complete newbies) during this period of time to generate awesome returns as well on their trading accounts.
Swing Trading Opportunities
With the market in such turmoil (and high volatility), there are going to be a lot trading opportunities on the intraday and swing timeframe, but you will need to have the right skills and techniques to trade these markets.
I would also recommend using smaller lot sizes to trade if you are not used to fast markets.
For example, in my trade below, I used a very small 0.01 lot size to take quick trades on the S&P 500, which allowed me to make US$671 on just one trade in a few minutes.
If you take a couple of such trades a day, and use good money management to pyramid or stack positions on strong setups, it is not hard to generate 5 figures a day in such markets.
Of course, these are not normal market conditions, and I do not know how long they will last, which is why we need to make the most of it for the next few weeks.
Roadmap for the Bear Market
Some of the common questions I have been getting:
How long and how deep is this correction going to be?
When is the virus going to peak?
When should I start buying?
What should I be buying?
Should I sell off my portfolio in case it falls more?
In my opinion, a lot of factors are hard to predict, and this crash is unique because it happened so quickly.
The 2008 crash took 18 months to correct about 50-60%, while this time we took about 3 weeks to correct 25-30%.
That's insanely fast. some people have not even had the chance to panic sell yet. ?
Although China has mostly managed to control the spread, and is on the route to recovery, many countries in Europe, Middle East and the US are still seeing and exponential increase in cases, so what we want to see is a deceleration of cases, so that from there we can estimate where the peak is.
If you look at the graph of all the past corrections in the S&P 500, there are only about 5 times in the past 55 years where it has gotten worse then this. (Also don't forget to join our free Telegram channel for daily market updates if you click on that link.)
Personally, I do not think the bottom is here yet, and after consulting my charts over the weekend, I have come up with another roadmap for the next few months.
To be fair, I will only be sharing this new roadmap with my students, and I will continue to monitor the markets daily so that I can update them when I feel that it is time to start buying.
The Once-A-Decade Opportunity
Anyway, if you have missed the move down, do not despair, because the next big opportunity is the move up, once the decline ends.
Opportunities like this to multiply your wealth only comes once in a decade, so if you don't want to miss this chance, I would like to invite you to join our private network with an awesome community of traders.
If you would like to avoid missing out on any of such awesome trades (which we deliver on a daily basis), then you should definitely check out our training program & trading signals bundle:
https://synapsetrading.com/the-synapse-program/
See you on the inside! ???
Our flagship mentoring program is suitable for both beginners and advanced traders, covering the 4 strategies which I used over the past 15 years to build up my 7-figure personal trading portfolio.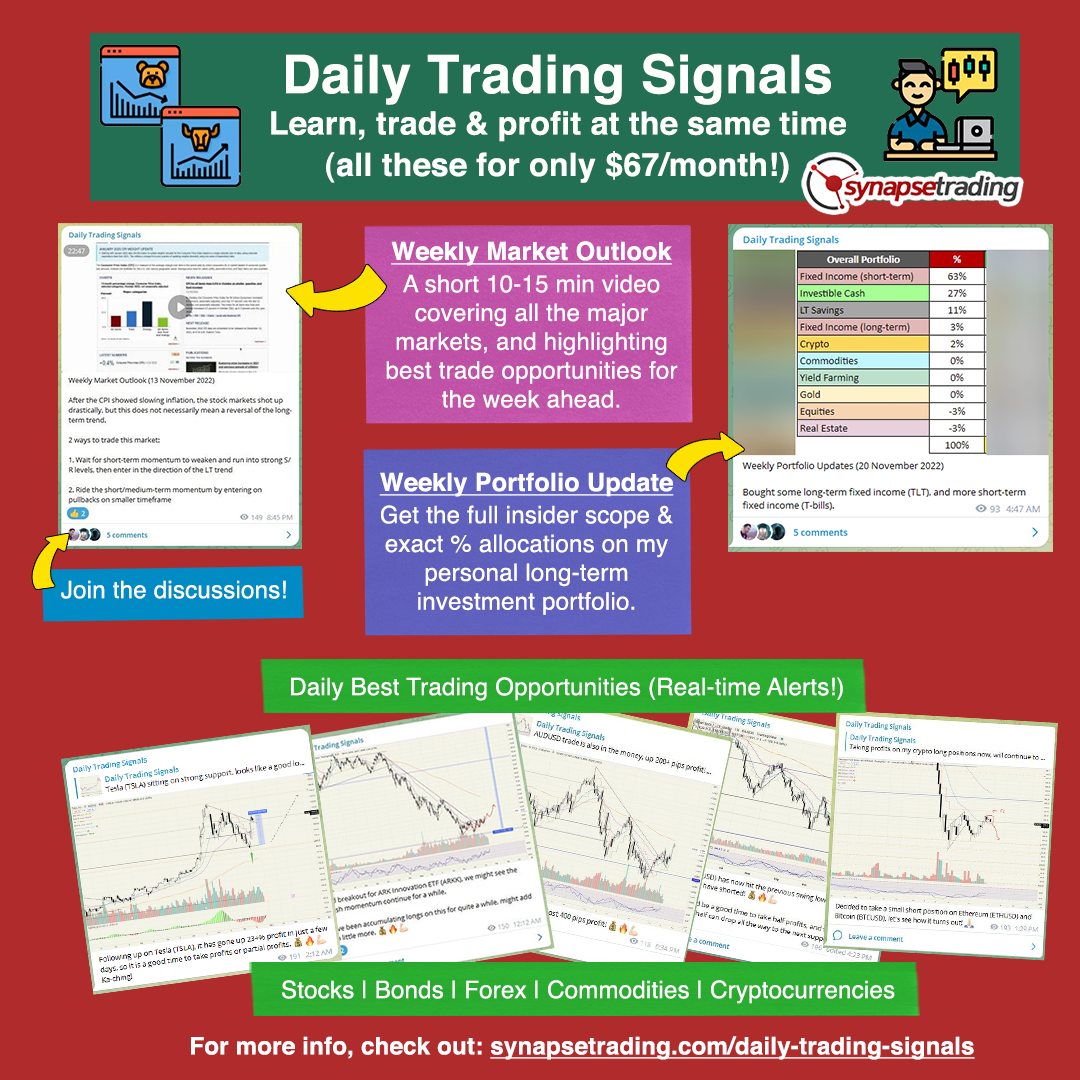 If you're looking for the best trading opportunities every day across various markets, and don't want to spend hours doing the research yourself, check out our private Telegram channel!
If you're looking for a reputable brokerage that covers all products (SG stocks, US stocks, global stocks, bonds, ETFs, REITs, forex, futures, crypto) and has one of the lowest commissions, this is what I currently use.
Spencer is an avid globetrotter who achieved financial freedom in his 20s, while trading & teaching across 70+ countries. As a former professional trader in private equity and proprietary funds, he has over 15 years of market experience, and has been featured on more than 20 occasions in the media.
https://synapsetrading.com/wp-content/uploads/2020/03/roadmap-accuracy-150320.png
562
1150
Spencer Li
https://synapsetrading.com/wp-content/uploads/2019/10/logo.jpg
Spencer Li
2020-03-15 06:09:08
2022-03-08 14:47:13
Is the Bear Market Over, or is it Just Starting? (Risks & Opportunities)