Stock Market Surges As Predicted – What to Buy Now?

Join our Telegram channel (50,000+ subscribers) for daily market analysis & trading tips: t.me/synapsetrading
As countries around the world roll out their vaccine plans, we can see different industries and different countries recovering at different rates.
However, only a small percentage (about 5%) of the global population is vaccinated, so it might take a while before we start to see the results of the vaccines kick in to reduce new Covid cases.
If you look at the graph of new cases, it is still on the rise.
Given such a scenario, how does this affect the financial markets, and what are some of the investment opportunities we can look at?
Stock Market Surge
On 31 March 2021, I shared this important snippet in the public Telegram channel, because I felt that S&P 500 was going to have a breakout.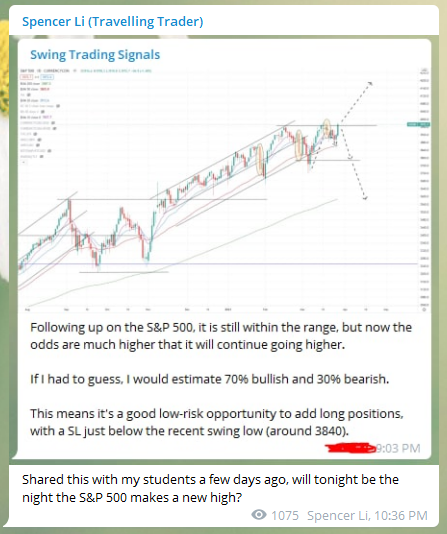 "Following up on the S&P 500, it is still within the range, but now the odds are much higher that it will continue going higher.
If I had to guess, I would estimate 70% bullish and 30% bearish.
This means it's a good low-risk opportunity to add long positions, with a SL just below the recent swing low (around 3840).
Shared this with my students a few days ago, will tonight be the night the S&P 500 makes a new high?"
That very night, stocks broke to a new high, and has been steadily heading up for the past 1-2 weeks.
"Following up on our last post, the market is surging up as predicted. Congrats to those who followed! ???"
As of Friday last night (9 April 2021), the S&P 500 has hit our first price target of 4125, giving us close to 4% gain so far.
We have taken half profits, and there might be small pullback where we can add positions before gunning for the next price target.
Not Much Upside for Oil Markets
On 27 March 2021, I shared a chart on the long-term outlook of the Crude Oil market, and I felt that that most of the post-Covid recovery has been priced into oil, and since it won't be going up much, I suggested taking a long-term short position on it.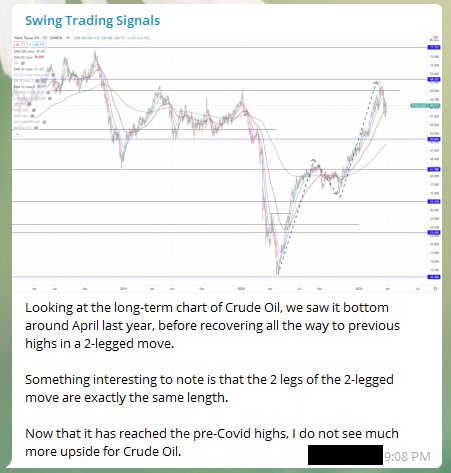 "Looking at the long-term chart of Crude Oil, we saw it bottom around April last year, before recovering all the way to previous highs in a 2-legged move.
Something interesting to note is that the 2 legs of the 2-legged move are exactly the same length.
Now that it has reached the pre-Covid highs, I do not see much more upside for Crude Oil."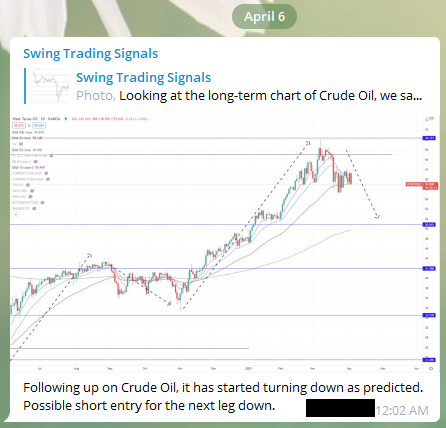 "Following up on Crude Oil, it has started turning down as predicted. Possible short entry for the next leg down."
Since then, prices have started to turn down a little, and I will continue to hold my short positions for another possible leg of price movement downwards.
Will USD Become Bullish?
On 27 March 2021, I noticed that the USD was picking up strength, which was surprising, considering how much money the US has been printing.
My guess is that currently, the US is recovering faster from Covid as compared to many of the less developed countries.
"Looking at the US Dollar Index (DXY), it seems like after a multi-year downtrend, the USD is picking up strength.
It has broke the long-term bearish trendline, formed a small double bottom, and is now challenging the 200-EMA."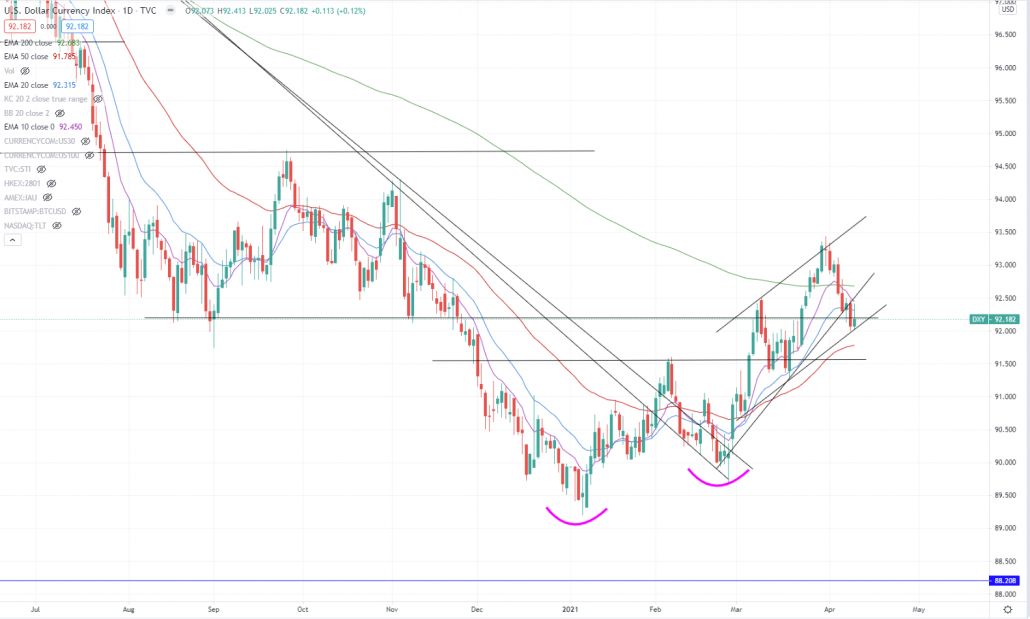 Looking at the larger chart of the US Dollar Index (DXY), you can see that price has formed a double bottom, however the size of this pattern is not that convincing since it is comparatively small.
Price is now fighting in the middle of the EMAs, and we will need to see if it can emerge victorious and stay above all the EMAs.
Relative Strength of Forex Pairs
Let's take a look at the other currencies and their relative strength.
This shows the current ranking of different currencies, from strongest to weakest.
"Stocks continue to surge as predicted, and because the JPY is weakening, all pairs of /JPY are very bullish too."
This shows the trends of the different currency pairs, stocks indices, commodities and bonds.
From these 2 tables, we can see that JPY & GPY are bearish, while USD & CHF are bullish.
Crypto: Bitcoin & Ethereum
Cryptocurrencies are really heating up right now, and I'll be focusing on the 2 major ones – Bitcoin (BTC/USD) and Ethereum (ETH/USD).
Looking at the chart of Bitcoin (BTC/USD), it is still staying nicely within the uptrend channel, with a nice ascending triangle building up for more bullish pressure.
It is very likely that it will break new highs this weekend.
Looking at the chart of Ethereum (ETH/USD), it is possibly even more bullish than Bitcoin, after a breakout of a ascending triangle, a pullback to test the breakout, which also formed a bull flag.
That is already a confluence of 3 bullish factors.
Needless to say, I will be holding on to this as well.
Market Summary
In this post, I have covered many markets, and the key things to note are:
Bullishness of the stock market
Long-term bearishness of Crude Oil
Potential bullish reversal of the USD
Bearishness of JPY & GPY
Bullishness of USD & CHF
Bullishness of cryptocurrencies
Now that I have shared my views on the various markets, what do you think is the best investment at this point of time?
Let me know in the comments below!
Our flagship mentoring program is suitable for both beginners and advanced traders, covering the 4 strategies which I used over the past 15 years to build up my 7-figure personal trading portfolio.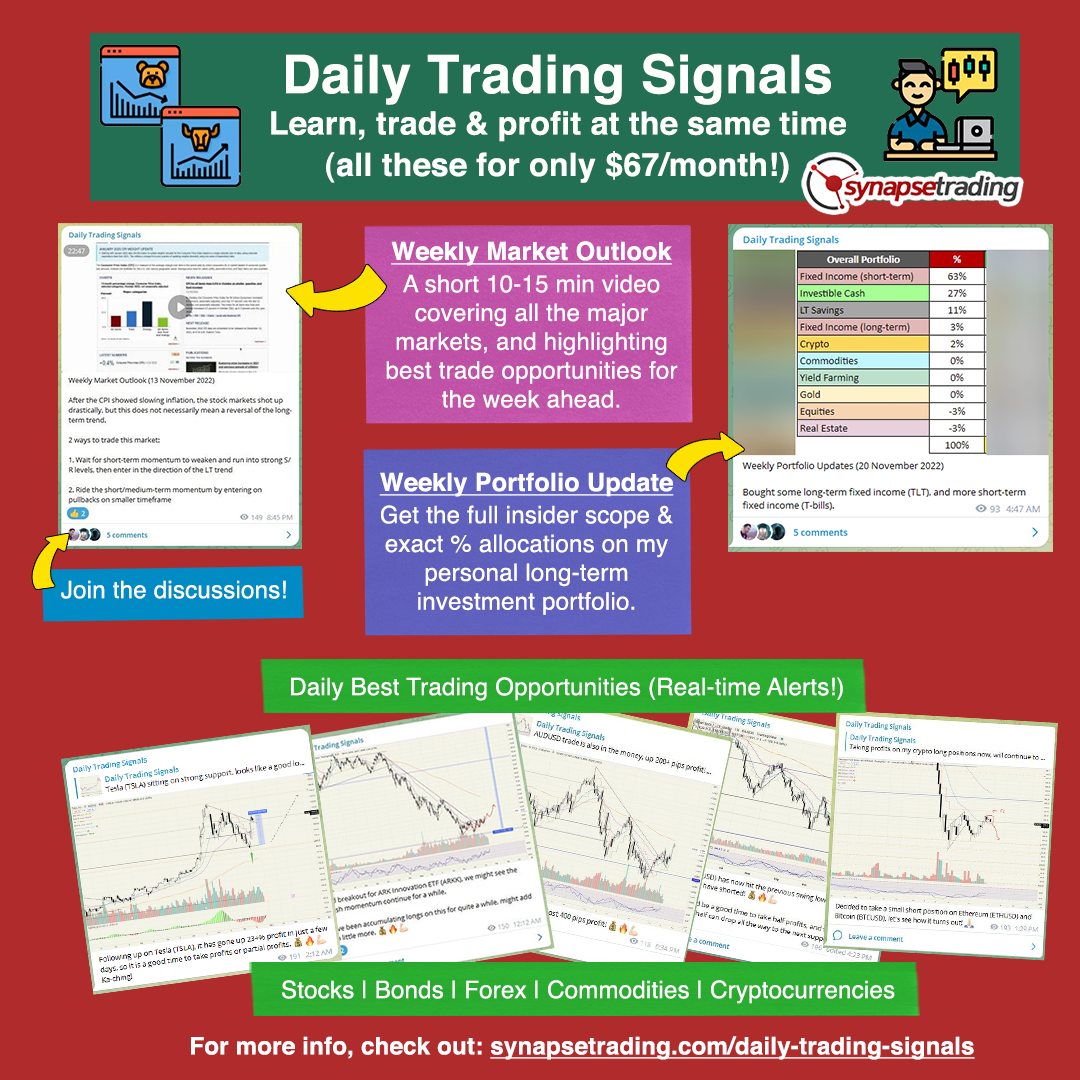 If you're looking for the best trading opportunities every day across various markets, and don't want to spend hours doing the research yourself, check out our private Telegram channel!
If you're looking for a reputable brokerage that covers all products (SG stocks, US stocks, global stocks, bonds, ETFs, REITs, forex, futures, crypto) and has one of the lowest commissions, this is what I currently use.
Spencer is an avid globetrotter who achieved financial freedom in his 20s, while trading & teaching across 70+ countries. As a former professional trader in private equity and proprietary funds, he has over 15 years of market experience, and has been featured on more than 20 occasions in the media.
https://synapsetrading.com/wp-content/uploads/2021/04/draft-2-market-analysis-what-to-buy-now-e1618222224862.jpg
608
1080
Spencer Li
https://synapsetrading.com/wp-content/uploads/2019/10/logo.jpg
Spencer Li
2021-04-10 18:51:11
2022-03-08 11:56:07
Stock Market Surges As Predicted – What to Buy Now?