Join our Telegram channel (50,000+ subscribers) for daily market analysis & trading tips: t.me/synapsetrading
Yesterday, I attended the Shares Investment Conference, and here are some insights I got from the talks, as well as from chatting up the speakers during the private VVIP lunch session.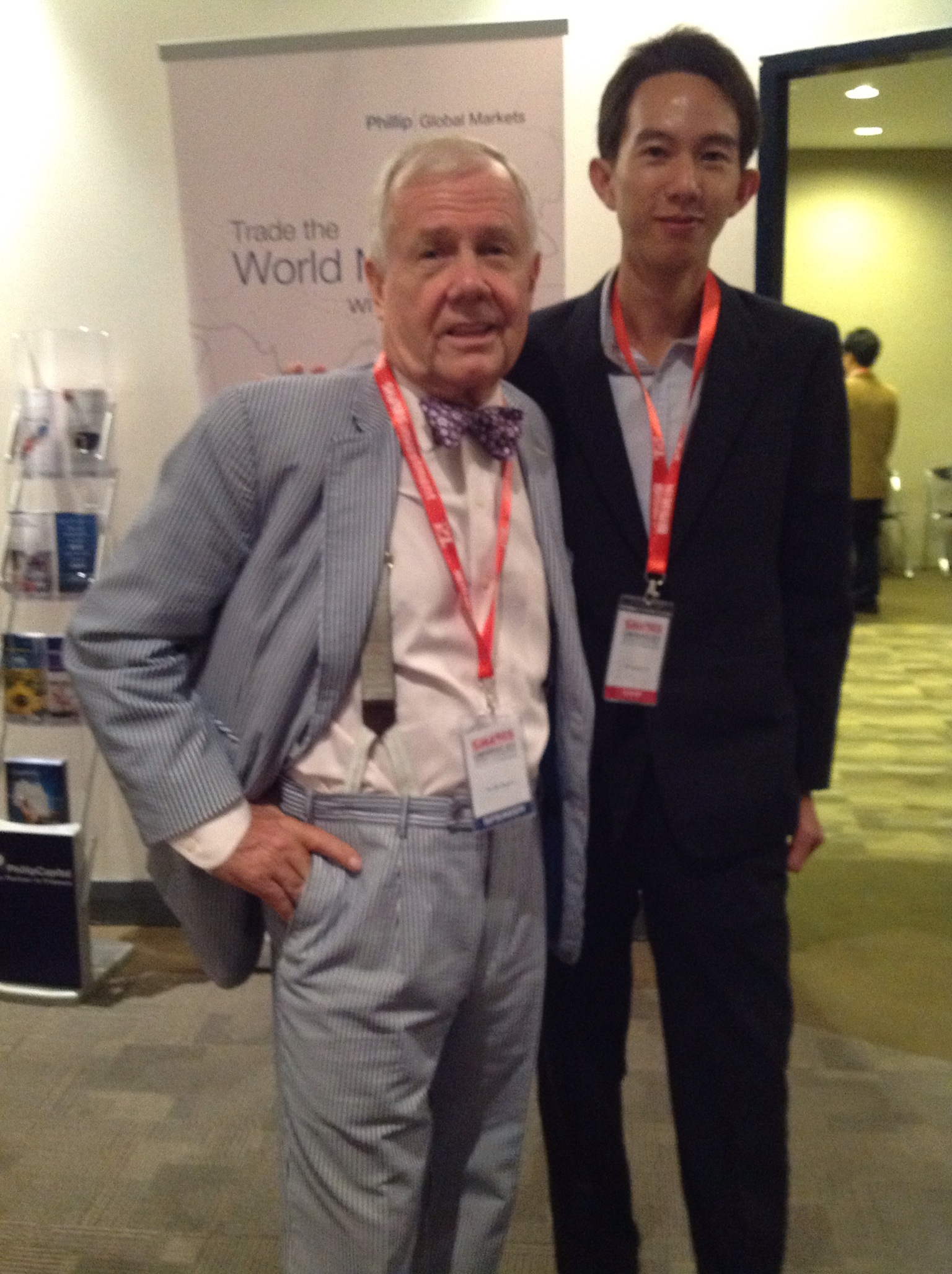 Insights from Jim Rogers
Jim Rogers is a very charismatic speaker, sharing not only market wisdom, but also wisdom on living life to the fullest. He had tons of interesting travel stories to share (especially since he travelled around the world).
He is bearish on the US and European markets, for obvious reasons, at least throughout 2013 and 2014. He also talked about a possible bond bubble in the forming, especially in the longer term.
For his portfolio, he is short on US stocks, and has large holdings in Singapore stocks. He is also buying up china stocks (during a crash), expecting a long-term bull for China, at the same time also accumulating the RMB. Other up-and-coming investments include Myanmar and N. Korea, which are starting to show some signs of opening up.
His most bullish sentiments lie in the commodities sector, especially in the area of agriculture. He spoke of cycles of supply and demand for these markets, such as natural resources, land, and commodities. Hence this new cycle is expected to usher in a new era of prosperity for farmers. If one is interested to invest in US real estate, he recommends areas like Iowa and Texas.
On a non market-related note, Jim says that the most important thing is to find your passion in life and do it, then you will never have to work a single day in your life. Trust your heart, and don't let others discourage you. He ends off by suggesting that investors study philosophy and history, the former to teach us how to think, and the latter to help us draw from the past to cope in a world that is ever-changing.

Insights from Mike Bellafiore
Mike is a famous proprietary trader in New York, and the trading firm he started, SMB Capital, is now one of the top trading firms in New York. He was featured in the famous TV series, Wallstreet Warriors.
Mike started off the talk by stating upfront that there is no need to predict the market in order to make money. He said that many professional when asked will not be able to give a view on the market, simply because it is not necessary to have a view on the market to make money.
When training his new traders, he tells them not to dwell on a losing trade, and instead focus more on the winning trades. One should not celebrate a trade simply because one has made money on it. One should be asking "could I have made more on this trade? Did I manage the trade well such that I got the most out of it?"
When asked about his views on high-frequency trading (HFT), he said that it resulted in more whipsaws, and stops getting taken out more frequently, but the way to go around that was to be ready to re-enter a position upon getting stopped out, and using a time filter to aid in this decision-making.
Someone in the audience asked him what parameters he used for his indicators, to which he replied that he preferred not to use indicators at all. This got me sitting up in my seat, because I had been telling my students the same thing. He said that newbies tended to get bogged down by indicators, but professional prefer to use a blank chart to read the psychology of the market. In fact, the messier one's chart is, the more likely he has no idea what he is doing.
Over lunch, he shared with me some useful tips on starting a trading firm, and I am very grateful that he is willing to share his experience so generously. Overall, I had a great time at this conference, and I would like to thank the speakers and organisers for the great insights and excellent lunch!
Our flagship mentoring program is suitable for both beginners and advanced traders, covering the 4 strategies which I used over the past 15 years to build up my 7-figure personal trading portfolio.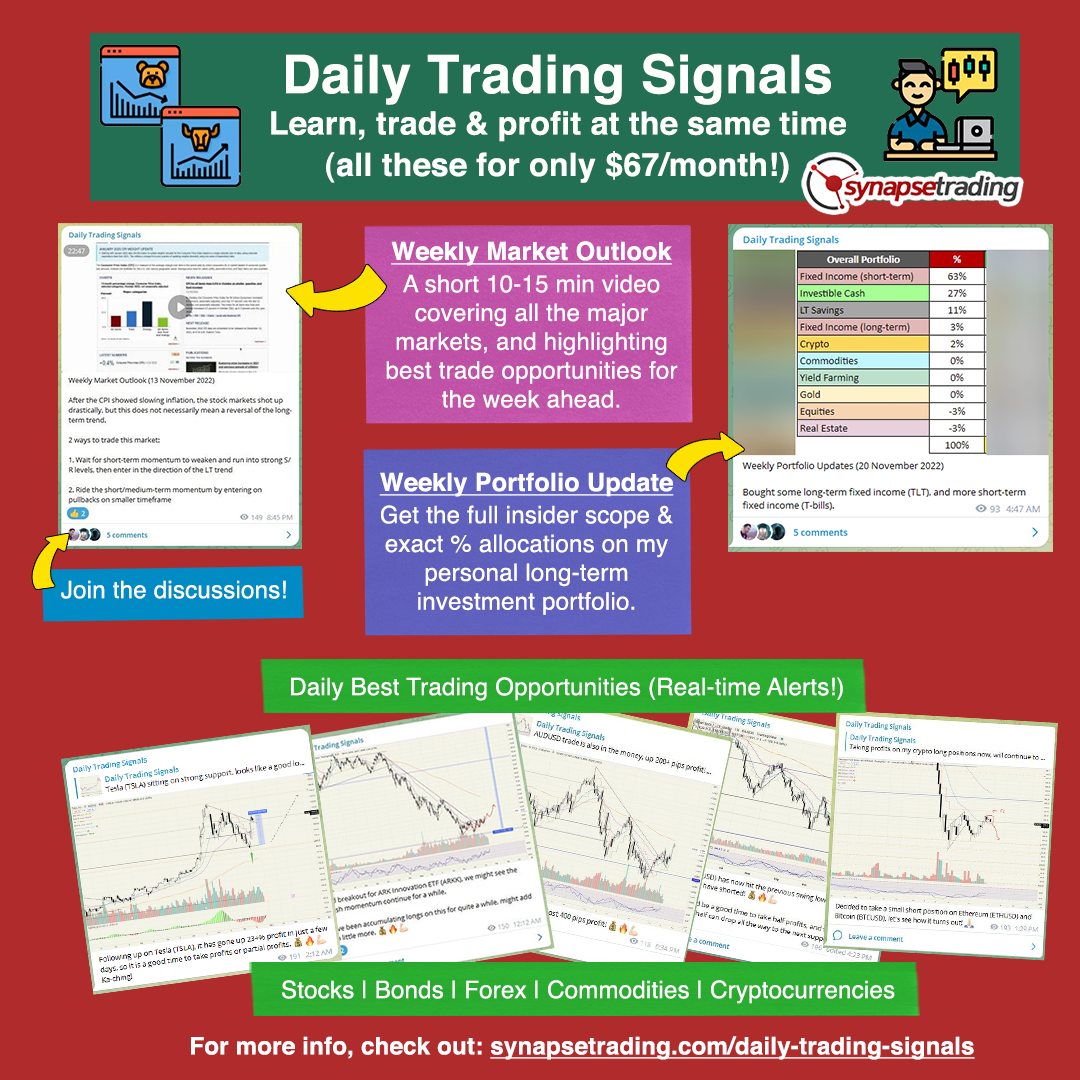 If you're looking for the best trading opportunities every day across various markets, and don't want to spend hours doing the research yourself, check out our private Telegram channel!
If you're looking for a reputable brokerage that covers all products (SG stocks, US stocks, global stocks, bonds, ETFs, REITs, forex, futures, crypto) and has one of the lowest commissions, this is what I currently use.
Spencer is an avid globetrotter who achieved financial freedom in his 20s, while trading & teaching across 70+ countries. As a former professional trader in private equity and proprietary funds, he has over 15 years of market experience, and has been featured on more than 20 occasions in the media.
https://synapsetrading.com/wp-content/uploads/2019/10/logo.jpg
0
0
Spencer Li
https://synapsetrading.com/wp-content/uploads/2019/10/logo.jpg
Spencer Li
2012-08-28 11:59:26
2022-03-08 19:20:08
Lunch with Jim Rogers