Russian-Ukraine War: Summary & Compilation of Best Analysis
Join our Telegram channel (50,000+ subscribers) for daily market analysis & trading tips: t.me/synapsetrading
Quick Summary
As most of you already know, Russia recently invaded Ukraine from multiple directions, trying to take over the whole country, and creating a potential WW3 disaster.
But how did this all start? Who are the different parties? And how can it end?
It probably started way back in the Cold War between the Western powers and the USSR, and after the dissolution of the USSR, many of the former countries of the USSR (Moldova, Lithuania, Latvia, Estonia) near the Russian border started to join NATO and the EU, which started to make Russia worried.
Afraid that Georgia might be next, Russia invaded Georgia in 2008, under the pretext of supporting South Ossetia (a pro-Russian breakaway state in Georgia), as a warning to them not to get too close to the West.
Without going back to the whole Cold War era, the current conflict can be traced back to 2014 when Ukraine held protests to oust the current government (which was more pro-Russia), and replaced it with the current government (more pro-EU and NATO).
Ukraine is a huge country, made out of many ethnic groups, but mainly the East is more pro-Russian (in terms of language of culture), as compared to the West which is more liberal and speaks Ukrainian. Note that this does not mean the East wants to merge with Russia, it's just that they have more common roots.
When this change of government happened (still in 2014), Russia (or rather Putin), was worried that this might lead to Ukraine being closer to the West (US, EU, NATO), which Putin considers as enemies from the Cold War era, so to prevent that from happening, he decided to invade Ukraine starting with the more "pro-Russian" territories (Crimea, Donbas area which includes Donetsk and Luhansk).
It is not clear exactly whether the people in these regions really want to be part of Russia. My guess is that a certain portion of them do, which Russia took advantage of, using propaganda to stoke separatist sentiments, while sending people and troops to catalyse conflict.
Crimea was quickly taken over via convert operations, whereas the war in Donbas has been ongoing since 2014, with the Ukrainian government armies (and volunteers) fighting against separatists and Russian military. (Although Russia does not admit that they are sending in troops to support the conflict.) This war has been going on at the East edge of Ukraine since 2014, claiming an estimated 10,000 lives so far.
With this ongoing war, it is no surprise Ukraine wants to join the EU and NATO to protect itself from Russia, but the closer they get to the West, the more Russia gets agitated, till Putin finally decided to go for an all-out invasion of the whole country.
How will things likely play out?
It is hard to see how this can end, since Putin (and his small closed circle) controls all the power, so protests within Russia can be quelled by force.
Sanctions and isolation will topple their economy, but will it push Putin to more desperate measures? Will Russia become another North Korea? Even if Russia manages to crush Ukraine and take over the country, will they be able to hold it? And at what cost? It will be a pyrrhic victory at the expense of their own country.
My guess is Russia doesn't intend to hold Ukraine, and just wants to wreck the country and teach it a lesson, to scare them from joining the West (EU, NATO), and also to serve as a warning to other countries nearby who plan to do so.
This means once they have gained control of the main parts of the country, they will use it as leverage to negotiate a peace treaty which involves giving Russia some of Ukraine territories (and also officially recognising Crimea and Donbas as part of Russia), and include a clause that Ukraine will never join EU and NATO. Alternatively, Russia might plan to install a pro-Russian puppet government in Ukraine, and indirectly rule the Ukrainian people by force.
As long as the West does not intervene directly, Russia will most likely win the war by sheer numerical superiority, and Russia can get what it wants, but the price is heavy (Russian economy), and leaves generations of Ukrainians (and most of the world) hating Russia.
Youtube Videos

Good explainer video on the whole situation.

Historian Yuval Noah Harari (bestselling author of "Sapiens" and "Homo Deus") provides important context on the Russian invasion, including Ukraine's long history of resistance, the specter of nuclear war and his view of why, even if Putin wins all the military battles, he's already lost the war.

John J. Mearsheimer, the R. Wendell Harrison Distinguished Service Professor in Political Science and Co-director of the Program on International Security Policy at the University of Chicago, assesses the causes of the present Ukraine crisis, the best way to end it, and its consequences for all of the main actors. A key assumption is that in order to come up with the optimum plan for ending the crisis, it is essential to know what caused the crisis. Regarding the all-important question of causes, the key issue is whether Russia or the West bears primary responsibility.

A vocal critic of the Russian leadership is Garry Kasparov, the chess grandmaster who repeatedly ranked world number one for 20 years before turning his attention to politics. He tells leaders to "help Ukraine fight against the monster you helped create."

Ukraine and Russia's conflict goes back to 2014, when Russia invaded and annexed Crimea and Russian-backed separatist forces took over parts of southeastern Ukraine's Donbas region. But to understand the full context behind the invasion, it's important to go even farther back, to the time when Europe's current-day divisions began, and see how that shaped Europe's power balance today.

As Western powers move to punish Russia for its aggression, China has a delicate balance to strike between a desire to help its ally and the need to insulate itself from further sanctions. China has been supplying electronics, machinery and electronic goods to Russia. But it is remains open how much aid China is able – or willing – to provide.

In this 2015 documentary, FRONTLINE traces Vladimir Putin's ascent from unemployed spy to modern-day czar, and investigates the accusations of criminality and corruption that have surrounded his reign in Russia.

On September 27, 2018, Yale's Program in Russian, East European and Eurasian Studies, and the Poynter Fellowship for Journalism hosted Vladimir Pozner, the acclaimed Russian-American journalist and broadcaster. Pozner spoke on the impact of US foreign policy towards Russia after the Soviet Union has been disbanded, and shared his opinions on a range of issues raised by the audience, from the alleged Russian interference in the 2016 US presidential elections, to Skripal poisoning, to the state of independent media in Russia and the US.

What is your average Ukrainian and Russian Infantryman thinking?

Russian Military ability is called into question. Can the Ukraine armed forces hold out long enoug to repel the Russian invasion?

What western military analysts miss and we track the Russian invasion minute by minute.

Day 13 of the Russian invasion and Kyiv hasn't fallen yet. Russian forces begin to set in for a longer battle. What will happen?

On December 25, 1991, the Soviet Union collapsed. Along with it came hope for the end of the Cold War, for independence and freedom for the former Soviet republics. But for many it also brought poverty and war. What remains of the dreams of that time? The documentary includes contemporary witnesses and politicians of the decisive years and shows what has become of the legacy of a world power.

Putin is taking over land, but losing the war.

An epic blunder by Belarusian leader Alexander Lukashenko has revealed Putin's military strategy in eastern Europe. Lukashenko's map appeared to show a planned Russian offensive on Moldova. Could this ex-Soviet state be Putin's next target?

The Failed Logistics of Russia's Invasion of Ukraine


The inside story of Russian President Vladimir Putin's conflict with the United States.

This film asks young people from St. Petersburg to Eastern Siberia how they feel about life in today's more powerful yet also more unstable country. Some are fanatical Putin supporters, while others are opposition activists. We look behind the barbed wire around a closed Siberian city, visit a Muslim village in Tatarstan, and talk to young Muscovites. And we also see how the Russian education system instils children with the regime's propaganda from an early age.

Since March 2014, 30 Crimean Muslim Tatars have been imprisoned on charges of "extremism". Forty-four activists have been abducted, 19 of whom are still missing, while six have been found dead. The Federal Security Service of the Russian Federation, known as the FSB, is allegedly the main culprit behind these incidents.

With Ukraine once again in the spotlight, revisit "The Battle for Ukraine," in which filmmaker James Jones documented both sides of the fight in 2014 between Ukraine's ultra-nationalist group, Right Sector, and a militant, pro-Russia group called Stronghold. Drawing on personal and dramatic footage, Jones ("Secret State of North Korea") documented deep-seated hatreds between right-wing Ukrainians with historic ties to the Nazis, and violent pro-Russian separatists vying for control of the country.

The latest peace talks on the Ukraine war end without a breakthrough. Can anyone stop Putin?

While the world is watching the ongoing Ukraine-Russia conflict unfold, many countries condemn Russia's aggression against Ukraine. But what about China, which is supposed to be one of Russia's biggest allies? We hit the streets of Shanghai to get Chinese citizen's reaction to the ongoing Ukraine-Russia conflict and to hear what they think about Russia and Putin in general.

As an uneasy ceasefire continues to hold in Eastern Ukraine, VICE News returns to Donetsk with an exclusive film that follows some of the characters involved in setting up the self-proclaimed state of the Donetsk People's Republic (DPR).

As the armed conflict between the Ukrainian army and Russian-backed separatists enters its third year, VICE travels to the frontline to take a closer look at what international assistance really looks like for those caught in the line of fire.

VICE News travels to Russia to investigate the mysterious deaths of dozens — possibly hundreds — of active-duty Russian servicemen who are believed to have been killed in Ukraine. Accounts gathered from soldiers' families, human rights workers, and government officials cast doubt on the Kremlin narrative, revealing the unacknowledged sacrifices borne by Russia's ghost army.

Binkov analyzes various possibilities if Russia does end up sending its military force to attack Ukraine. How would the military conflict go? Where might Russia stop? What would the economic and political fallout be both for Russia and the rest of the world?

Topic of this video is Ukraine's military. What state is it in today? How many troops and weapon systems does it have? What are its strengths and weaknesses? We try to be as up to date as possible, which is quite hard, given the ever ongoing changes due to the war.
Twitter Threads & Tik Tok
Let's discuss Putin speech. He declared Ukrainians to be "Neonazis" and promised to "denazify" them. Indeed the "Nazi" character of Ukrainian statehood and identity has long been a central thesis of Russian propaganda. Let's discuss why and how it reflects ideology of Putinism? pic.twitter.com/UDGtRTj89r

— Kamil Galeev (@kamilkazani) February 25, 2022
Some historical context of Nazis and USSR
Since the invasion began, the scale and rapidity of geopolitical shifts have been astonishing. Already:

— Richard Fontaine (@RHFontaine) February 28, 2022
Four days since the invasion began. In the past 24 hours, we have seen limited Russian progress according to multiple sources. My 4th set of observations, noting the ongoing lack of clarity & abundance of ambiguity. 1/24 pic.twitter.com/0DxKXIHRtr

— Major General (just retired!) Mick Ryan (@WarintheFuture) February 27, 2022
THREAD I know it sounds contra-intuitive, but it feels that Russia and its army are about to collapse. RU obviously has no reserves left: the tanks they send to the front are very old, without active armor, look like training machines. They do not have trucks, using civilian ones

— Sergej Sumlenny (@sumlenny) March 4, 2022
Articles & Websites
If you have any other good resources to share, please do so in the comments below, and I'll add it into this list! Thanks in advance!
P.S. Save this page because I will keep it updated with the latest and best analysis!
Our flagship mentoring program is suitable for both beginners and advanced traders, covering the 4 strategies which I used over the past 15 years to build up my 7-figure personal trading portfolio.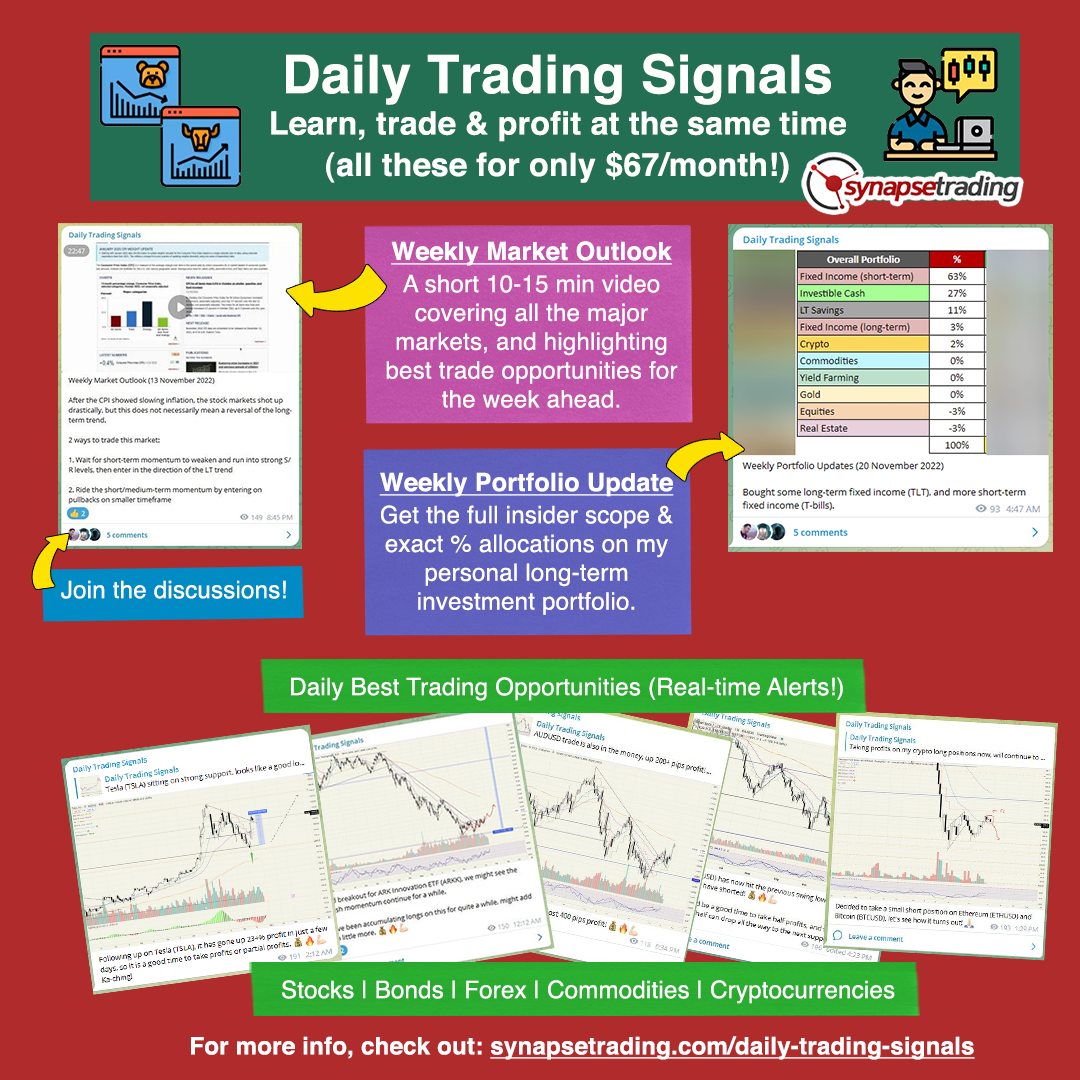 If you're looking for the best trading opportunities every day across various markets, and don't want to spend hours doing the research yourself, check out our private Telegram channel!
If you're looking for a reputable brokerage that covers all products (SG stocks, US stocks, global stocks, bonds, ETFs, REITs, forex, futures, crypto) and has one of the lowest commissions, this is what I currently use.
Spencer is an avid globetrotter who achieved financial freedom in his 20s, while trading & teaching across 70+ countries. As a former professional trader in private equity and proprietary funds, he has over 15 years of market experience, and has been featured on more than 20 occasions in the media.
https://synapsetrading.com/wp-content/uploads/2022/03/russian-ukraine-war.jpeg
438
768
Spencer Li
https://synapsetrading.com/wp-content/uploads/2019/10/logo.jpg
Spencer Li
2022-03-03 18:46:46
2022-03-26 23:44:55
Russian-Ukraine War: Summary & Compilation of Best Analysis