Weekly Market Wrap: Short-term Rebound in Stocks & Crypto
Join our Telegram channel (50,000+ subscribers) for daily market analysis & trading tips: t.me/synapsetrading
After a sharp collapse of the stocks and crypto market, last week saw a relief rebound.
I don't think the bottom is in yet, but I decided to take profits on my short positions to wait for a better price to short again.
I am still holding a large cash position (in USD), which has been performing well relative to the SGD.
I think soon it will be exciting because once the bottom is in, we can start accumulating assets on the cheap which will have the potential to go up 2-3x in the next bull run.
Stay tuned for more updates in my "Daily Trading Signals" Telegram channel!
[Photo: Burj Khalifa, Dubai, UAE – See my full travel photo log!]
For our weekly market wrap, we go through some of the trade calls and analysis from last week, which gives us valuable insights for the week ahead.
We cover 3 main markets with a total of 200+ counters, so we will never run out of trading opportunities:
By covering a broad range of markets, we can focus our attention (and capital) on whichever market currently gives the best returns.
Click here to receive all these signals in real-time for only $67 a month! You will get several signals a day, and even taking just 1 trade the whole month can easily cover the fee, so what are you waiting for?
Portfolio Highlights
Quick portfolio updates:
? Closed my shorts in stocks as I am expecting a short-term rebound, so that I can take profits first and short again at a better price.
? Also riding the short-term rebound in crypto, and will probably reduce positions or short once the rebound is over. But I will also monitor the price action carefully because this could be the bottom for crypto.
? The bulk of my holdings is still cash, because now is the time to play defensive.
Forex & Commodities Market Highlights
"The dollar has assumed the role of the global stagflation hedge with dollar cash being one of the few financial assets offering returns," wrote Deutsche Bank currency strategist George Saravelos in a note to clients. Stagflation occurs when slow growth combines with rising prices.
https://www.wsj.com/articles/with-markets-in-disarray-international-investors-are-stockpiling-u-s-dollars-11655803800
Of the Fed's previous 12 big tightening cycles since the 1950s, nine ended with a recession, official figures show.
The BOE has a better record, but roughly half of its rate-increase campaigns since the 1950s still ended with a U.K. recession.
https://www.wsj.com/articles/the-myth-of-the-central-bank-soft-landing-11655560980
Stock & Bond Market Highlights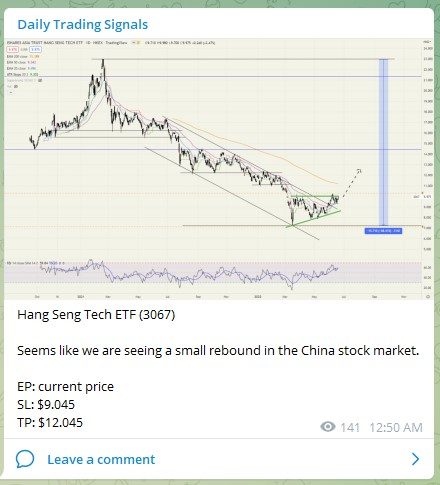 Hang Seng Tech ETF (3067)
Seems like we are seeing a small rebound in the China stock market.
EP: current price
SL: $9.045
TP: $12.045
https://www.asiaone.com/world/how-would-us-recession-impact-singapore-malaysia-thailand-amid-surging-inflation
The good news is it typically takes much longer to reach 20% losses than the bottom, which makes sense when you consider not every bear market goes to the extremes.
The good news here is that 7 out of the last 12 bear markets have bottomed in 46 days or less once the 20% level was breached. And 5 out of the 12 were over in a month or less.
https://awealthofcommonsense.com/2022/06/how-long-does-it-take-for-stocks-to-bottom-in-a-bear-market/
Crypto Market Highlights
For those interested in bottom-picking for Ethereum (ETHUSD) for long-term investment, I have placed some alerts at $900, $800, $700, $600, $500 so that I can buy in at these levels. Good luck! ??
BTCUSD Crossing 19622.57
Bitcoin (Crypto token)
TP1 for short positions
ETHUSD Crossing 900.00
Ethereum (Crypto token)
Starting to accumulate at this level
Buying some BTC and ETH for a possible 15-20% rebound from these levels. This is a higher risk short-term counter trend trade, so remember to use a stoploss.
"High APYs, high returns — I don't think they're sustainable in the long run," Zhao says. "New projects can give out these incentives to attract users, but only for a short time."
"Longer term, DeFi projects can offer eight to 10 percent. They have a real business model, where they earn money from the trading fees which people pay."
https://vulcanpost.com/792957/weathering-the-crypto-winter-binance-ceo-changpeng-zhao/
Click here to receive all these signals in real-time for only $67 a month! You will get several signals a day, and even taking just 1 trade the whole month can easily cover the fee, so what are you waiting for?
Good luck, and may next week bring more excellent profits!
Our flagship mentoring program is suitable for both beginners and advanced traders, covering the 4 strategies which I used over the past 15 years to build up my 7-figure personal trading portfolio.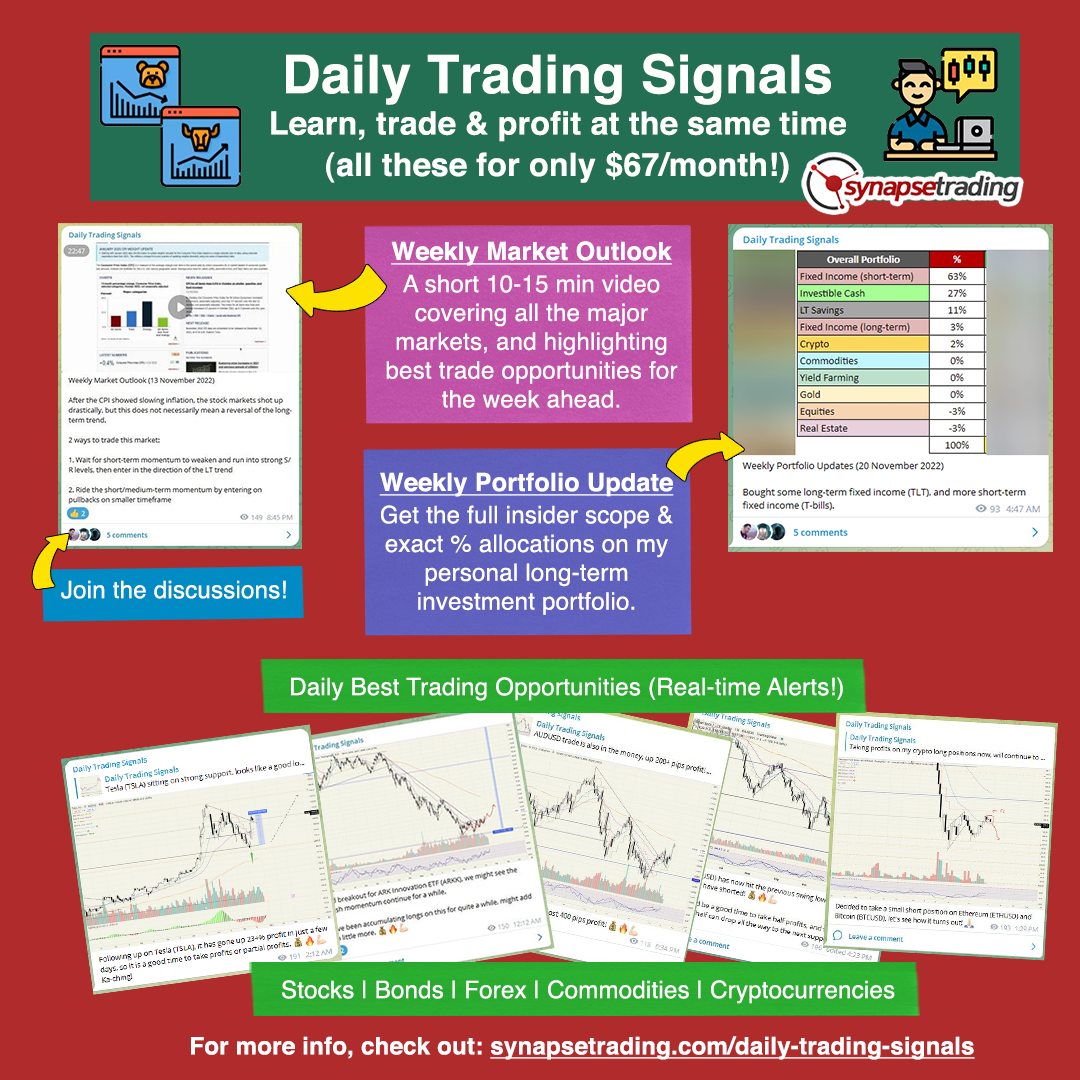 If you're looking for the best trading opportunities every day across various markets, and don't want to spend hours doing the research yourself, check out our private Telegram channel!
If you're looking for a reputable brokerage that covers all products (SG stocks, US stocks, global stocks, bonds, ETFs, REITs, forex, futures, crypto) and has one of the lowest commissions, this is what I currently use.
Spencer is an avid globetrotter who achieved financial freedom in his 20s, while trading & teaching across 70+ countries. As a former professional trader in private equity and proprietary funds, he has over 15 years of market experience, and has been featured on more than 20 occasions in the media.
https://synapsetrading.com/wp-content/uploads/2022/06/Burj-Khalifa-Dubai-UAE.jpg
554
704
Spencer Li
https://synapsetrading.com/wp-content/uploads/2019/10/logo.jpg
Spencer Li
2022-06-23 23:39:39
2022-06-25 22:16:39
Weekly Market Wrap: Short-term Rebound in Stocks & Crypto