How to Pick the Market Bottom (As Well As Market Tops)

Join our Telegram channel (50,000+ subscribers) for daily market analysis & trading tips: t.me/synapsetrading
There is a common fallacy amongst many investors that because you cannot time the exact market tops and market bottoms in the stock market, therefore you cannot time the market at all, and market timing should be avoided.
This is simply not true.
While it is impossible to buy at the exact market bottom and sell at the exact market top, it is definitely possible to time your entries and exits to minimise your risk and maximise your returns.
A wise trader once told me that if you want to time the market, you must be willing to give up the top 1/8 and the bottom 1/8 of any move.
This means that instead of trying to capture the precise turning points in the market, we should focus on capturing the remaining 75% of the move, which forms the meat of every trend.
This is true not just for the stock market, but also very relevant to any market, like forex, commodities, etc. It also works on any timeframe, such as swing trading, intraday trading, position-trading, etc.
In this video, I share 2 simple strategies that a new investor or trader can use to pick tops and bottoms easily.
The first method has to do with scaling in, which is similar to dollar-cost averaging.
By studying how much stock markets usually decline (30-60% during corrections, you can allocate your capital to buy in at certain fixed points, such as the 30% mark, the 40% mark, the 50% mark, etc.
This allows you a low-risk way to buy in near the bottom, and the best part is that you do not even need any knowledge about how to read charts or how to analyse price trends.
The second method requires a bit more skill, as you will need to be familiar with technical analysis and reversal chart patterns.
By identifying bearish reversal chart patterns (such as the double top at the 2008 top), as well as bullish reversal chart patterns (such as the inverse head and shoulders pattern at the 2009 bottom), you will be able to time your trade near the top and bottom of every major move.
Enjoy the video, and remember to "like" and "subscribe"!
Our flagship mentoring program is suitable for both beginners and advanced traders, covering the 4 strategies which I used over the past 15 years to build up my 7-figure personal trading portfolio.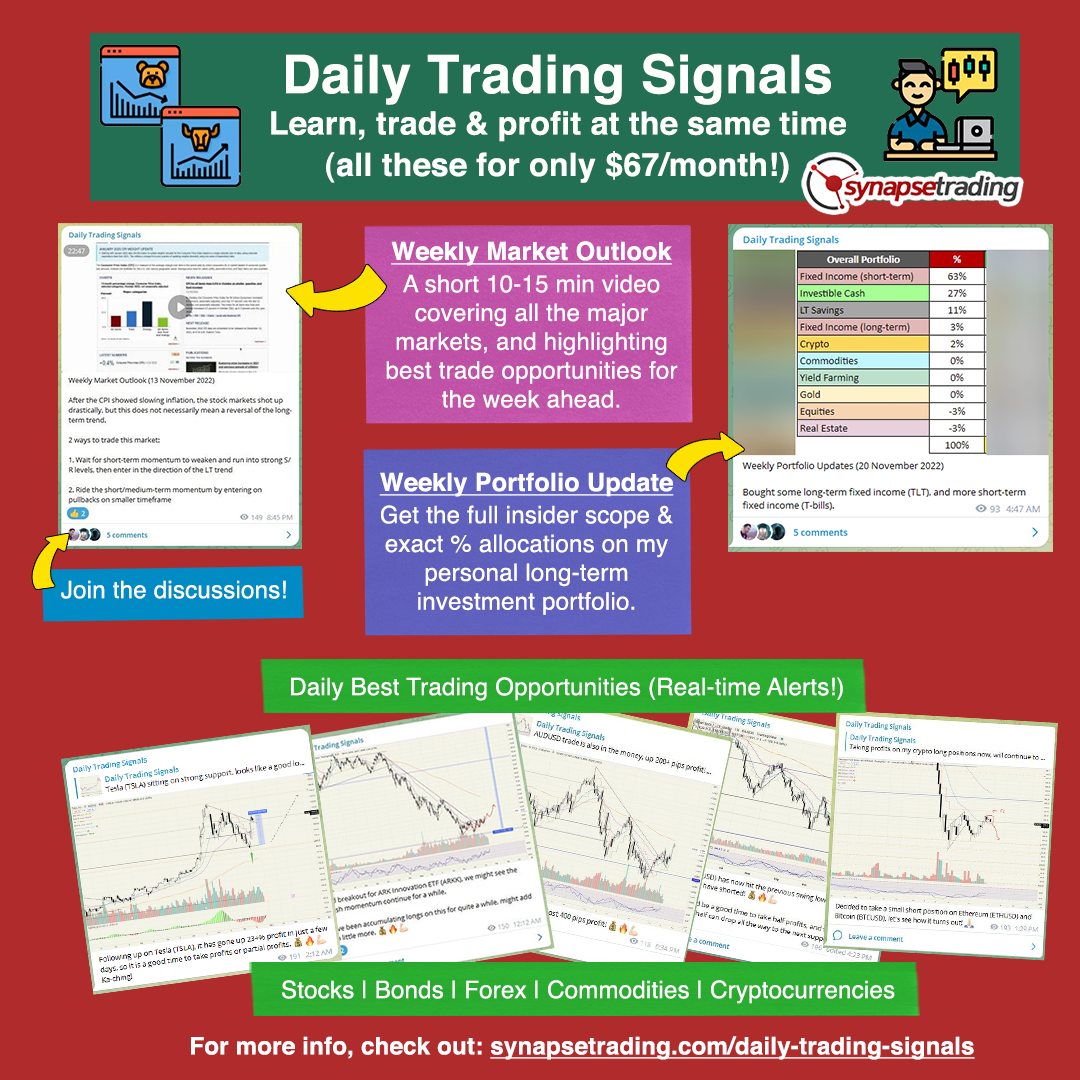 If you're looking for the best trading opportunities every day across various markets, and don't want to spend hours doing the research yourself, check out our private Telegram channel!
If you're looking for a reputable brokerage that covers all products (SG stocks, US stocks, global stocks, bonds, ETFs, REITs, forex, futures, crypto) and has one of the lowest commissions, this is what I currently use.
Spencer is an avid globetrotter who achieved financial freedom in his 20s, while trading & teaching across 70+ countries. As a former professional trader in private equity and proprietary funds, he has over 15 years of market experience, and has been featured on more than 20 occasions in the media.
https://synapsetrading.com/wp-content/uploads/2020/05/how-to-pick-the-market-bottom.png
524
1012
Spencer Li
https://synapsetrading.com/wp-content/uploads/2019/10/logo.jpg
Spencer Li
2020-05-06 21:59:52
2022-12-21 03:02:02
How to Pick the Market Bottom (As Well As Market Tops)