Market Analysis – Oil Futures Hits Negative for the First Time in History!
Join our Telegram channel (50,000+ subscribers) for daily market analysis & trading tips: t.me/synapsetrading
If you have been keeping up with the news, you will know that oil futures (May) have hit negative territory for the first time in history, and that has spooked the stock market as well.
Going forward, will this be the catalyst that causes another leg down in the stock market, or will we see the lockdowns ending soon, and the economy returning to normal?
Join our FREE Telegram channel for daily trading tips:
?? https://t.me/synapsetrading
Did You Catch This Epic Oil Crash?
If you are wondering why oil prices managed to go negative, the reason is quite simple:
Oil costs money to store.
Due to the economic collapse, oil isn't being used much.
So all the storage facilities are filled up. So nobody who can store it will buy it from you.
If you want to get rid of oil, you have to pay someone.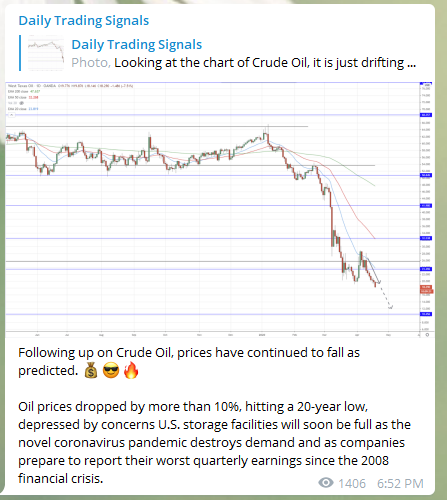 When oil was trading at $20, we were already short with a target of $10.
To be honest, I did not really think it could go that low, and was prepared to take profits along the way.
But sometimes if you get the direction right, you might get lucky and enjoy a windfall profit.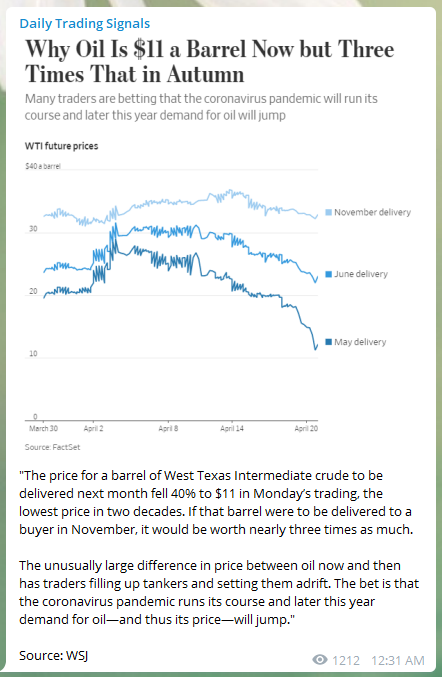 It is worth noting that only the May contract dropped drastically, while the June and July contracts remained much higher.
This means that traders are expecting some economic recovery (and an increase in demand?) in the coming weeks or months.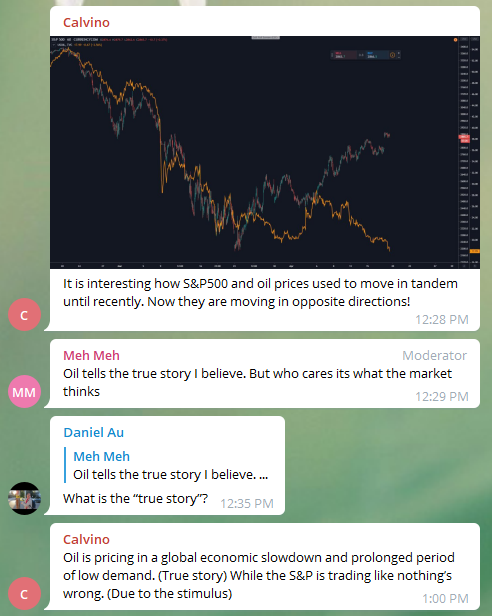 Something interesting to note is the divergence between stocks and oil, shared by one of community members.


How Will This Affect the Stock Market?
Comparing across different asset classes, we can see that crude oil and the 10-year treasury are bearish, while the long-term treasury bonds and Gold are bullish.
The S&P 500 is somewhat sideways, and has not decided which way it would follow.
Most fund managers seem to think that the recovery will be U-shaped, meaning we can expected a prolonged sideways movement in the stock market while the real economy takes its time to recover.
The second most popular option is the W-shape recovery, meaning they expect another leg down to test the prior lows. This one has my vote as well.
And lastly only 15% think a V-shape recovery is likely.
Based on what I posted last week, there are 2 potential areas which I feel offer a high probability short trade, and if prices manage to clear the 3000 level, then I will rethink the W-shape hypothesis.


Updates Regarding the Covid Situation
Although the number of cases seem to have peaked in most major economies, and the US might want to relax its lockdown and resume the economy, there is a high risk of a second wave of infections, which might actually drive the second leg down of the stock market.
Also, the number of cases in developing countries seem unusually low, which is likely a case of not doing much tests. Hence there is a real risk that we might see an explosion of cases once the testing scales up.

Now that things have started to stabilise, many countries are starting to point fingers at China for their slow disclosure of the virus, thus allowing it to spread globally and wrecking havoc worldwide.
This could lead to more global tension and conflicts going forward.
As you can see, there are always many exciting trading opportunities in the markets, and I think that another big move is coming really soon, so now would be a really great time if you plan to start learning about trading & investing.
Start Your Trading Journey Today!
If you want to learn, you might as well learn from the best. ?
Here is some feedback from our students:
"I am more confident to trade better with the setups I have learnt. I confident to meet my goals if I take action." – Joseph Benjamin
"Really enjoyed the training by Spencer. He makes a complicated topic easy to understand and actionable." – David Lee, Offset Pte Ltd
"Spencer has been a very good coach and is very equipped with skills that he can impart to us!" – Jun Hao
"Happy with the course as it gives a good intro and holistic approach. A unique TA approach to market. Also comes with many tools to help us kickstart the process."
"The course is well-planned and thought-out. As an experienced trader, I feel it definitely helps me to have an edge over the markets in various ways." – Shi Min
"A comprehensive and insightful course that is useful for those looking to understand technical analysis better." – Daniel Tan
"Would recommend this course to others. I think, more focus on each type/setup will be good." – Junnaidy
"Great resources and support to understand content. Spencer has condensed his market knowledge and experiences for new traders to understand and learn well." – Minghan, MOE
If you are interested to start your journey with our community, click on the link below: https://synapsetrading.com/the-synapse-program/
See you on the inside! ?
Our flagship mentoring program is suitable for both beginners and advanced traders, covering the 4 strategies which I used over the past 15 years to build up my 7-figure personal trading portfolio.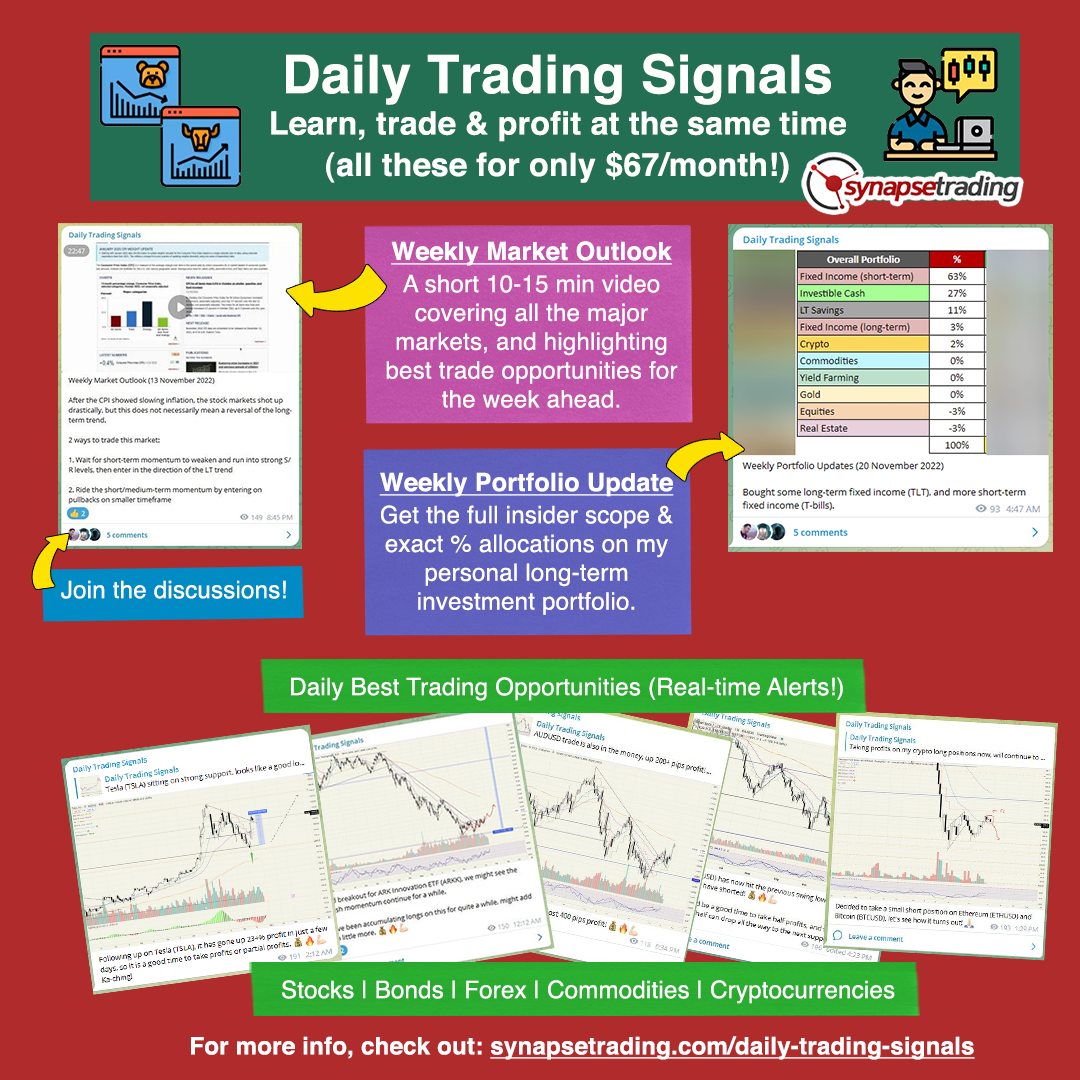 If you're looking for the best trading opportunities every day across various markets, and don't want to spend hours doing the research yourself, check out our private Telegram channel!
If you're looking for a reputable brokerage that covers all products (SG stocks, US stocks, global stocks, bonds, ETFs, REITs, forex, futures, crypto) and has one of the lowest commissions, this is what I currently use.
Spencer is an avid globetrotter who achieved financial freedom in his 20s, while trading & teaching across 70+ countries. As a former professional trader in private equity and proprietary funds, he has over 15 years of market experience, and has been featured on more than 20 occasions in the media.
https://synapsetrading.com/wp-content/uploads/2020/04/asset-classes-210420.jpg
833
1280
Spencer Li
https://synapsetrading.com/wp-content/uploads/2019/10/logo.jpg
Spencer Li
2020-04-21 12:51:50
2022-03-08 13:11:59
Market Analysis – Oil Futures Hits Negative for the First Time in History!