Weekly Market Wrap: Mixed Earnings a Red Flag for Stocks?
Join our Telegram channel (50,000+ subscribers) for daily market analysis & trading tips: t.me/synapsetrading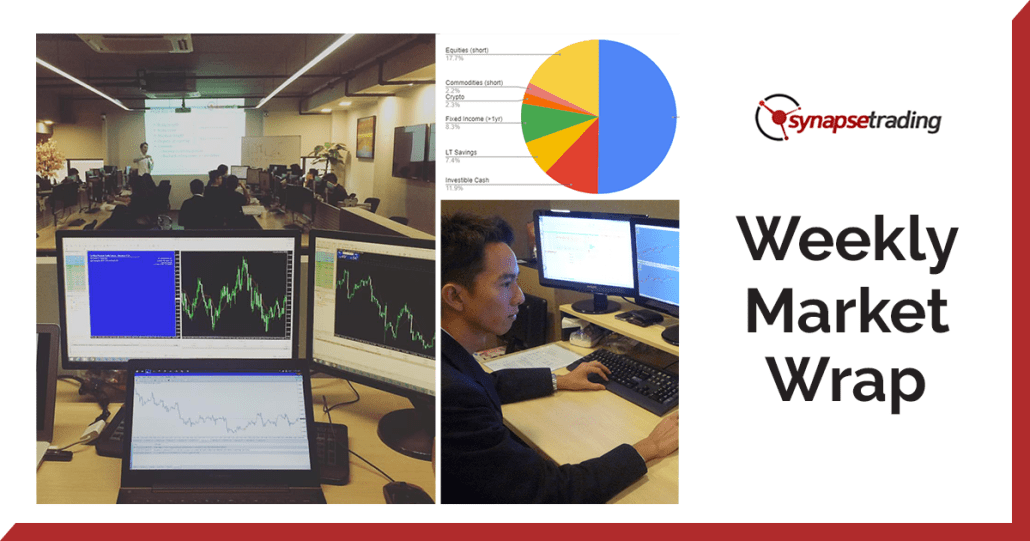 For subscribers of our "Daily Trading Signals", we now also include a "Weekly Market Report", where we provide a weekly deep-dive on the market, including fundamentals, technical, economics, and portfolio management:
Click here for last week's market report (23 October 2023)
Click here to subscribe for the latest market report (30 October 2023)
Click here to see the archives of all our past market reports
Market Recap & Upcoming Week
Last week marked significant movements in the financial markets, with notable fluctuations in both stock and bond markets. One of the standout observations was the considerable shift in long-term interest rates over the past three months, indicating market expectations for persistently high rates, evident from the 20-year bonds carrying interest rates above 5%.
This sentiment was mirrored in the tech sector, where major companies like Alphabet and Amazon.com experienced substantial declines in stock prices. Alphabet's underwhelming performance in its cloud business notably impacted its market capitalization, creating ripples across major indices like the Nasdaq and the S&P 500 due to the significant weight of these tech stocks.
The bond market too was not immune to turbulence, as exemplified by the 10-year Treasury note yields hitting a 16-year high, signaling potential headwinds for debt-reliant companies due to rising borrowing costs. The repercussions of these market movements were broad-based, affecting not just tech stocks but also sectors like healthcare, real estate, and small-cap stocks.
In contrast to this, Meta Platforms painted a more complex picture with its stock initially rising post better-than-expected earnings, only to retract due to cautionary statements from the company's finance chief, showcasing the market's volatility to earnings reports and forward-looking statements.
Amidst these market shifts, companies are recalibrating their operational structures through layoffs and cost-cutting, reflecting efforts to adapt to the changing economic landscape.
Despite the tumultuous week in traditional markets, alternative investments like Bitcoin seemed to retain investor interest, hinting at a complex risk appetite amidst macroeconomic concerns of slowing growth and rising borrowing costs.
This week, attention will be drawn towards a slew of earnings reports and central bank meetings, offering insights into both corporate performance and monetary policy directions. Companies like Apple, McDonald's, Pfizer, AMD, Caterpillar, Stellantis, Qualcomm, PayPal, Airbnb, and Starbucks are all set to release their earnings, providing a comprehensive look at various sectors of the economy.
Simultaneously, key central bank meetings, including the U.S. Federal Reserve, Bank of England, and Bank of Japan, will be closely watched for any changes or indications in interest rates, which could have significant implications on global financial markets.
On the economic data front, the U.S. is set to release its nonfarm payrolls report for October and updates on home prices and PMI survey readings, shedding light on the labor market and broader economic conditions.
In the eurozone, preliminary GDP and inflation readings for the third quarter will be available on Tuesday, offering a snapshot of the region's economic health. These data points, combined with the earnings reports and central bank decisions, will provide investors and policymakers with crucial information, making it a critical week to stay informed and make strategic decisions.
Daily Trading Signals (Highlights)
Bitcoin (BTCUSD) – Following up from last week, prices have surged up to $34,000, and are up 40% from the swing low! Congrats to those who had the patience to hold on! 💰🔥💪🏻
S&P 500 (US500) – Following up, prices are going down as predicted, and nearing our TP! Congrats to those who shorted! 💰🔥💪🏻
Subscribe for real-time alerts and weekly reports:
👉🏻 https://synapsetrading.com/daily-trading-signals
Our flagship mentoring program is suitable for both beginners and advanced traders, covering the 4 strategies which I used over the past 15 years to build up my 7-figure personal trading portfolio.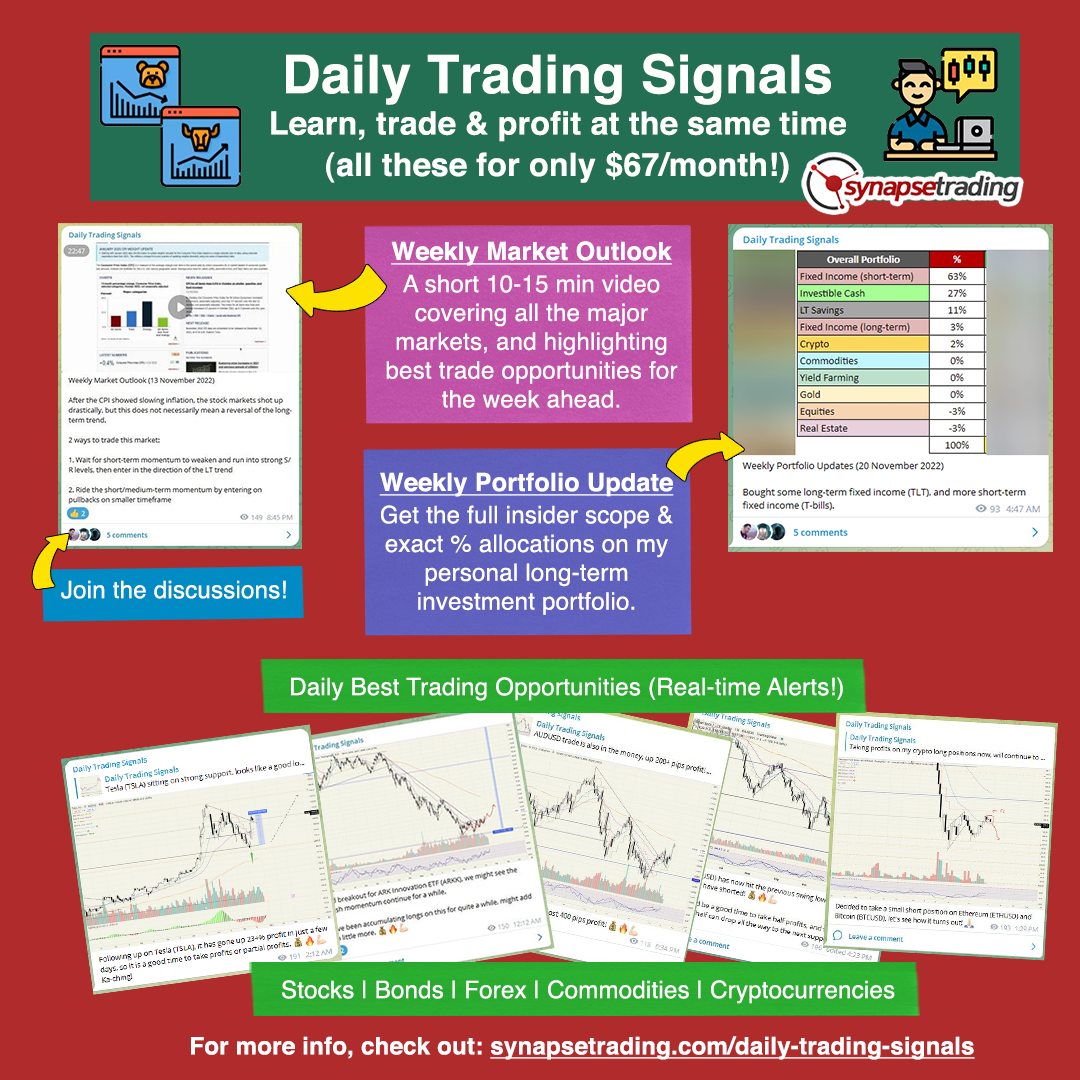 If you're looking for the best trading opportunities every day across various markets, and don't want to spend hours doing the research yourself, check out our private Telegram channel!
If you're looking for a reputable brokerage that covers all products (SG stocks, US stocks, global stocks, bonds, ETFs, REITs, forex, futures, crypto) and has one of the lowest commissions, this is what I currently use.
Spencer is an avid globetrotter who achieved financial freedom in his 20s, while trading & teaching across 70+ countries. As a former professional trader in private equity and proprietary funds, he has over 15 years of market experience, and has been featured on more than 20 occasions in the media.
https://synapsetrading.com/wp-content/uploads/2023/05/Thumbnail-banner-weekly-market-wrap-x3.png
630
1200
Spencer Li
https://synapsetrading.com/wp-content/uploads/2019/10/logo.jpg
Spencer Li
2023-11-01 04:28:58
2023-11-22 13:38:50
Weekly Market Wrap: Mixed Earnings a Red Flag for Stocks?