Forex Trading | EUR/CHF – When was the last time you saw a 2315 pip plunge?
Join our Telegram channel (50,000+ subscribers) for daily market analysis & trading tips: t.me/synapsetrading
Just yesterday, the Swiss National Bank (SMB) unexpectedly announced that it was ending its minimum exchange rate of 1.20 swiss franc per euro, dropping this bombshell just a week before the ECB's expected announcement of quantitative easing.
In addition, they also announced the lowering of the interest rate on deposit account balances that exceeded a given exemption threshold, from -0.25% to -0.75%.
The SNB noted the end of solidarity was one reason to discontinue the cap, saying division is "a trend that is likely to become even more pronounced." As the Fed readies to tighten monetary policy, deflationary forces mean the ECB is looking to ease anew. The Bank of Japan has already done so.
The SNB had imposed the floor limit in 2011 during the height of the Eurozone debt crisis as the franc strengthened considerably in that period, raising the risk of deflation in the country. Following that, EUR/CHF has hovered around 1.20 for more than three years, never having risen above 1.25 in that period.
However, a weak Eurozone economy, plus the ECB's constant stimulus measures, caused the euro to weaken significantly in the past year, which has forced the SNB had to continuously depreciate their Swiss franc to maintain the floor limit. But Switzerland has no need for monetary stimulus. While it has been hit by the dire straits of the Euro-area, its economy is not in too bad a state and does not require any boost from the central bank.
To have conducted stimulus when there is no need to, the SNB risks the huge possibilities of high inflation and major price distortion. This has been made worse by Russia's recent troubles, which saw a huge demand for Swiss francs by Russian billionaires.
The removal of the 1.20 floor is probably a strong signal that the ECB will announce some form of QE in next week's monetary statement. The SNB has probably judged that Switzerland's economy cannot afford to run the risks of price distortions brought about by the ECB's QE and has chosen to abolish the floor limit to negate this risk.
Some food for thought after the 1.20 EUR/CHF floor removal
After much sharp movements (see chart above) which included a spike down followed by a bounce, the market appears to think that the fair value for EUR/CHF is around 1.00.
Virtually every position which was long USD/CHF was margin-called.
Most macro hedge funds, which were long EUR/CHF, were crushed.
How much of the SNB's credibility has been hit? Switzerland has long had a reputation of financial stability; in fact two days ago it just reaffirmed its commitment to keep the floor limit. The shocker yesterday may test the trustworthiness of the Swiss banking system.
Currency supremacy war? The US dollar had no competition at the start of the year for the running of best-performing currency in 2015. With a freely-traded franc, that conclusion suddenly doesn't look so assured.
Will Hong Kong be next in breaking its peg with the USD? A rising USD has caused the value of the HKD to climb unnecessarily; previously a weak USD (and hence HKD) plus fund flows from China drove property prices in HK to extremely high levels.
How badly will Switzerland's export-oriented economy be hit?
Our flagship mentoring program is suitable for both beginners and advanced traders, covering the 4 strategies which I used over the past 15 years to build up my 7-figure personal trading portfolio.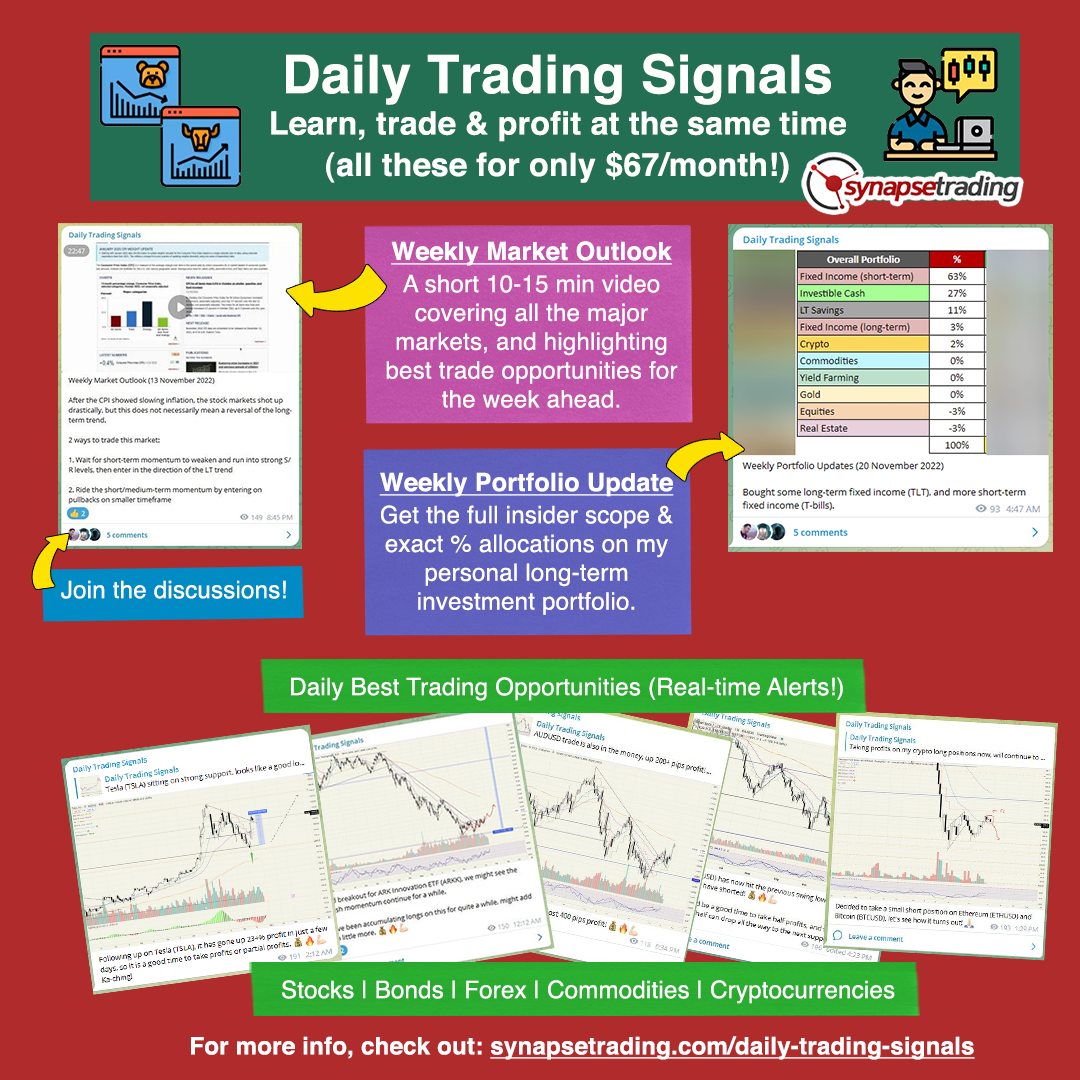 If you're looking for the best trading opportunities every day across various markets, and don't want to spend hours doing the research yourself, check out our private Telegram channel!
If you're looking for a reputable brokerage that covers all products (SG stocks, US stocks, global stocks, bonds, ETFs, REITs, forex, futures, crypto) and has one of the lowest commissions, this is what I currently use.
Spencer is an avid globetrotter who achieved financial freedom in his 20s, while trading & teaching across 70+ countries. As a former professional trader in private equity and proprietary funds, he has over 15 years of market experience, and has been featured on more than 20 occasions in the media.
https://synapsetrading.com/wp-content/uploads/2015/01/EURCHF.jpg
225
400
Spencer Li
https://synapsetrading.com/wp-content/uploads/2019/10/logo.jpg
Spencer Li
2015-01-16 15:36:10
2018-10-30 13:44:51
Forex Trading | EUR/CHF – When was the last time you saw a 2315 pip plunge?