Here are 5 Reasons Why You May Never Get to Retire Despite working Harder
Join our Telegram channel (50,000+ subscribers) for daily market analysis & trading tips: t.me/synapsetrading
As the cost of living continues to increase year after year, you probably would have spent some time pondering about your financial security. You probably would have heard stories of or personally experienced a company downsizing, a pay cut, the loss of your job, mounting expenses, or just a sudden realization that the world isn't such a stable place.
No matter when you discover this truth, it is critical that you come to terms with it. Only by knowing the truth can you deal with the reality of financial troubles ahead. Last year was marked by uncertainty, and it probably is just the tip of the iceberg of what can happen going forward.
For most people, wages will never be enough to sustain their lifestyle at retirement.
Source: media.cagle.com
Talk to any taxi driver and he will probably complain to you about any of the following:
Rising healthcare costs
Rising petrol costs
Rising food costs
Rising housing costs
Instability in the economy
These money issues are real. However, before we go into the solutions, we have to understand where these problems come from.
1. Low Interest Rate Environment
A low interest rate environment means that you need to go beyond your bank deposits to preserve your wealth.
However, despite having more mobile phones than people in Singapore, we are painfully ignorant in financial matters. We are educated, but not wise; we are connected with each other, but disconnected with reality.
Truth be told, most people have no idea how to even match up to the bank interest rate, much less beat the bank interest rate. The average level of financial literacy in Singapore is still shockingly low. To be a decent investor, it would be necessary to at least understand basic financial instruments, financial asset classes, methods of speculation/investment, and simple risk management.
Financial literacy is the first step to fighting inflation. You don't necessarily need to know exotic strategies like statistical arbitrage, premium collection on SPY options, futures pairs trading, spread betting, or betting on changes in the yield curve. But a basic understanding of market cycles and trading principles will make a large difference in one's investment results.
2. CPF Alone May Not Be Sufficient
In years of economic boom, Singapore tends to experience inflation of 4-5%. The CPF ordinary account grows at 2.5%, which means your money's losing value when the economy grows. Counting on CPF alone may help you get by, but would it really sustain the lifestyle you desire? Even if the inflation rate falls to 1-2% a year, very few Singaporeans can say they are able to retire comfortably.
It is more prudent to have something besides CPF to fall back on.
Some solutions include:
being willing to downgrade your apartment
holding structured deposits (can yield 4% or more)
holding high-dividend stocks
However, these strategies will probably only help in wealth preservation, not wealth creation.
For wealth creation, you need far more investment sophistication and dedication.
3. Zero Inflation Could Be the Norm
A world of zero inflation is good for the average consumer (he thinks he won't be paying more for his food/car/house/petrol), but it's bad for wages.
Truth be told, when inflation suffers, it is normally a terrible situation for the economy to be in. Remember the productivity drive a few years ago? The government aimed for 2% productivity growth every year, because inflation was terribly low and the country had to do something about it.
Inflation has fallen and fallen, and has even turned negative in 2015 and part of 2016.
Source: tradingeconomics.com
Stagnating or falling wages can become the norm. With wages in peril, it is even more essential to generate additional streams of income, or risk falling into financial destitution.
Examples of shrinking professions include:
F&B services
Marketing professionals (yes! because the supply has caught up with demand in recent times)
Insurance Agents
Property Agents
Logistics professionals (yes! because the supply has caught up with demand due to the euphoric onslaught of e-commerce firms)
If you have children, the best thing you can do is to advise them regarding these trends. Don't be so concerned about their math scores, science scores, or whatever score; look to give them training in these skills, and to explore their interests in these areas.
4. Persistently High Property Prices
This is good news for existing property owners, but bad news for new property buyers. Singapore will continue attracting rich foreign buyers because that's our value proposition as a nation. This problem keeps worsening as long as our property is affordable to wealthy investors from overseas. The government is likely to step in if property prices start falling.
The issue with high property prices is that most people end up taking 20 to 30-year loans and live with debt for most of their adult life. This keeps the economy stagnant and unable to experience growth like we've seen in the 1980s and 1990. A debt-ridden adult is much less likely to splurge. With an entire generation of people living with huge mortgage loans, we won't see fantastic growth in a very long time.
5. Rising Medical Costs and Falling Government Support
Take note: it's not the government's fault; blame it on falling birth rates. With a smaller workforce, tax revenues will fall and Singapore will be less able to provide for its elderly.
Singapore will age, and more and more sick people will depend on a smaller proportion of working adults in this country. It's inevitable that the government cannot support the large number of elderly who will reside in our hospitals and hospices. It's the same 'graying' problem that Japan is facing.
Falling government support, along with higher demand for doctors and strained infrastructure will cause medical bills to rise. Sure, it'll be great for healthcare stocks, but healthcare spending on the elderly is not expansionary. Basic health economics would differentiate between healthcare spending that improves economic well-being (vaccinations on children, basic sanitation etc.), and healthcare spending that does not improve economic well-being. We'll be seeing a lot of spending that does little to boost the economy.
So, "What Should I Do?"
The fact that you're reading this shows that you are concerned for your financial future. Keep learning, reading, and exploring ways to combat this reality. After all, people perish for the lack of knowledge, not the lack of determination. Acquiring the right investment skills, financial management practices, and general knowledge will help protect you and your family from financial destitution.
My greatest hope is that you, the reader, would be motivated to start educating yourself financially, and to get your hands dirty in the investment world.
Cheers, and see you all soon! 😀
RESEARCH SOURCES & REFERENCES
www.blog.linkedin.com/2016/10/20/top-skills-2016-week-of-learning-linkedin
www.cnbc.com/2016/10/20/the-top-10-skills-that-will-get-you-hired.html
Our flagship mentoring program is suitable for both beginners and advanced traders, covering the 4 strategies which I used over the past 15 years to build up my 7-figure personal trading portfolio.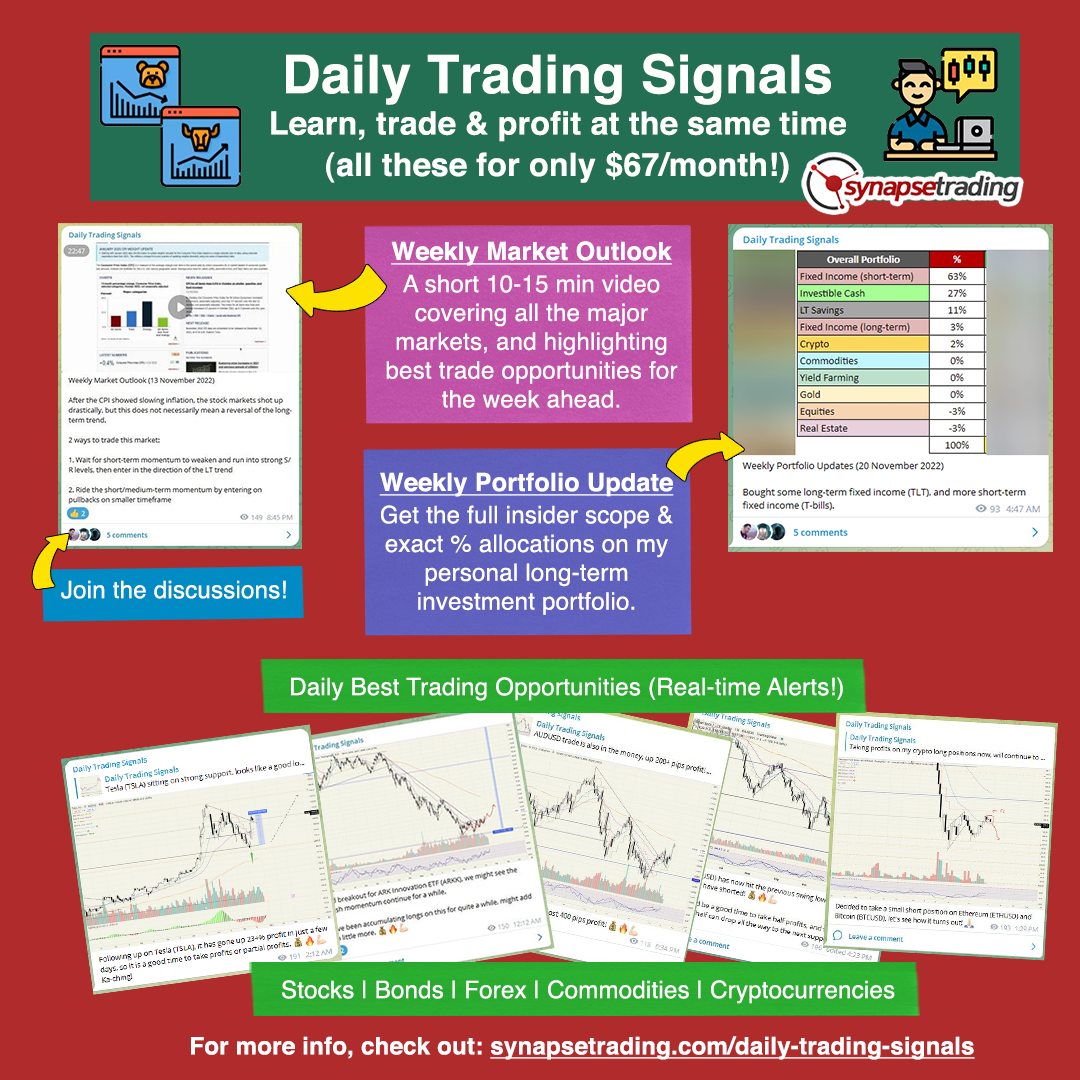 If you're looking for the best trading opportunities every day across various markets, and don't want to spend hours doing the research yourself, check out our private Telegram channel!
If you're looking for a reputable brokerage that covers all products (SG stocks, US stocks, global stocks, bonds, ETFs, REITs, forex, futures, crypto) and has one of the lowest commissions, this is what I currently use.
Spencer is an avid globetrotter who achieved financial freedom in his 20s, while trading & teaching across 70+ countries. As a former professional trader in private equity and proprietary funds, he has over 15 years of market experience, and has been featured on more than 20 occasions in the media.
https://synapsetrading.com/wp-content/uploads/2016/12/rat-race.jpg
1103
1767
Spencer Li
https://synapsetrading.com/wp-content/uploads/2019/10/logo.jpg
Spencer Li
2017-03-28 07:00:00
2021-03-09 18:26:19
Here are 5 Reasons Why You May Never Get to Retire Despite working Harder