Shares Drop, Gold Surges as South Korea, Italy & Middle East Face a Spike in Covid-19 Cases

Join our Telegram channel (50,000+ subscribers) for daily market analysis & trading tips: t.me/synapsetrading
For the past 2 months, the Covid-19 virus (Wuhan virus, Coronavirus) which originated in China was highly contagious, but it managed to remain mostly in China, hence the global community as a whole did not seem that worred about it, as seem by how the Us markets continued to run up.
However, it now seems that the virus is speaking to other countries quickly, with outbreaks in South Korea, Italy, and the Middle East (Iran), sparking fears that this might go out of hand and create a global pandemic.
Spread of the Covid-19 Virus
As we can see from the map, the virus has spread to most of the developed economies, thankfully sparing Africa and South America.
It would be disastrous if the virus did get there, as they are battling many other problems and other diseases (eg. Ebola).
The cases are still growing daily at an alarming rate, but at least it is no longer exponential.
The risk, however, is that clusters of outbreaks in various parts of the world might cause another exponential spike in cases.
Bearishness in Aussie Dollar (AUD)
Safe haven assets like Gold, Bitcoin and USD have been strong, while currencies like NZD, EUR and AUD have weakened the most.
Here are some of the recent analysis and trades of AUD/USD and AUD/CAD:
Gold as a Hedge Against Stock Declines
Gold is a good hedge against a crash in the stock market, because it is viewed as a safe haven asset, especially when the crash is happening.
Since the stock market is at all time highs, we have advised our students to add Gold to their investment portfolio.
Gold has since rallied strongly, and will likely continue to outperform.
If you would like to avoid missing out on any of such awesome trades (which we deliver on a daily basis), then you should definitely check out our training program & trading signals bundle:
https://synapsetrading.com/the-synapse-program/
See you on the inside!
Our flagship mentoring program is suitable for both beginners and advanced traders, covering the 4 strategies which I used over the past 15 years to build up my 7-figure personal trading portfolio.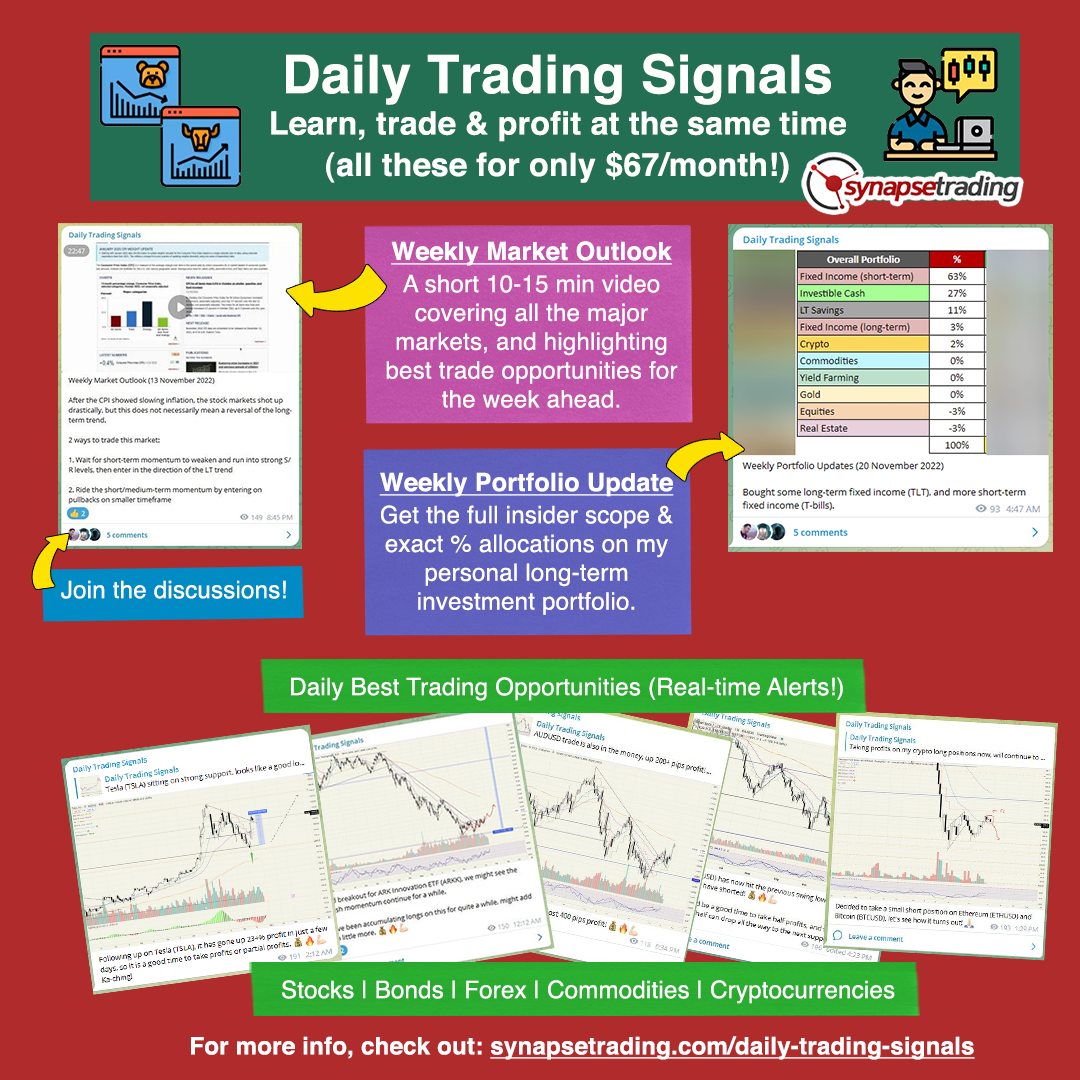 If you're looking for the best trading opportunities every day across various markets, and don't want to spend hours doing the research yourself, check out our private Telegram channel!
If you're looking for a reputable brokerage that covers all products (SG stocks, US stocks, global stocks, bonds, ETFs, REITs, forex, futures, crypto) and has one of the lowest commissions, this is what I currently use.
Spencer is an avid globetrotter who achieved financial freedom in his 20s, while trading & teaching across 70+ countries. As a former professional trader in private equity and proprietary funds, he has over 15 years of market experience, and has been featured on more than 20 occasions in the media.
https://synapsetrading.com/wp-content/uploads/2020/02/forex-market-strength-meter-240220.png
435
808
Spencer Li
https://synapsetrading.com/wp-content/uploads/2019/10/logo.jpg
Spencer Li
2020-02-25 00:52:46
2022-03-09 17:07:58
Shares Drop, Gold Surges as South Korea, Italy & Middle East Face a Spike in Covid-19 Cases