My Full Crypto Strategy for 2018 (And my Current Portfolio Holdings)
Join our Telegram channel (50,000+ subscribers) for daily market analysis & trading tips: t.me/synapsetrading
Recently, I have been getting a lot of questions about Bitcoin and Cryptocurrencies, so I will take some time to address all of them.
Is Bitcoin a bubble?
Its price action is certainly bubbly. If we look at the tech bubble, what happened in phase 1 is that people were buying based on potential growth and expectations, which is why you saw stocks trading at skyhigh PE ratios. After the crash, and after the dust settled, phase 2 was where the companies with strong fundamentals started manifesting the potential growth, so in a way the fundamentals were catching up to the expectations. I think we are in phase 1, but it is possible that prices just go sideways instead of a crash as we head into phase 2.
In addition, Bitcoin is just one application of the Blockchain technology, and there are also many other coins/cryptocurrencies to invest in.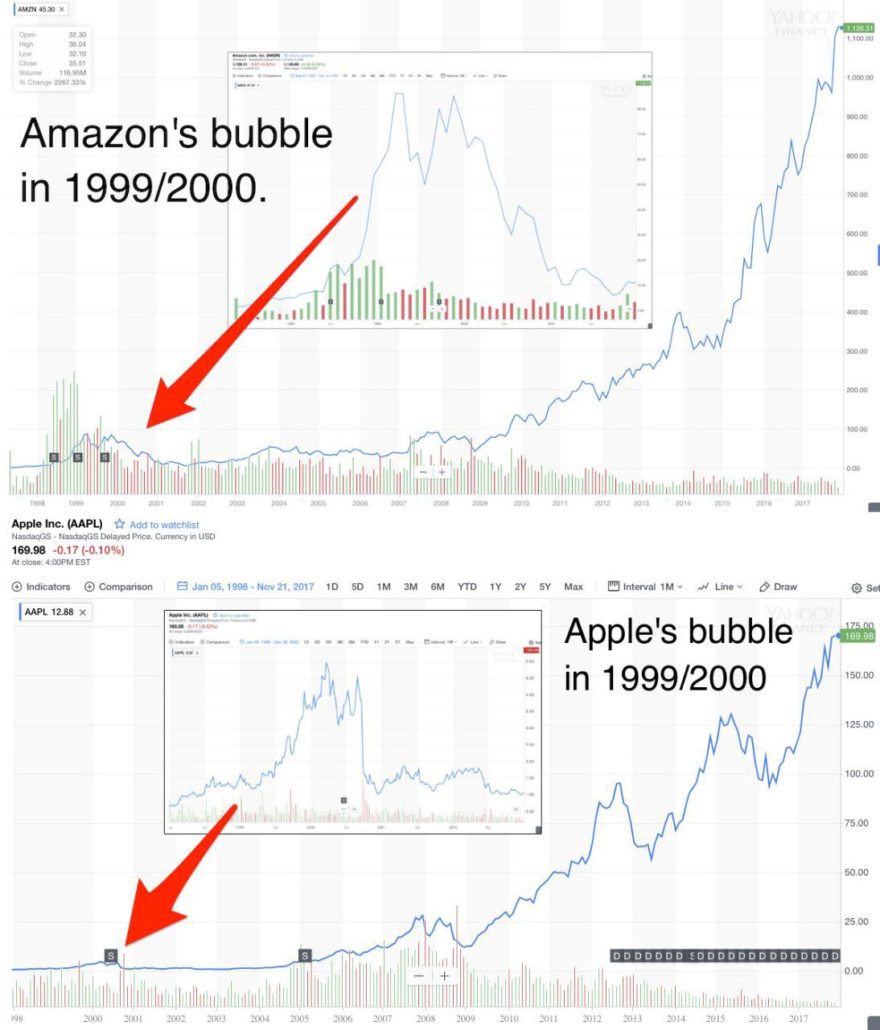 Who is going to buy your Bitcoin from you?
If Bitcoin (or any currency since they are interchangable), becomes a currency which is used and accepted, there is no need to "cash out" or sell it to someone else, because you can simply use it as currency to pay for things. People are now hoarding Bitcoin because it is akin to buying a currency which will be worth more in the future. That said, it is unlikely that it will totally replace our fiat/paper currency (at least in the next 5-10 years), but my guess is that it will coexist side by side like common global currency.
Will Bitcoin become a global currency?
There are 3 main functions of a currency:
Effective means of payment.
Good measure of value.
Effective way to store value.
Currently it is not that universally accepted, but that could improve in the future as more business accept it. There is a problem with its transaction speed and fees, which it will need to solve to get mainstream acceptance. And as its market cap gets larger, it will naturally become more stable and less subject to huge price fluctuations.
What are some positive and negative catalysts?
For the positive, Bitcoin could go up a lot more if banks, funds, institutional investors, and even sovereign funds start including cryptocurrencies (especially Bitcoin) as one of the must-have asset class in their portfolios. For individual coins, they usually get a big boost when they announce a major deal with a big partner, or when they get listed on a major exchange. For the negative, prices could collapse if existing holders start to cash out, and institutions start stacking short positions on the futures.
Is it a good time to get into the market now?
Before entering, take some time to read out list of resources which we have compiled. I have a couple of risk-minimising ideas for people who have missed out so far, but are unsure how to enter at current prices:
Dollar-cost averaging: Buy a small amount every month and allocate across 10-15 coins.
Portfolio approach: Create a diversified portfolio and rebalance weekly/monthly.
Lump sum market timing: Split your capital into 4-5 parts, and enter whenever there is a price correction.
Personally, I started this new portfolio in December for my students to follow, and in 2 weeks I was up 150% on my portfolio. By actively rebalancing it and keep a certain percentage in cash, I am able to take a cool and systematic approach to riding on the crypto assets trend. For this portfolio, I have a 10 year time horizon, which means I am prepared to sit through any crash, but I will be rotating to cash/tether if I see a major crash coming. Lastly, it is also worth noting that this crypto portfolio accounts for roughly 5% of my total portfolio.
I have been updating my portfolio regularly in my forum, and if you are keen to learn more about Crypto, you can join our forum as well. (It is completely free!)
See you on the inside! 😀
Our flagship mentoring program is suitable for both beginners and advanced traders, covering the 4 strategies which I used over the past 15 years to build up my 7-figure personal trading portfolio.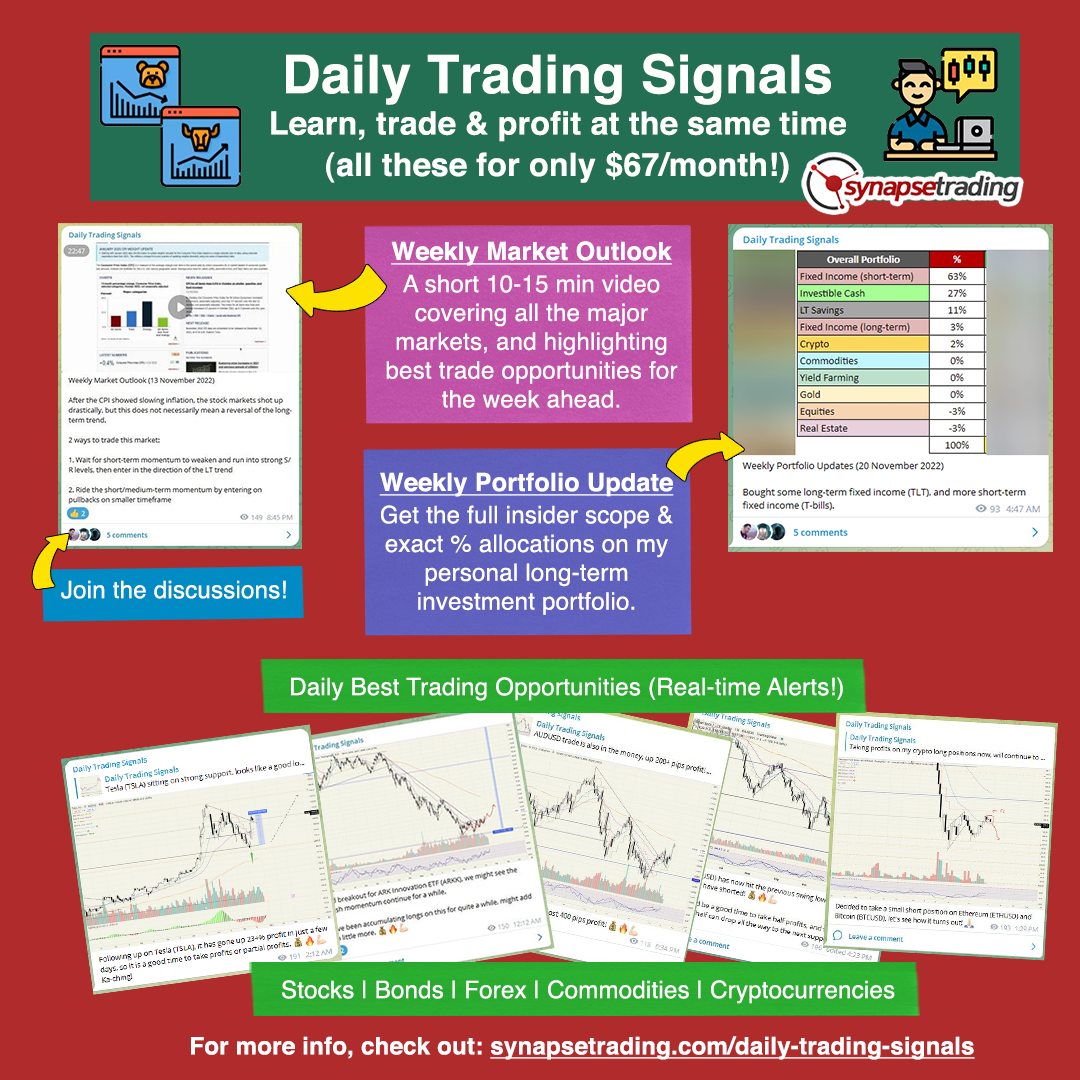 If you're looking for the best trading opportunities every day across various markets, and don't want to spend hours doing the research yourself, check out our private Telegram channel!
If you're looking for a reputable brokerage that covers all products (SG stocks, US stocks, global stocks, bonds, ETFs, REITs, forex, futures, crypto) and has one of the lowest commissions, this is what I currently use.
Spencer is an avid globetrotter who achieved financial freedom in his 20s, while trading & teaching across 70+ countries. As a former professional trader in private equity and proprietary funds, he has over 15 years of market experience, and has been featured on more than 20 occasions in the media.
https://synapsetrading.com/wp-content/uploads/2017/12/crypto-portfolio-201217.png
748
904
Spencer Li
https://synapsetrading.com/wp-content/uploads/2019/10/logo.jpg
Spencer Li
2017-12-20 07:19:48
2022-03-15 18:46:34
My Full Crypto Strategy for 2018 (And my Current Portfolio Holdings)