Join our Telegram channel (50,000+ subscribers) for daily market analysis & trading tips: t.me/synapsetrading
The stock market is a great place to generate wealth but before getting started, you have to understand a few basic terms. For instance, stock share and equity.
They're all synonymous, all representing a partial ownership of a company. So, if you buy stock in Apple or SingTel, you officially own a share of the company. Buy 1000 shares and a company that offers 100,000 shares and you own 1%. Owning shares allows you to benefit from a company's growth and profits in the form of capital gains and dividend payouts.
Capital gains represent the difference between the purchase price of an investment and the eventual selling price, so if you buy one share of a company for $1 and eventually sell that share for 5 dollars, you receive $4 in capital gains per share.
A dividend payout is the percentage of a company's earnings that get paid to shareholders who have stock in the company, usually on an annual basis.
Those are the basic terms.
Now, let's look at basic market function. It all starts when a company decides to sell its shares in an initial public offering or IPO. This is when a company goes from being totally private to one that is owned and traded by the public once on the stock market or exchange.
You can purchase stock in that company through a stock broker along with other companies also listed on a stock exchange, which leads us to our next topic how to choose which types of stocks to buy and trade.
One way is to separate them by sectors like financials, real estate, health care, technology and so on. Another approach is to divide them based on the size of the companies, also known as market capitalization.
On the low end are penny stocks which are cheap, volatile but offer high growth potential.
Then, there's mid-caps which provides solid growth potential with less risk and on the high end, blue chips which are usually larger with strong track records, more stable companies with higher stock prices.
Finally, you could check out stock indices or indexes. These are used to measure the value of a particular section of the stock market.
For example, the S&P 500 index tracks the performance of 500 companies in the US markets giving us a good overview of the health of the overall US markets and in Singapore, there's the Straits Times Index which tracks the performance of the top 30 companies listed on the Singapore exchange.
Every market has its own benchmark and tracking the indexes is a good way to determine the direction of the market overall, so those are the stock market basics.
Next up, let's explore some of the other products that can be found in the financial markets.
Our flagship mentoring program is suitable for both beginners and advanced traders, covering the 4 strategies which I used over the past 15 years to build up my 7-figure personal trading portfolio.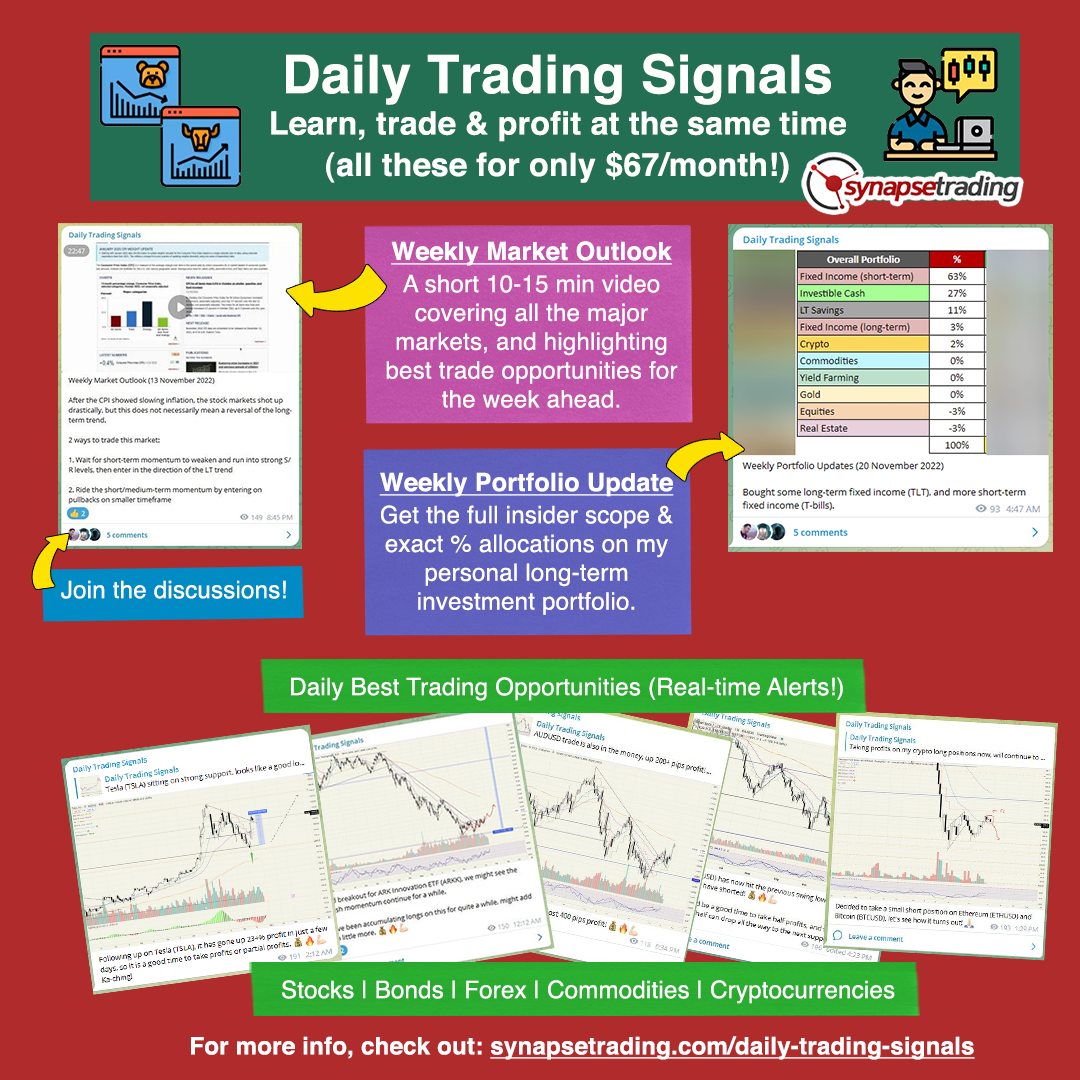 If you're looking for the best trading opportunities every day across various markets, and don't want to spend hours doing the research yourself, check out our private Telegram channel!
If you're looking for a reputable brokerage that covers all products (SG stocks, US stocks, global stocks, bonds, ETFs, REITs, forex, futures, crypto) and has one of the lowest commissions, this is what I currently use.
Spencer is an avid globetrotter who achieved financial freedom in his 20s, while trading & teaching across 70+ countries. As a former professional trader in private equity and proprietary funds, he has over 15 years of market experience, and has been featured on more than 20 occasions in the media.
https://synapsetrading.com/wp-content/uploads/2014/09/1b-Stock-Market-Basics.png
750
1278
Spencer Li
https://synapsetrading.com/wp-content/uploads/2019/10/logo.jpg
Spencer Li
2014-09-26 08:45:12
2021-02-14 20:49:37
Stock Market Basics