Join our Telegram channel (8000+ subscribers) for daily market analysis & trading tips: t.me/synapsetrading
After the trading workshop yesterday, I gave everyone the forex daily 35 pips challenge, and today I traded with some of my students to show them it can be done.  On every trading day, a major pair like the EUR/USD typically has a conservative trading range of roughly 70 pips, so the challenge is to make 35 pips a day consistently. While this might seem insignificant when people try to punt/gamble for once-off big gains, the power of consistency must not be underestimated.
A trader who starts off trading a measly 0.5 standard lots will be making 0.5 x 35 x US$10 = US$175 a day, which adds up to roughly US$3,500 a month, comparable to most full-time jobs. Not bad for a few trades a day! A trader who progress to 3 standard lots will be making 3 x 35 x US$10 = US$1,050 a day, which adds up to roughly US$20,000 a month, comparable to a high-end job in the financial sector. If a trader then progresses to trading 10 standard lots,… well I leave you to work out the math.
For today, the trading range was 83 pips, and I managed to catch 68 pips, and trailed my stops for a small portion of my profits. This was done in just ONE GOOD TRADE, well-timed with precision and accuracy. I have highlighted the sequence of steps from trade entry to exit, as well as how I managed my risk and trailed my stops.  Of course, my students were following me live as I made these trades.
For those who are interested to hear me share more about how I always make such accurate entries by reading blank charts, I will be revealing how intraday trading can be done at a relaxed pace. https://www.eventbrite.sg/event/7760228051?ref=ecal 
Forex trading strategies – Waiting patiently for a good setup
Checking the economic calendar for major forex news
Pin-point entry using one of our price action forex trading strategies – No technical analysis or indicators required
Price action goes in our favour very quickly
EUR/USD – Price spike down on news release!
Managing our risk by shifting stoploss to lock in profits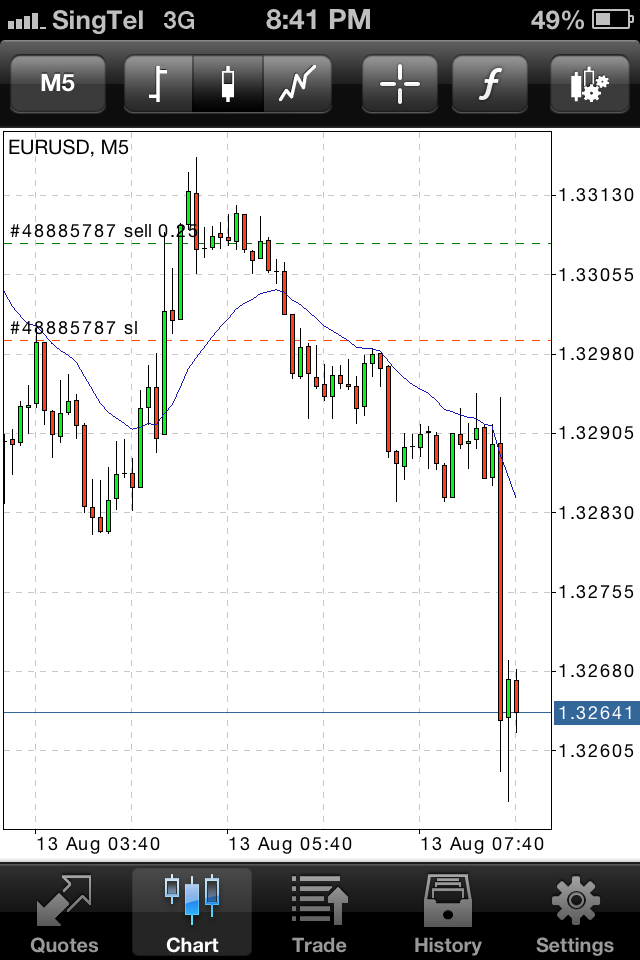 1st TP is hit for 40+ pips! Taking half profits.
 2nd TP was hit at 1.3235, a few pips off the low of the day. Simply uncanny how accurate these price projections can be.  Trailing a small position overnight to gun for 100+ pips overnight.
A big thanks to one of my students who insisted on using some of the profits he made today to buy me some sweet treats. With the daily effort put in, I am pretty sure it is only a matter of time before he will be trading a huge account of his own. Keep up the good work!
Spencer Li  –  The Wealth Coach  –  Stocks Investing  –  Forex Trading
https://synapsetrading.com/wp-content/uploads/2019/10/logo.jpg
0
0
Spencer Li
https://synapsetrading.com/wp-content/uploads/2019/10/logo.jpg
Spencer Li
2013-08-14 06:32:38
2021-01-10 20:45:43
Forex Intraday Trading | EUR/USD – The Daily 35 Pips Challenge