Market Analysis – Economy is Tanking But Stock Market is Rising?
Join our Telegram channel (50,000+ subscribers) for daily market analysis & trading tips: t.me/synapsetrading
As various countries started loosening the lockdown to save the flailing economy, we get news reports of new infections starting to surge.
At the same time, we see multiple asset classes surging in the market, creating a stark contrasting reality.
The big question is, which is leading and which is lagging? (Economy vs. Financial markets)
Join our FREE Telegram channel for daily trading tips:
?? https://t.me/synapsetrading
5 Bullish Asset Classes
It is quite rare to see so many asset classes perform so strongly, especially when the economy is not doing well, and this is probably due to excess liquidity.
In addition, many of these asset classes usually move in opposite directions from one another, which makes it all the more strange.
Here are the 5 asset classes:
NASUSD – Nasdaq stock index
XAUUSD – Gold
USDIDX – US Dollar index
TNOTEUSD – 10-year treasury bond
BTCUSD – Bitcoin (not listed above)
V-shape Recovery for the Stock Market?
The stock market (especially the Nasdaq) has already recovered almost all its losses for the year, but will it be able to chug ahead and make new highs?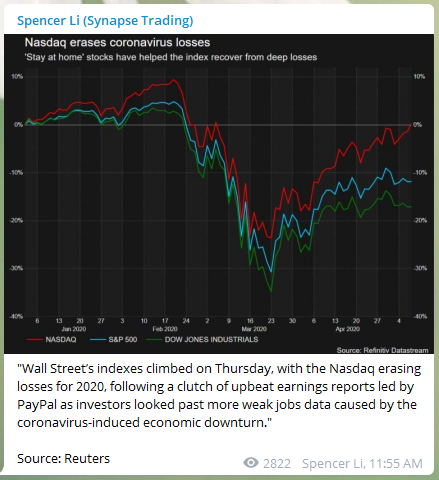 According to the Wall Street Journal, here are 5 reasons why the stock market is rallying so strongly despite the economy not doing well.
On the other hand, we are also seeing a large outflow of funds from stock markets, so could this be investors starting to take profits after the recent strong rally?
Will Lockdowns End Soon to Save the Economy?
Last Friday we also had the NFP (non-farm payroll), and although it was slightly better than expected, the numbers still do not look good, unless they find a way to reopen the economy safely.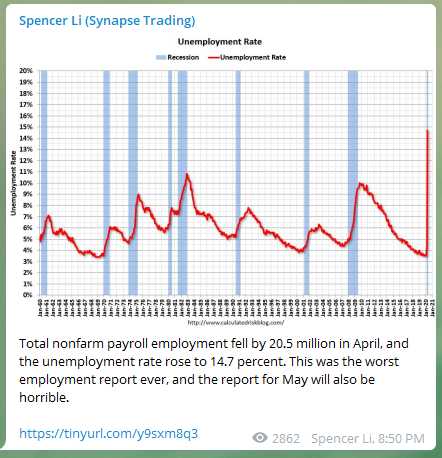 Several countries have started to loosen the lockdowns and get the economy back to normal, but it seems like a tricky balancing game / whack-a-mole, because any small outbreak can trigger new lockdowns all over again.
Over in Russia, the outbreak seems to be getting worse as well.
Taking My Profits for Bitcoin at $10,000
Recently, Paul Tudor Jones mentioned in an interview that he is bullish on the stock market, and buying Bitcoin to hedge against inflation.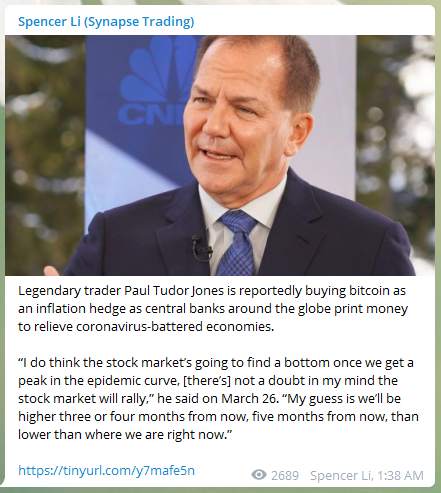 If you have been following our Bitcoin trades, we have been accumulating since $4,000+, and we have taken profits at $10,000 last week, so we will be waiting for lower prices to buy again.
This is one of our best trades this month, with a profit of more than 100%. This shows that you do not need to be making many trades a day, but rather be patient and wait for the best opportunities, then strike when the iron is hot. Congrats! ???
Start Your Trading Journey Today!
If you are interested to start your journey with our closely-knit community, click here: https://synapsetrading.com/the-synapse-program/
Here is some feedback from our students:
"I signed up for the training course just 2 weeks ago, and i am still quite new to trading. Took some trades on the daily signals that Spencer posts daily, and very happy to have made 17% returns so far and covered back my course fee." – Sandy
"I followed Spencer and bought Bitcoin, and have made more than 50% returns although I entered a bit late. Very impressed by the accurate timing." – Kai
"I am very happy to be part of this community because the members are very kind and answer all my newbie questions to help me understand." – MK
To read feedback form all our past students, click here: https://synapsetrading.com/testimonials/
See you on the inside! ?
Our flagship mentoring program is suitable for both beginners and advanced traders, covering the 4 strategies which I used over the past 15 years to build up my 7-figure personal trading portfolio.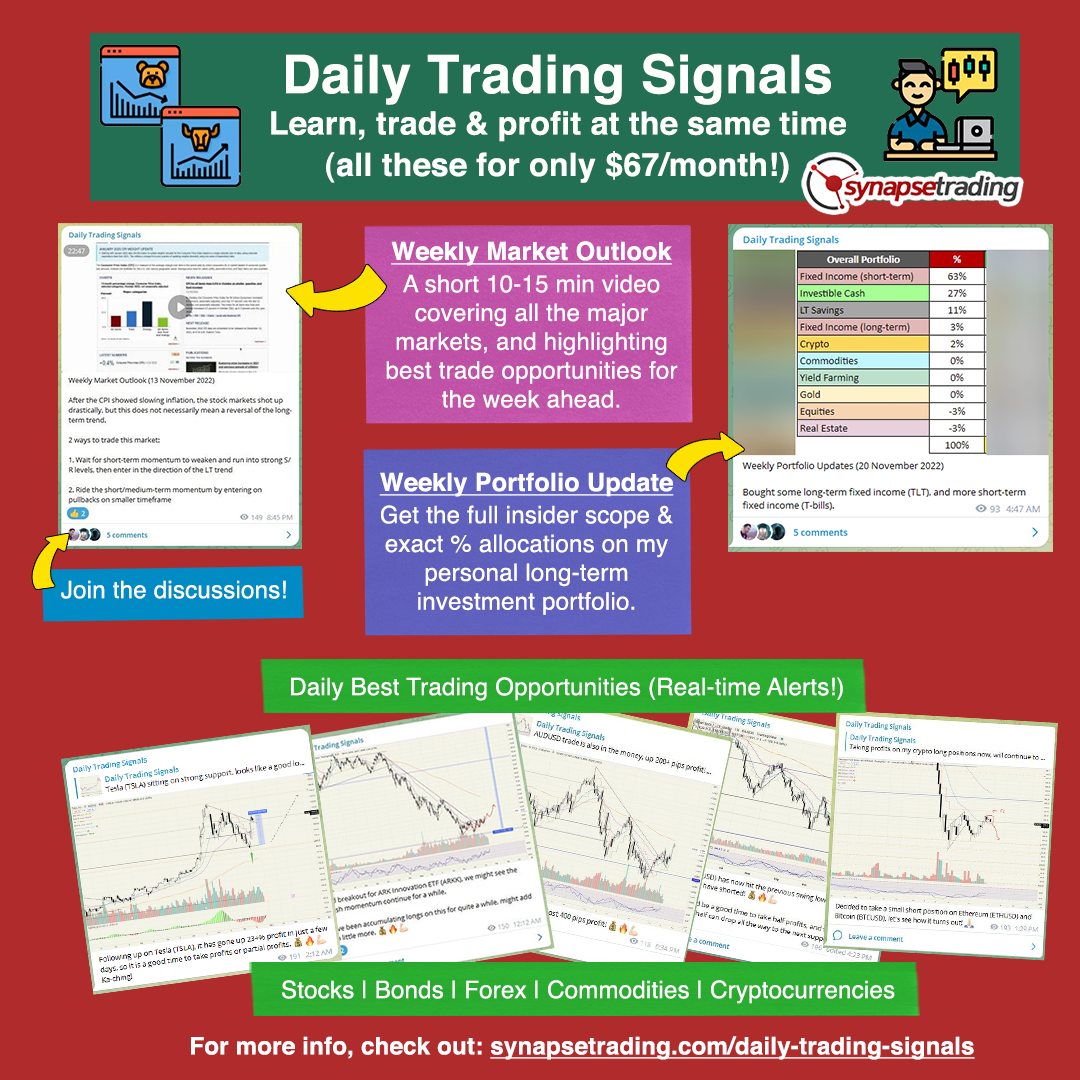 If you're looking for the best trading opportunities every day across various markets, and don't want to spend hours doing the research yourself, check out our private Telegram channel!
If you're looking for a reputable brokerage that covers all products (SG stocks, US stocks, global stocks, bonds, ETFs, REITs, forex, futures, crypto) and has one of the lowest commissions, this is what I currently use.
Spencer is an avid globetrotter who achieved financial freedom in his 20s, while trading & teaching across 70+ countries. As a former professional trader in private equity and proprietary funds, he has over 15 years of market experience, and has been featured on more than 20 occasions in the media.
https://synapsetrading.com/wp-content/uploads/2020/05/market-analysis-pic-6.jpg
302
432
Spencer Li
https://synapsetrading.com/wp-content/uploads/2019/10/logo.jpg
Spencer Li
2020-05-12 15:24:58
2022-03-08 13:21:52
Market Analysis – Economy is Tanking But Stock Market is Rising?