Course Syllabus for Beginner's Course on Tech Stocks & Cryptocurrencies

If you have been following the news, you would definitely have heard about how technology is taking over every aspect of our lives, from business to lifestyle to financial markets, etc.
The world's biggest and most valuable companies are all tech-related, and they continue to grow and acquire more businesses under them. The big question is, "how can we position ourselves so that we do not miss out from this once-in-several-generations tech boom opportunity?"
You might have missed the first stage of the tech boom (where tech stocks went up 5-50x), but if you look at the big picture, we are just at the start of the tech supercycle, and there are still many great opportunities.
For example, did you know that you can make passive income of 10-40% a year just by lending out cryptocurrencies? This does not even include the capital appreciation of those cryptocurrencies, which have gone up 2-3x within just the last year.
Here are some of the things we will be covering in this course, and we will continue to add more relevant content as technology evolves:
How to Take Advantage of the Exponential Growth
Simple strategies you can use to profit from this massive trend even if you have ZERO tech knowledge or background
The correct assets to "buy-and-hold", which have the potential to grow 10x in the next 10 years
The few key concepts you need to learn to become an "expert" in each asset class – impress your friends and family!
How to Find the Best Technology Stocks
Our 5 favourite tech stocks that can likely grow 10x in the next 10 years

Technology ETFs: What to look out for and what to avoid?

What is a SPAC (Special Purpose Acquisition Company) and is it a Good Investment?
How to Start Investing in Crypto Assets
Cheapest way to buy cryptocurrencies (close to zero fees) – stop paying exorbitant fees!

Safest way to store your assets (hot wallet vs. cold wallet)
Earn extra income from lending, staking, liquidity mining
How to invest in "ETFs" of crypto, DeFi tokens, NFT tokens, etc
Latest Trends in Blockchain & Cryptocurrencies
What is Decentralised Finance (DeFi) and is it the future of finance?

What is a NFT (Non-Fungible Token) and why are they worth millions?

What are DAOs (Decentralized Autonomous Organizations)?
Technical & Fundamental Strategies to Invest in Technology
How to build a forward-looking technology investment portfolio

Chart analysis of stocks, ETFs, cryptocurrencies to find the best opportunities

Hands-on practice and group work to use the new skills you have learnt
Besides my own research and investments, I have also taken the time to talk to all sorts of tech people (directors, data scientists, developers, entrepreneurs), both locally and in Silicon Valley, to ensure that this course contains the latest practical insider knowledge and tips.
In addition, this is also a SkillsFuture Credit-Eligible Course, and you get a certificate upon completion. (This is a national initiative in Singapore, so just ignore it if you are non-Singaporean. You can still attend the course by using cash instead of credits.)
I am extremely excited because I have packed as much content as I can into this course, and I think it will be a game changer for anyone who is looking to learn more about the big trends of technology, and how to invest in them.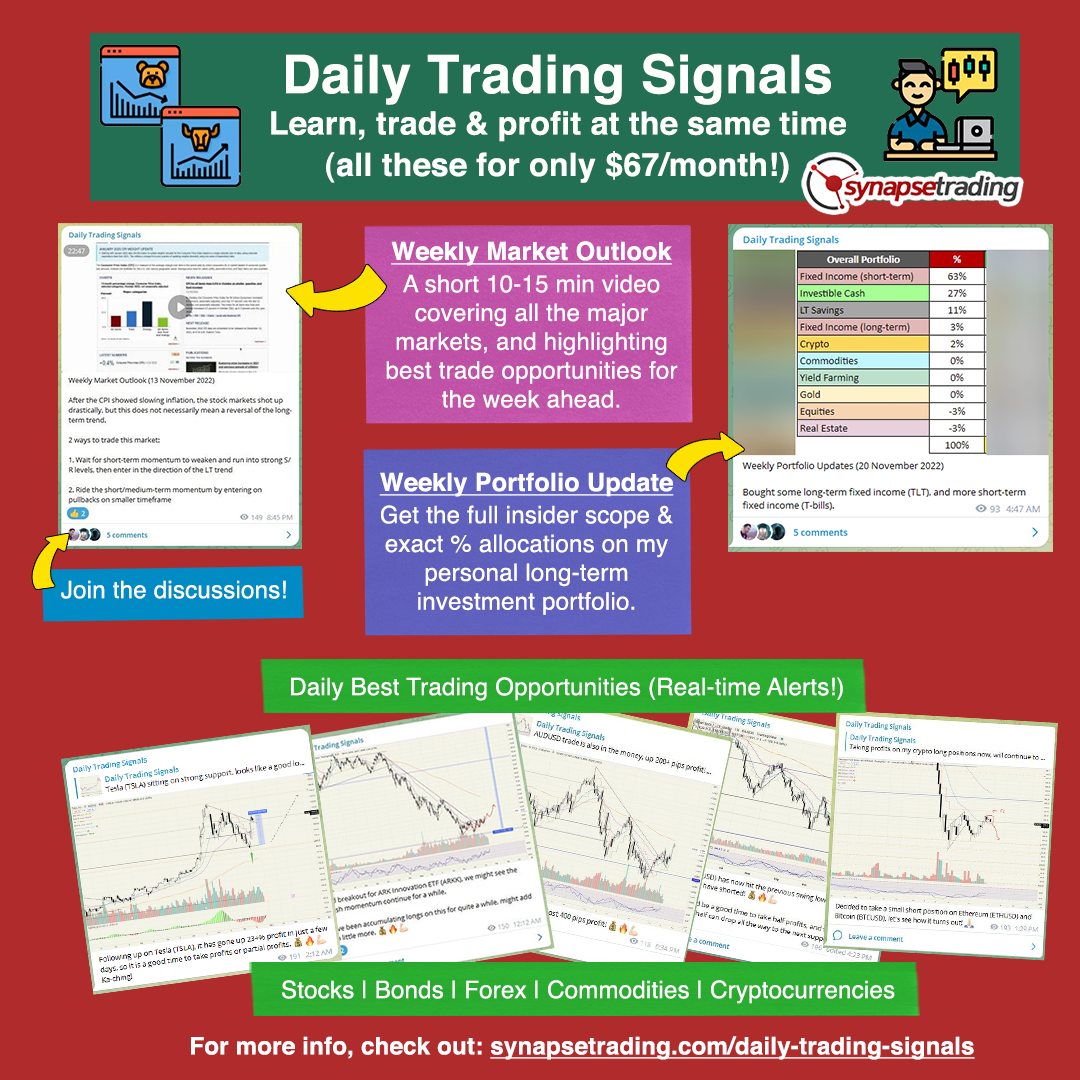 P.S. If you're looking for the best trading opportunities every day across various markets, and don't want to spend hours doing the research yourself, check out our private Telegram channel!
P.P.S. If you're looking for a reputable brokerage that covers all products (SG stocks, US stocks, global stocks, bonds, ETFs, REITs, forex, futures, crypto) and has one of the lowest commissions, this is what I currently use.
Spencer is an avid globetrotter who achieved financial freedom in his 20s, while trading & teaching across 70+ countries. As a former professional trader in private equity and proprietary funds, he has over 15 years of market experience, and has been featured on more than 20 occasions in the media.
https://synapsetrading.com/wp-content/uploads/2019/10/logo.jpg
0
0
Spencer Li
https://synapsetrading.com/wp-content/uploads/2019/10/logo.jpg
Spencer Li
2019-09-28 02:10:09
2022-03-08 16:07:02
Course Syllabus for Beginner's Course on Tech Stocks & Cryptocurrencies