Core Training Modules – Trading System & Strategies
The core training modules contains hours of video training and tutorials personally recorded by me, and new videos are added when new content and research is conducted, to ensure that the strategies are always up-to-date.
This covers everything from the basics, all the way to our 4 proprietary trading strategies, and includes essentials like risk management, trading psychology, etc.
You can choose to watch, rewatch, and master all the material at your own time and pace.
And if you have any questions, all you have to do is ask our community members, or I myself will personally answer any questions you have.
Part 1: Trading in a Nutshell
For those complete newbies, we will start right from the basics, covering all the key principles and concepts of trading.

Learn all the technical and fundamental factors that drive the market.

Learn how to read charts in seconds using our "shortcut method" by zooming in on the essential factors.

Learn how to use price action effectively in different market scenarios.
Part 2: Riding Market Trends
Master Strategy #1 The SWING Setup where you can identify strong trends and get onto them at the right time, and ride them until they end.

Learn the correct way to use tools like moving averages, trendlines, swing counts, etc.

Understand the power and precision of trading with trend lines.
Part 3: Turning Points in the Market
Master Strategy #2 The TURN Setup and learn how to identify major turning points in the market before they happen, and how to take advantage of them.

Learn the correct way to use tools like trend channels, market structure, market flow, etc.
Part 4: Trading Zones & Breakouts
Master Strategy #3 The BREAK Setup and learn how to identify zones of demand and supply in the market, and use them to to successfully trade breakouts and avoid false breakouts.

Learn the correct way to use tools like supply & demand zones, support and resistance lines, price & volume compression, etc.
Part 5: Price Action & Precision Timing
Master Strategy #4 The BOUNCE Setup and learn how to spot counter-trend trades when prices reach extreme levels and have a sharp rebound.
Learn how to use candlestick patterns, bar chart patterns and price action signal bars to pinpoint precise entry & exit triggers just as price is about to make a big move.
Part 6: Practical Execution & Risk Management
How to put theory into practical application, and optimise your trade & risk management.

Learn how to spot low risk, high rewards trades without doing any complex calculations.

Learn the different ways to manage your trades: single entry, single exit; single entry, multiple exits; multiple entries, single exit; multiple entries, multiple exits.
Part 7: Case Studies & Live Trading Examples
Put all that you have learnt into practice by trying out some real-life case studies, then compare your results with the detailed answers provided.

Another 20+ detailed charts analysis and videos are provided to show you exactly how to apply the different strategies on different markets and timeframes.
Part 8: Trading Psychology & Consistency
After years of training thousands of professionals and retail traders, I have compiled the "7 Essential Traits of Successful Traders", where I cover in detail the exact components you need to work on if you want to master trading psychology.
I will walk you through on how to craft your customised trading plan by finding your specialization, style, timeframe, product, etc, based on your personality and personal goals and objectives.
Our flagship mentoring program is suitable for both beginners and advanced traders, covering the 4 strategies which I used over the past 15 years to build up my 7-figure personal trading portfolio.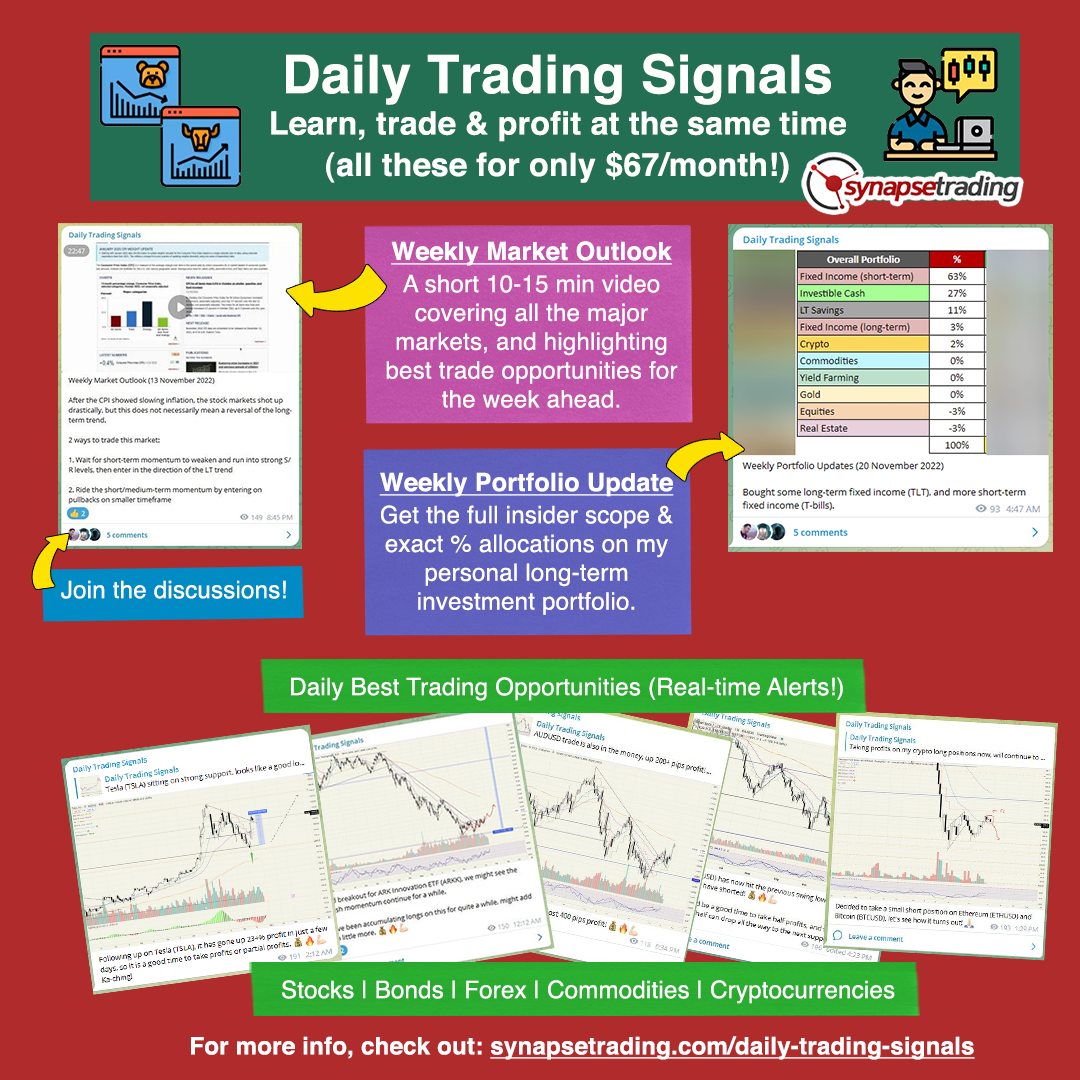 If you're looking for the best trading opportunities every day across various markets, and don't want to spend hours doing the research yourself, check out our private Telegram channel!
If you're looking for a reputable brokerage that covers all products (SG stocks, US stocks, global stocks, bonds, ETFs, REITs, forex, futures, crypto) and has one of the lowest commissions, this is what I currently use.
Spencer is an avid globetrotter who achieved financial freedom in his 20s, while trading & teaching across 70+ countries. As a former professional trader in private equity and proprietary funds, he has over 15 years of market experience, and has been featured on more than 20 occasions in the media.
https://synapsetrading.com/wp-content/uploads/2019/10/logo.jpg
0
0
Spencer Li
https://synapsetrading.com/wp-content/uploads/2019/10/logo.jpg
Spencer Li
2017-10-02 02:18:49
2022-03-09 11:19:17
Core Training Modules – Trading System & Strategies