Huge Gap Down – Great Chance to Buy Oil and Stocks? (Just Bought One of These!)
Join our Telegram channel (50,000+ subscribers) for daily market analysis & trading tips: t.me/synapsetrading
Last week, we had an epic week, with stock indices swinging up and down on alternate days, giving swing traders one of the best opportunities to trade.
Yields plunged (which meant bonds spiked), Gold was up, and oil was also bearish.
In this post, I will be giving an update on 2 of my largest positions:
Short position on Crude Oil
Short position on S&P 500
Short position on Crude Oil
For those of you following my last blog post or my Telegram channel, you will know that I have been stacking my short positions in oil for quite a while, and recently with the price war OPEC, Russia and the US are having, prices are on a downward spiral.
Just today, prices plunged 25-30% in one day!
I have taken the chance to cover my positions, and recently initiated a long position at $30, as I feel that it is a bit oversold, and prices are very near the lows back in 2003 and 2016, so maybe negotiations might start again to push prices back up.
Short position on S&P 500
For those who have been following closely, you will also know that I have been short on the stock market, using the S&P 500 as a benchmark.
At the first sign of decline, I posted this predictive roadmap, which has turned out be be uncannily accurate.
Simply by following this, my students and I have managed to stay one step ahead in the market, and we have been profiting handsomely both from long and short positions.
As I mentioned in my last trading video, you need a solid trading plan if you want to be able to make money from the markets, instead of chasing price movements blindly.

This is where we are the moment in the roadmap, and I am still holding my short positions.
Is this a good time to start buying?
In the long run, I am still bullish on stocks, so I will keep looking for good buying opportunities.
The challenge, however, is avoiding large drawdowns.
So I will want to wait for the dust to settle before buying, and not attempt to catch a falling knife.
If you look at the chart below, since the 1970s, there have only been 3 times when the market corrected to 50% or more, so such super crashes are actually pretty rare.
So maybe a 20-25% correction this time might be more likely, I will see when we get there, since I am still short at the moment.
Overall, the last 2 months have been pretty fantastic, with 39.81% portfolio gains in February, and 25.8% returns so far in March.
These gains large larger than normal, due to market conditions, but it would allow me to chill for the rest of the year. ?
Remember, it's not how many shots you make, but how many shot actually hit the target. One good shot is all is needed to make the kill.
Going forward, this week the market is looking bearish now, and the level of fear is increasing. This will present us with excellent trading opportunities.
If you would like to avoid missing out on any of such awesome trades (which we deliver on a daily basis), then you should definitely check out our training program & trading signals bundle:
https://synapsetrading.com/the-synapse-program/
See you on the inside!
Our flagship mentoring program is suitable for both beginners and advanced traders, covering the 4 strategies which I used over the past 15 years to build up my 7-figure personal trading portfolio.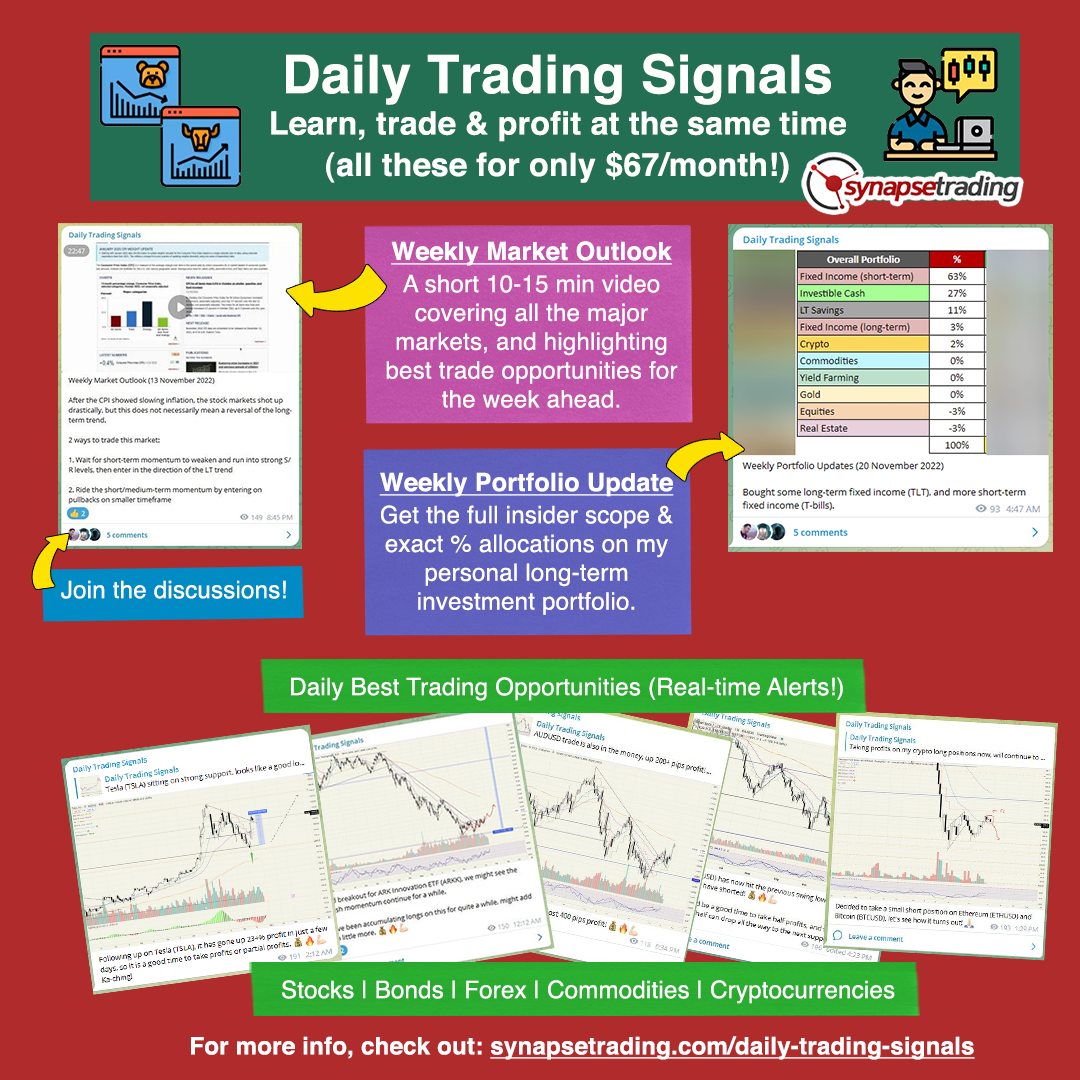 If you're looking for the best trading opportunities every day across various markets, and don't want to spend hours doing the research yourself, check out our private Telegram channel!
If you're looking for a reputable brokerage that covers all products (SG stocks, US stocks, global stocks, bonds, ETFs, REITs, forex, futures, crypto) and has one of the lowest commissions, this is what I currently use.
Spencer is an avid globetrotter who achieved financial freedom in his 20s, while trading & teaching across 70+ countries. As a former professional trader in private equity and proprietary funds, he has over 15 years of market experience, and has been featured on more than 20 occasions in the media.
https://synapsetrading.com/wp-content/uploads/2020/03/monthly-profits-090320.png
282
501
Spencer Li
https://synapsetrading.com/wp-content/uploads/2019/10/logo.jpg
Spencer Li
2020-03-09 18:45:49
2022-03-07 13:16:27
Huge Gap Down – Great Chance to Buy Oil and Stocks? (Just Bought One of These!)