Crypto Updates: 102% Profit on Bitcoin, Ethereum & Dogecoin!
Join our Telegram channel (50,000+ subscribers) for daily market analysis & trading tips: t.me/synapsetrading
In the most recent FOMC meeting, the Fed held rates unchanged, which was no surprise, and it meant that this liquidity-driven long-term bull market in stocks and crypto will continue running.
Stocks and crypto are actually pretty correlated, and the biggest danger to the uptrend is if yields start rising.
In this post, I'm going to do an overview of the stock and crypto market, as well as review some of our recent trades.
Covid updates
Before we go into the markets, let's take a quick look at the Covid situation, with a focus on vaccination.
As you can see from this chart, vaccination rollout globally is progressing slowly, with less than 10% of the world population having at least one vaccine dose.
In addition, numerous variants have been detected globally, such as Britain's B117 strain, Brazilian P1 variant, South Africa's B1351 and India's "double-mutant" variant called B1617.
This does not bode well, and we can see a large disparity between the richer and less affluent countries.
Nevertheless, the financial markets seem to disjointed from the real world, as asset prices continue to climb.
Earnings & Employment (NFP)
If we look at the daily trends, the crypto market, stock market, and even the oil market are all in a strong bull trend.
And with the recent earnings season, a record 87% of S&P 500 companies have beat earnings estimates, and earnings look to be growing by more than 46%, according to Refinitiv.
Credit Suisse's chief U.S. equity strategist, Jonathan Golub, has raised his forecast for the S&P 500 based on strong earnings.
He wrote, "we are raising our 2021 S&P 500 price target to 4600 from 4300, representing 9.2% upside from current levels, and 22.5% for the year."
This coming week, we will also see the data from the NFP (non-farm payrolls), which will tell us how good the job market is amidst the US recovery from Covid.
Stock Market Targets Hit
In my previous market analysis posts, I predicted the breakout of the S&P 500 with the first target of around 4120 and the second target of 4215.
On 13 April 2021, it hit the first target of 4120, and in the Telegram screenshot above, I said that it would continue to the next price target of 4215.
Just a few days ago, we saw that exact target being hit. Congrats! ???
Bitcoin: 24% profit in 7 days!
Bitcoin was very exciting because we traded it downwards, and then upwards, and both trades were very proftable!
We spotted this rising wedge in Bitcoin, which was bearish, so we took a short position, and from here we saw a 25% correction from its all-time highs.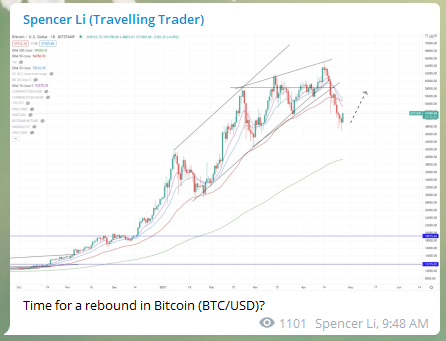 Following that, I pinpointed a rebound for Bitcoin, with uncanny precision.
Within just 2 days, we saw a sharp rebound of 17% from the lows, but we were still not done.
Finally, after 7 days, we took profit at the resistance level, netting a 24% profit in 7 days. Ka-ching! ???
Dogecoin: 38% profit in 5 days!
Dogecoin admittedly was a more volatile creature, so we had to be more careful in finding trading opportunities for this.
Finally, we spotted a huge pin bar (bullish hammer candle), and this was the perfect opportunity for a long trade.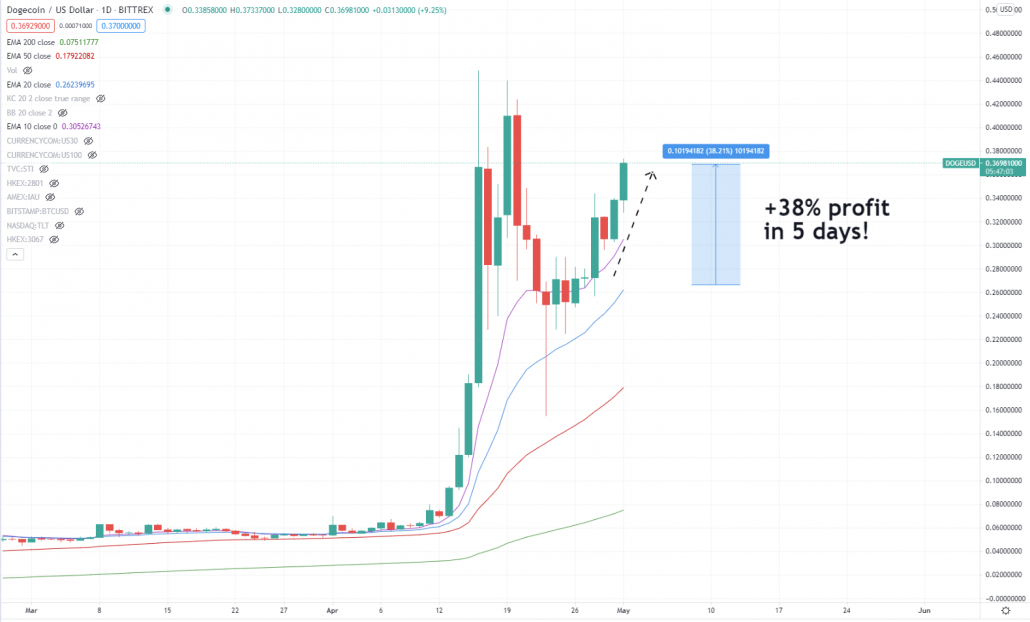 From there, it went up 38% in the next 5 days, and it still looks like it can continue going up, so we are still holding on to this. ??
Ethereum: 50% Profit in 13 days!
I mentioned in my previous market analysis post that Ethereum is even more bullish than Bitcoin based on the chart, and now you can see why.
In just 13 days after hitting the support level (great place to buy), we netted a profit of 50%, and the price still looks to be heading higher.
At this point, I won't be too greedy and will take most profits and wait for the next pullback to enter again.
Here's some feedback from one of my new students, and I'm glad to see they are profiting from the Crypto bull run as well.
I have come to the end of this market analysis.
Now that I have shared my views on the various markets, do you think the markets will continue going up, or will it be a case of "sell in May and go away"?
Let me know in the comments below!
Our flagship mentoring program is suitable for both beginners and advanced traders, covering the 4 strategies which I used over the past 15 years to build up my 7-figure personal trading portfolio.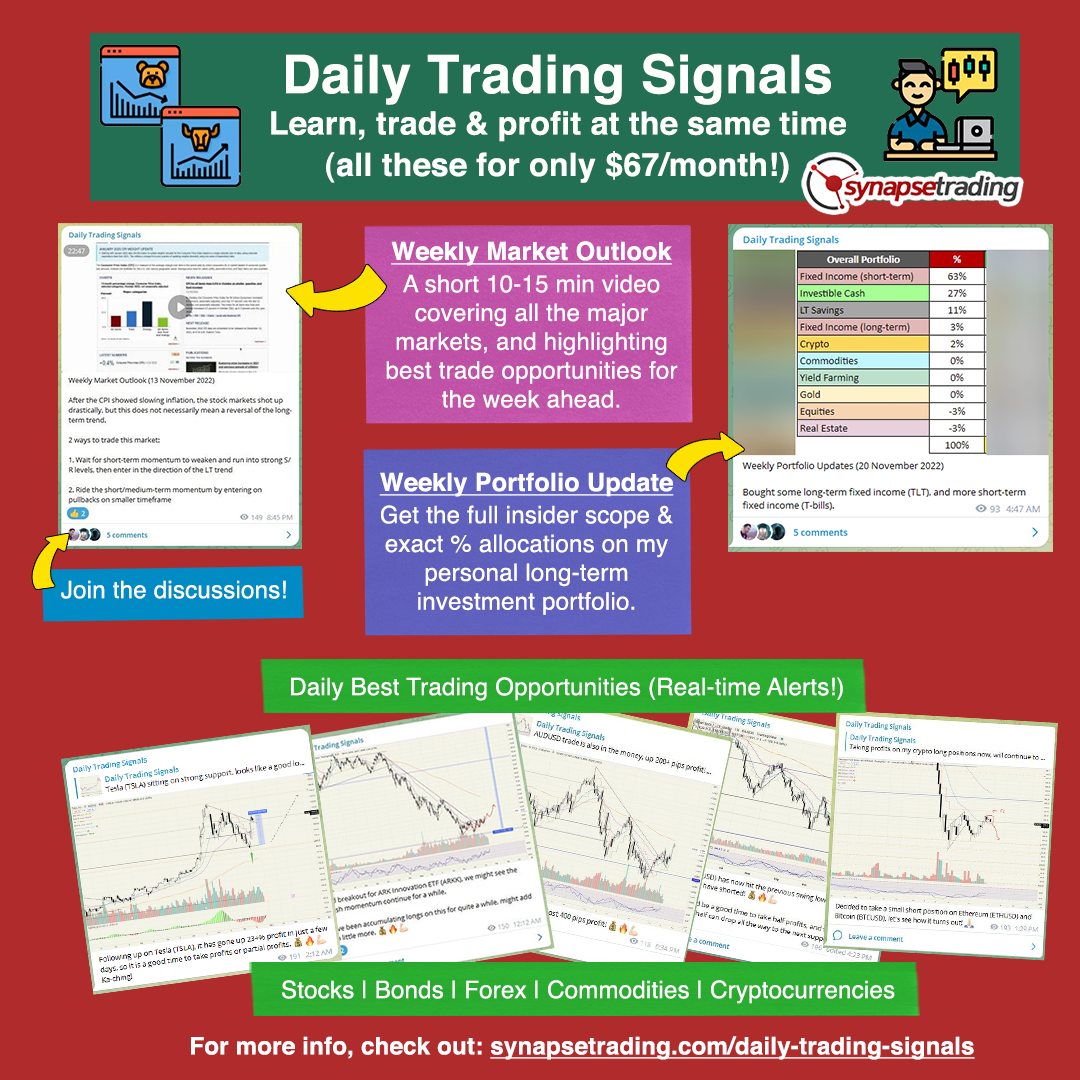 If you're looking for the best trading opportunities every day across various markets, and don't want to spend hours doing the research yourself, check out our private Telegram channel!
If you're looking for a reputable brokerage that covers all products (SG stocks, US stocks, global stocks, bonds, ETFs, REITs, forex, futures, crypto) and has one of the lowest commissions, this is what I currently use.
Spencer is an avid globetrotter who achieved financial freedom in his 20s, while trading & teaching across 70+ countries. As a former professional trader in private equity and proprietary funds, he has over 15 years of market experience, and has been featured on more than 20 occasions in the media.
https://synapsetrading.com/wp-content/uploads/2021/05/crypto-updates-profits.jpg
720
1280
Spencer Li
https://synapsetrading.com/wp-content/uploads/2019/10/logo.jpg
Spencer Li
2021-05-02 11:20:00
2022-03-07 18:12:14
Crypto Updates: 102% Profit on Bitcoin, Ethereum & Dogecoin!