Join our Telegram channel (8000+ subscribers) for daily market analysis & trading tips: t.me/synapsetrading
Now that the S&P 500 is at the crucial 200-day moving average level, will it be able to break though and make new highs?
What are some of the bullish and bearish catalysts for the stock market going forward?
Also, check out our Telegram poll (800+ votes) to see which direction people expect the market to go in the next 6 months.
Join our FREE Telegram channel for daily trading tips:
👉🏻 https://t.me/synapsetrading
Market Overview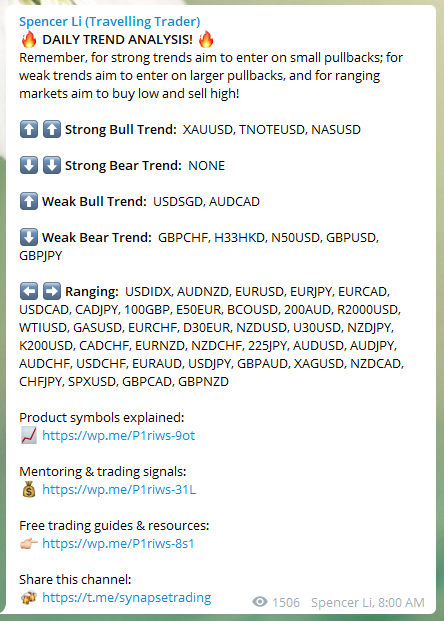 There are only a few products that are trending strongly, while most markets are in a sideways range.
This means that we should be expecting to take shorter trades (lower RR), or go down to smaller timeframes to pinpoint entries and exits.
The 200-Day Moving Average
Traditionally, the 200-day moving average serves as a good gauge of the market's long-term trend.
If prices are above the 200-day moving average, then it is bullish, and if prices are below the 200-day moving average, then it is bearish.
Now, we see the S&P 500 poised exactly at the 200-day moving average.
Will it be able to clear the hurdle?
New Highs or New Lows?
Recently, I did a market poll on my Telegram channel (check it out if you want to take part, or see the latest results), and the results are as follows: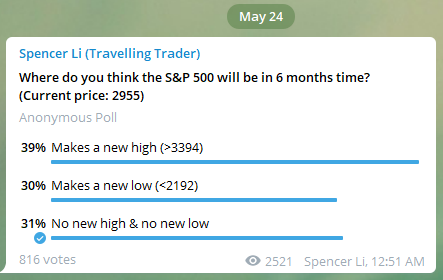 Interestingly, about 40% are bullish, compared to 30% who are bearish, but the difference is not much.
And if you look at it another way, about 60% think that the market won't be making new highs (new lows or sideways).
Here are some bullish and bearish catalysts I could think of:
Tensions Between HK, USA & China
One major issue that could dictate market movements in the coming weeks is new national security laws which China plans to impose on HK, and how the US is going to react.
Relations between the US and China are already strained because of trade and the Covid virus, and this could become a proxy battle.
Join our Last 2 Skillsfuture Workshops!
Last weekend, we conducted another full-house Skillsfuture workshop, with 40 pax of new traders & investors, as well as some of my past students who sat in to help out.
There were so many sign-ups that we had to turn some people away, and ask them to join the next intake on 30 & 31 May. Although the next class is still 2 weeks away, it is already almost full, so before my license expires on 18 June, I will open one final class on 13 & 14 June to accommodate this influx of demand.
This fully subsidised Skillsfuture workshop will give you the skills and roadmap to build a second source of income to plan for early financial freedom, by building an all-weather portfolio that can perform well in any market conditions, and also market timing skills to create additional cashflow from short/medium-term trades.
Dates:
30 & 31 May 2020 (6pm to 10pm)
13 & 14 June 2020 (6pm to 10pm)
Click here to check availability:
🔥 https://wp.me/P1riws-8OX
P.S. According to Skillsfuture regulations, the maximum intake is capped at 40 slots, so we will not be able to add new slots once all are filled up. Register early to avoid disappointment!
P.P.S. Your slot is only confirmed after you have completed payment and submitted the confirmation to the organiser. If you registered but did not complete payment & submission, your slot is still up for grabs to the next person who completes it.
💰 First-come, first-serve!
🍻 See you soon! 😄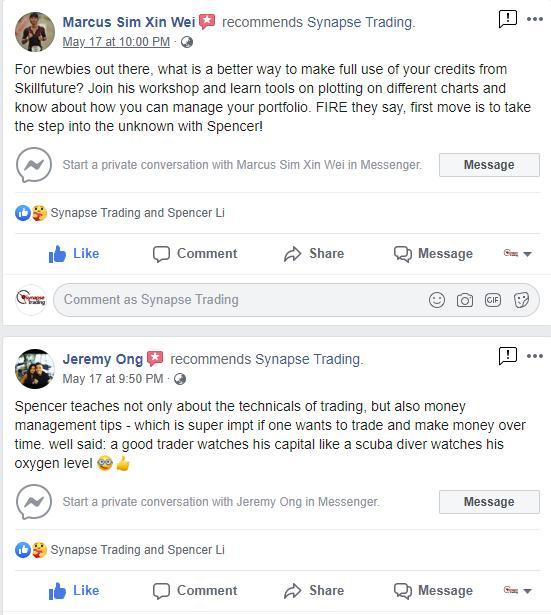 https://synapsetrading.com/wp-content/uploads/2020/05/market-analysis-pic-4.jpg
258
430
Spencer Li
https://synapsetrading.com/wp-content/uploads/2019/10/logo.jpg
Spencer Li
2020-05-25 22:38:48
2021-03-21 15:58:00
Market Analysis – S&P 500 at the 200-Day Moving Average