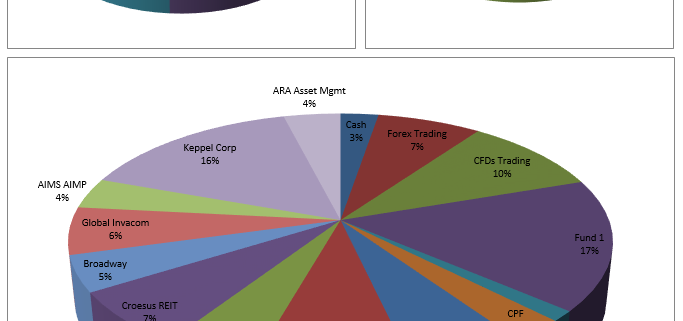 2015 is off to a good start, and although there weren't any dividends last month, there was solid capital gains from the portfolio, and strong cash inflow from the trading profits, which help to fund some new purchases.
The biggest change would be the aggressive accumulation of Keppel Corp near the $8.00 level, increasing the total holdings to 16% of the total portfolio.
http://synapsetrading.com/2015/02/keppel-corp-good-long-term-investment-now/
At the start of February, I reduced my holdings from 16% to 8% when Keppel reached the $9.00 target to lock in some short-term gains.
Looking at the STI chart, it seems like the Singapore stock market is still trapped in a giant range, considering we have not surpassed the 2013 high. This makes bargain-hunting very challenging, as the prices of most stocks appear to be on the high side.
I will be more inclined to look at O&M-related counters like Keppel and SembMarine, as well as commodity-related counters like Olam and First Resources.
Going forward, I am considering liquidating my illiquid Gold & Commodity ETFs and switch to using my trading portfolio to get exposure to those markets, as it will give me better leverage on my capital.
This way, I can focus on pure "physical" assets that provide a definite yield, eg. stocks, bonds, real estate, which will further strengthen my monthly passive income.
Revealed: Full Portfolio Current Holdings!
Here are my current holdings as at the end of January 2015:
(Click on any of these buttons below to unlock; for mobile device users, please click twice)[sociallocker]
[/sociallocker]
Looking back, it is really amazing how I managed to build this passive income portfolio  (starting with $3000 and zero finance knowledge) within 8 years simply by changing my mindset and learning the strategies to make my money work for me, instead of exchanging my time for money.
I hope that through my blog sharing, I can help more people achieve early financial freedom, and live the lifestyle they deserve!
http://synapsetrading.com/wp-content/uploads/2014/03/logo-header1.png
0
0
Spencer Li
http://synapsetrading.com/wp-content/uploads/2014/03/logo-header1.png
Spencer Li
2015-02-10 02:31:56
2015-02-10 02:38:11
Monthly Portfolio Update & Current Holdings for January 2015