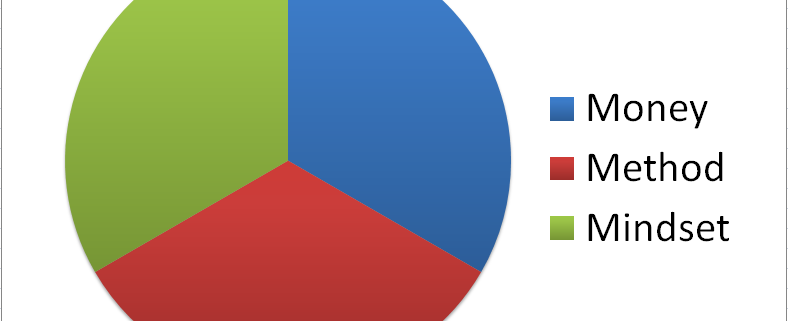 Having studied many professional traders, I found that there are 3 crucial factors that have led to their success. All these market wizards have found success because they have understood and mastered the 3Ms of trading – Method, Money and Mindset.
Method (chart-reading): Process by which a trader enters into the market, using either technical or fundamental inputs to make their decision
Money (risk management): This includes capital allocation, risk parameters (drawdown limits), risk-to-reward calculations (entry price, profit target, stoploss)
Mindset (psychology): Market psychology the most important part of trading, and determines how well you can execute your trading plan in the markets in real time
To many new traders who know of these 3Ms, they tend to make the mistake of giving equal weightage to all 3 parts (refer to above), or even worse, almost 100% weightage to the "Method". The most obvious danger is neglect to the other essential parts.
In reality, a professional trader should allocate the 3Ms as depicted below here:
[sociallocker]
The psychology (mindset) is the hardest part of trading because emotions like greed and fear run wild once your money is at stake in the market. Hence, your degree of rational analysis is only limited to how well you can manage your psychology. Without the execution, the plan is useless. The money and risk management is also essential because it ensures your survival and consistency in the markets. After all, the number one rule is capital preservation.
[/sociallocker]
"Don't focus on making money; focus on protecting what you have." – Paul Tudor Jones
http://synapsetrading.com/wp-content/uploads/2014/03/logo-header1.png
0
0
Spencer Li
http://synapsetrading.com/wp-content/uploads/2014/03/logo-header1.png
Spencer Li
2009-08-23 01:22:27
2014-08-21 06:19:18
The 3 Essential Elements in your Roadmap to Success